Applicant criteria
The following documents must be submitted through ERAS and received on or before December 1st:
Application
Personal Statement
Official USMLE/COMLEX transcript. Preference for interviews will be given to applicants who have passed on their first attempt. You do not have to have taken Step 2 CS/CK prior to being extended an interview. However, in order to be ranked by our program, we must receive for Allopathic Providers: USMLE Step 1, Step2 CK, and Step2 CS  and Osteopathic: COMLEX Part 1, Part 2 Cognitive and Part 2 Performance. Scores can take up to 8 weeks to be reported. Please plan accordingly. 
COVID-19 update: Due to delays in scheduling of USMLE Step 2 Clinical Skills and COMLEX Part 2 Performance exams,  results from these exams may not be required to be ranked by our program.
Medical School transcript
Dean's letter
3 letters of recommendation (one must be a letter from a family physician who can attest to your qualifications for, and interest in, family medicine).
If you are not currently in medical school, a letter of recommendation must be received from the physician with whom you are currently working.
All applicants must have graduated from medical school within the past three years or participated in a different US residency within the past one year. A letter from the program director of that residency will be required.
Additional notes for international candidates
We are unable to sponsor anyone requiring a Visa. 
International graduates must be Educational Commission of Foreign Medical Graduates (ECFMG) certified at the time of application.
You must have at least 1 year of US clinical experience.
Strong preference will be given to applicants who are eligible to obtain full licensure in the State of Colorado at the end of the PGYI year in training.  The Colorado Board of Medical Examiners requires one year of postgraduate US education for US and Canadian graduates and requires three years postgraduate US education for international graduates before licensure may be granted. If you have questions regarding Colorado licensure, contact the Board of Medical Examiners at 303-894-7690.
Interview information
Applications are reviewed on a first-come, first-served basis. Application deadline is December 1st.
All Interviews will be held virtually for the 2021-2022 interview season
Interviews are scheduled every Monday, Tuesday, and Wednesday from October 25 through December 15th.
COVID-19 update: Applicant interview dinners for the 2021-2022 interview season will not be held, but the program will hold optional remote social engagements with the residents and faculty. Details will be communicated to applicants when interviews are scheduled.
Sample Contract (for Illustrative purposes only)
Two residency tracks 
We are excited to have moved into a brand new hospital as of March of 2015. We offer two different residency tracks that each have a different focus for continuity clinic training. Residents at both tracks follow the same curriculum and have identical inpatient and OB experience at the new Health Campus. 
Seven residents per year match at the 144th Ave. site, which is located on the first floor of the new St. Anthony North Health Campus. This location has an emphasis on integrative health care. Three residents per year match at the 84th Ave. site and care for the predominantly under-served patient population in that community. 
There is no separate interview process for the different tracks. We encourage you to apply to both tracks so that you have the opportunity to rank both after learning more about what we offer on your interview day.
St. Anthony North Health Campus
The residency is based at a newly built community hospital in the northwestern Denver metro area. St. Anthony North is home to only the family medicine residency, and residents are supervised by board-certified family medicine faculty members. Residents also consult with specialists and hospitalists directly in order to care for patients. The health campus is focused on wellness and integrated care. There are three outpatient clinics within the residency. Residents match into the two larger clinics, and have an opportunity to interview for and transfer into the Thornton Clinic after their PGY-1 year is completed.
Orchard Neighborhood Health Center (144th Ave Site)
St. Anthony North developed a new medical campus for the 21st century that is focused on wellness and integrated care. The medical campus is located west of I-25 and 144th Ave in Westminster, CO. The residency is integral to the innovative vision at the medical campus with a new Family Medicine Center on the first floor of the main medical pavilion attached to the hospital. The clinic is divided into 3 pods and is designed to accommodate a modern patient-centered workflow. Approximately 2/3 of the residents and faculty are based at this location.
84th Avenue Neighborhood Health Center (84th Ave Site)
Centura Health and the family medicine residency remain committed to meeting the needs of our community. As such, the 84th Ave site continues to take care of a larger proportion of underserved patients. Approximately half of the patients receive Medicaid or a charity discount. The population also includes patients who are covered by Medicare, HMOs, PPOs, and a variety of other commercial plans. The physical space has been renovated in the same design as the Orchard clinic site. Despite the hospital moving, there are still specialists, ancillary services and an emergency department on site. The clinic is divided into 2 pods and is designed to accommodate a modern patient-centered workflow. Approximately 1/3 of the residents and faculty are based at this location.
Thornton Neighborhood Health Center (Thornton Clinic)
To accommodate a growing population and a growing residency team, the St. Anthony North Residency program has recently added the Thornton Clinic as a resident outpatient clinic site. The Thornton clinic, at 10 exam rooms, provides an opportunity for residents to work in a slightly smaller site. The physical space is constructed with the same design principles the Orchard clinic site. Located next to a daycare center in a growing community, the Thornton clinic population is slightly younger and with more women and children than the other clinics.  The site can accommodate up to 4 PGY2/3 residents.
All clinic sites are full spectrum family practices and can offer a similar array of services. Clinical precepting duties are shared by clinical faculty and community physicians, many of whom are alumni of our program. The teaching focus is on family physicians training family physicians. For a few specialty clinics such as OB/Gyn fellow clinic, dermatology, orthopedic surgery, and psychiatry, we have specialty preceptors who serve as instructors in our clinics.
In addition to family physician preceptors, residents are supported in their patient care by a multidisciplinary team of health promotion specialists, RN care coordinators, pharmacists, diabetic educators, registered dieticians, patient advocate, licensed mental health specialists and social workers. All take an active role in patient care, see patients at all clinic sites with residents and provide individual and group teaching in their respective specialties. On our behavioral health team, we have these providers both embedded in the care team and co-located on site for ongoing individual counseling. All clinic patients have access to an array of integrative healing services and providers, such as OMT, acupuncture, massage, and mindfulness-based therapies.
Our patient populations are ethnically and culturally diverse. They seek care for a variety of medical problems which represent the spectrum of care from newborns to geriatrics, including a substantial obstetric practice. It is not uncommon for residents to be caring for three generations of the same family. 
What our program covers
Given the sweeping changes now affecting all aspects of the organization and delivery of health care in our society, this program has identified a number of priorities in our approach to residency education:
Self-directed adult learning: Physicians must be lifelong, self-directed learners. To that end, we advocate, whenever possible, problem-based learning with an emphasis on the process of active learning, awareness of one's limitations, use of available resources, and self-assessment. The program values flexibility in order to give individual residents a chance to pursue rotations and activities that will meet their individual needs, interests and future practice styles.
An emphasis on ambulatory training: Family physicians will spend the majority of their professional hours in the ambulatory setting dealing with common problems, psychosocial issues, preventive issues, and undifferentiated complaints. The program has sought consciously to increase the quantity and improve the quality of our teaching in the ambulatory setting beginning immediately during the internship and continuing throughout the three years.
An atmosphere of scholarly activities: The specialty of family medicine is reaching a new point in its growth and maturity, and currently demands a more rigorous academic and scholarly approach. We have moved our program in this direction by beginning to emphasis systematically concepts of critical appraisal, clinical epidemiology and practice-based research, and by expecting more presentations, projects, clinical teaching, and other academic activities by both residents and the faculty.
The atmosphere within the program: This residency seeks to create a caring, supportive atmosphere in which individuals are nurtured and encouraged to grow personally. We are committed to a humanistic call and work schedule. The program style of government is one of a participatory democracy in which residents, staff and faculty engages in decision making through a series of residency-wide meetings and ad hoc committees. Attention is given to staff, resident and faculty stress through the use of group support meetings, an advisor system, a comprehensive evaluation process and attention to the importance of stress-related factors in the functioning of professionals.
Commitment to health promotion/disease prevention : For a number of years, this program has placed emphasis upon the principles of health promotion and disease prevention, and has successfully accomplished a total integration of teaching preventive principles into both our curriculum and our clinical practice.
Commitment to the Biopsychosocial approach to patient care: This is a residency that emphasizes understanding a patient's emotional, social and familial context. We place a high value on developing effective interpersonal communication and train residents in practical counseling skills. Behavioral Science faculty provides individual patient consultation and collaborate with residents conducting joint patient counseling.
Attention to the health manpower needs of the state of Colorado: The State of Colorado has helped to fund this residency program for the last several years, thus serving to increase our awareness of, and commitment to, assisting the State in meeting its physician needs. To that end, the curriculum and resident placement efforts have received some modification, including new activities in which to train residents and support state needs for rural health care. 
Psychosocial training to aid your practice
Our residency program has a long history of excellence in behavioral science training for family physicians. We believe that our curriculum enables the family physician to effectively respond to the frequent psychosocial matters that present in primary care. Our training is longitudinal; making use of clinical encounters throughout the three years of residency, providing the basis for experientially based learning, while other content is provided in structured learning venues.
An introduction to behavioral science is presented through regular didactic seminars. We provide an intern support group to allow people to work with this time of significant personal and professional growth. Throughout the three years, each resident class participates quarterly in Physician Self Awareness Group, which is facilitated by behavioral health faculty. Residents are scheduled for meetings with the behavioral scientist in what we call Longitudinal Counseling Supervision (LCS), which provides for consultation/ supervision on a variety of behavioral science topics, primary care counseling, the physician/patient relationship, and professional development. Behavioral science faculty also assist with clinic video review and provide feedback on skills progression. Each resident physician will spend time with our clinical psychiatrist at their own clinic site, providing patient evaluations and consultations, with a strong one to one didactic teaching component around diagnostic and treatment principles.
The residency conducts regularly scheduled conferences and teaching opportunities at which each resident's attendance is expected. Residents are encouraged to make every effort to attend as many conferences as possible, recognizing the amount of time and effort that goes into scheduling and presenting conferences. Many presenters take time away from their busy practices to make a special trip to our campus.
A general description of conferences follows:
Weekly Didactic Sessions
Didactic sessions cover the full spectrum of family medicine, including obstetrics, internal medicine and critical care, pediatrics, and neonatology, surgery, radiology, pharmacology, and practice management.  Faculty and volunteer specialists provide weekly lectures year-round.  
Outpatient Case Conference
Designed to discuss ongoing complex outpatient medical cases, the goal is to establish a differential diagnosis and to suggest additional diagnostics and/or therapeutic therapies.
Morbidity and Mortality Conference
The goal of this conference is to review adverse events and learning points as well as review unique or interesting cases.  Cases are taken from both the inpatient and outpatient setting and reviewed in a supportive environment identifying systems that could be improved, current treatment guidelines and potential learning points.
Practice Management
Residents are exposed to a longitudinal curriculum throughout their 3 years focusing on skills related to practice management. Residents develop leadership skills by leading Quality Improvement teams as well as clinic pods. Billing and coding training are given with feedback periodically throughout one's residency. Residents receive regular feedback on productivity and attend monthly residency business meetings. PGYII residents participate in a 1-week course with didactic sessions on financial planning, career development, CV preparation and contract negotiation.
3rd Thursday Teaching Conferences
In regards to didactic experiences, the residency tries to marry real world experiences and educational opportunities through different forms of teaching. Every third Thursday of the month, the faculty cover the services so that all the residents can break away and devote their time and attention to didactic learning. In addition, each teaching session is organized by one of our PGYIII residents. This gives each resident a chance to focus on special areas of interest and to gain experience with arranging and presenting medical education events.
Resident-Faculty Forum
The residency holds monthly business meetings that are incorporated into the Thursday didactic schedule. 
Behavioral Science Hour
Behavior didactic sessions are incorporated into the weekly Thursday didactic schedule.
OB/Perinatal Conference
Facilitated by our OB/GYN consultants, residents on the obstetrical service present interesting or difficult cases for discussion and analysis.
Intern Support Group
The first year residents meet monthly with themselves and the chief resident in order to share and discuss their experiences.  This serves as a social time for the members of each class to bond during their first year.
Professional Self Awareness Group (PSAG) 
Residents meet monthly by class (alternating classes each month so every class will meet once every 3 months) to discuss matters of individual or common concern, both personal and professional in a structured format. We focus on professionalism, skill development and team building , as well as develop trust through group cohesion while engaging in social activities. These meetings are facilitated by our behavioral medicine faculty member .
The Rocky Mountain Research Forum
The Colorado Association of Family Medicine Residencies (CAFMR) organizes this all-day annual event in the spring for all of the family medicine residencies of Colorado. PGYIII residents present their scholarly projects, and PGYII residents present posters describing their scholarly project related to quality improvement. 
 
Global Health at St. Anthony Family Medicine Residency Program
The past few years have brought on many new opportunities in Global Health for the residents and faculty at St. Anthony North. Residents have opportunities to explore interests in cross-cultural medicine, ranging from work with refugee populations here at home to week-long overseas mission trips to month-long global health rotations.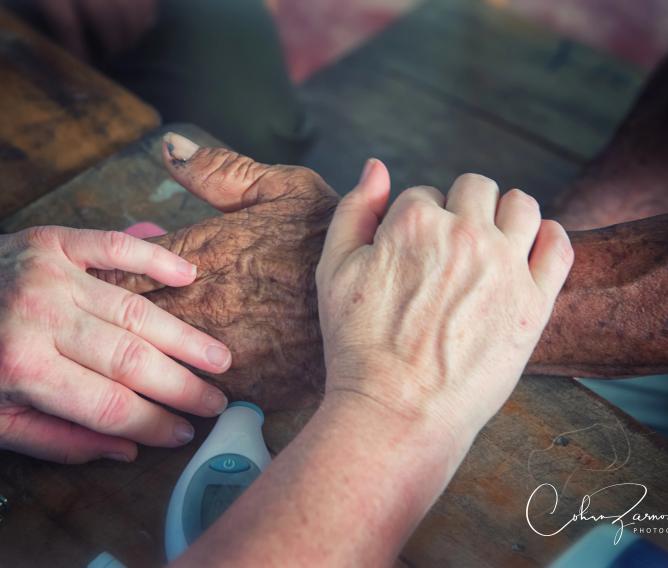 Centura Health mission trips
Through Centura Health, our sponsoring institution, faculty members and residents have the opportunity to take part in organized trips to Peru, Nepal, Tanzania and Uganda. Our involvement in these projects includes both Community Health activities and teaching Helping Babies Survive and Helping Mothers Survive trainings. These courses have been created for low-resource settings in a sustainable "train-the-trainer" model with the aim of reducing infant and maternal mortality worldwide. Some funding is available for our residents to offset the cost of these trips.
Clinica Ana Stahl in Iquitos, Peru
Faculty, residents, and clinic staff have participated in some of the regularly organized medical trips to Iquitos, Peru in the Amazon region through Centura's Global Health Initiatives. Residents have an opportunity to do a clinical/mission rotation to Iquitos, Peru with our partnering hospital Clinica Ana Stahl and the Department of Health, helping to teach the HMS and HBS educational programs. Residents have also participated in GHI community health projects along the Amazon and Napo Rivers and have worked with a DBPeru, a non-profit organization doing community health work in small river villages. Spanish-language classes can also be incorporated into the rotation.
Other Global Health experiences
In addition to the Centura Health trips, residents have carved out their own adventures in pursuit of medical service to low-resource populations as well as opportunities for language learning.
Refugee health 
Residents have been able to engage with international populations locally at a refugee clinic started by a residency graduate.
Global Health interest group
In the spirit of maintaining a passion for Global Health, the residency has developed a Global Health Interest Group. Our activities have ranged from discussions about refugee medicine to film nights to Ethiopian dinners! Some meetings are during the noon hour and others are during the evening.
Global Health opportunities
An integral part of healthcare
We believe that health promotion and disease prevention are an integral part of health care and are likely to become even more important with ongoing health care reform. Family Medicine, of the many medicine specialties, can play one of the largest roles in promoting health and preventing disease. As shifts in financing of health care change the way medicine is practiced, it may become increasingly important for Family Medicine physicians to have strong skills in these areas. 
In our program, residents develop expertise in general health maintenance, screening, risk factor management, health behavior change counseling, and making use of community and system resources. Specifically, using knowledge, perspectives and strategies learned in the HP/DP curriculum, graduates will be able to help their patients exercise more, eat healthier throughout their lives, manage their stress, and prevent accidents in their homes. With our emphasis on teaching general counseling skills, the graduates will be effective at the more difficult of the HP/DP interventions: smoking cessation, weight management and many others.
These skills are learned through a variety of experiences including group didactic teaching, scheduled one-on-one teaching, real-time precepting in the outpatient clinic, scheduled longitudinal counseling supervision (pre- and post-patient encounter), and specific individual consultation. Learning materials include the U.S. Preventive Services Task Force Guide to Clinical Preventive Services and Clinician's Handbook of Preventive Services; The Physician's Guide to Outpatient Nutrition, and a computerized patient education data base. 
Bright, compassionate physicians
We seek to train physicians who will represent the enduring attributes of Family Medicine:
Continuous comprehensive care
Care linked to family and community
Excellent communication skills
Recognition of the importance of research and teaching
Tolerance for ambiguity and uncertainty
Adaptation to evolving treatments and guidelines 
This list is not meant to be all-inclusive, but it describes the type of physician needed to adapt to the sweeping changes affecting medicine today. 
The St. Anthony Family Medicine Residency provides residents with an immersion into the life of family medicine. Residents will begin building relationships with patients in the first year by spending one or two half-days per week in the Family Medicine Clinic. Each Family Medicine Center emphasizes a team approach to patient care with support from medical assistants, nurses, behavioralists, care managers, and mid-level providers working together with residents and faculty physicians. 
As part of its philosophy, the residency includes behavioral science, social work and health promotion/disease prevention and diabetic education. Our program facilitates regular one-on-one teaching sessions with faculty through a process called "longitudinal counseling supervision."  We also feature critical appraisal of the literature and practice-based research in the second and third years with protected time available to work on individual projects. 
As Dr. G. Gayle Stephens, one of the intellectual fathers of family medicine, wrote, "Medical practice, in its highest and most distinctive form has always been an affair of both head and heart, of competence and devotion to the needs of people..." As the birthplace of endeavors like Tar Wars, Shared Beginnings and the annual Rocky Mountain Family Medicine Research Forum, the St. Anthony Family Medicine Residency is an excellent place to begin a career that echoes all of the above. 
 
Organized creativity is alive & well here
"Organized Curiosity" is a description for Family Practice Research that originated with T.S. Eimerl. This description suggests a certain informality that suits us as Family Practitioners while at the same time denoting an organization suitable for methodologists. (Journal Coll Gen Pract, 1980; 3:246-52)
One of the most famous general practitioners in England in the first half of the 20th Century was Will Pickles. He is generally given credit for determining the incubation period of most of the major infectious diseases, noticing the relationship of Chicken Pox to the subsequent development of shingles, describing Bornholm's disease, describing the infectious nature of certain types of Hepatitis, and describing Farmer's Lung. The world is anxiously awaiting the new Will Pickles in modern medicine.
In the present day we, as family physicians, should answer the questions which are unique to our practices and our patient populations. Even questions seemingly answered by the specialists may need to be re-examined in the light of our own experience before they can be generalized to the types of people seen by primary care physicians.
The St. Anthony Family Medicine Residency Program seeks to instill the basic skills necessary for "organized curiosity." This occurs in the following ways: 
Journal club sharpens residents' skills in critical appraisal of the literature.
Both providing and receiving teaching provides a chance to explore potentially interesting clinical questions.
Each resident leads a quality improvement team during their second year. The team completes a quality improvement project and presents a poster at the annual Rocky Mountain Research Forum.
Each resident completes a scholarly project, gaining experience in defining a research question, organizing a research proposal, data collection, data analysis, medical writing, and paper presentation. All activities are assisted by the faculty, but steered by the individual resident. Residents present their project in their third year at the annual Rocky Mountain Research Forum. 
Listed below are the salaries for 2020-2021. Our residency program stays market competitive. A sample contract is available under Residency Application above.
PGYI - $60,137
PGYII - $63,021
PGYIII - $65,753
Medical insurance 
Medical insurance is provided through United Healthcare.The residency program pays the cost for the resident and his or her family. 

Prescription benefits 
Prescription drug coverage is administered by ClearScript. Most prescriptions can be filled at a retail outlet. However, maintenance medications can be purchased more economically through a Centura Health retail pharmacy or via mail order. In both cases you can purchase a 90-day supply for two co-pays, instead of three. There are a limited number of drugs that require advance approval from United Healthcare.
Dental insurance 
Dental insurance is provided through MetLife. 

Vision service plan 
Vision Service Plan (VSP) offers comprehensive vision coverage to help you with the cost of eye exams and vision wear. 

Life insurance 
Centura Health offers several levels of life insurance coverage for resident and dependents. Residents automatically receive basic life insurance equal to their annual salary at no cost and have the option to purchase supplemental insurance for themselves and their eligible dependents.
Short-term disability 
Your short-term disability benefits provide continuation of income if you become temporarily disabled or have pregnancy complications.
Long-term disability 
Long-term disability offers you and your family a partial continuation of income if you become disabled and are unable to return to work for an extended period of time.
Flexible spending accounts 
Centura Health offers Healthcare and Dependent Day-care Flexible Spending Accounts (FSAs) to allow you to voluntarily set aside money on a pre-tax basis to pay for eligible health care and dependent day-care expenses.
Employee assistance program 
Our Employee Assistance Program (EAP) offers free counseling services to help you and your loved ones deal with issues or problems that could potentially affect your health, relationships or job performance. You and other members of your household are eligible for up to eight free sessions per issue each year. The EAP also offers limited legal and financial counseling and will refer you to professionals in these areas for more complex issues.
Vacation 
Fifteen (15) days per year (No Saturdays or Sundays, and cannot be carried over into next year). Vacation cannot be taken on some rotations. No pay is given in lieu of unused vacation leave
Sick leave 
Five (5) days of sick leave are granted per year and do not carry over. No pay is given in lieu of unused sick leave time.
Educational leave 
Five (5) days paid educational leave can be used during the second or third years of residency for the purpose of attending approved CME meetings. There is a one-time education allowance of $1,500.
Meals 
Meals are provided through doctors' lounge. Weekend and evening meals are provided through the hospital cafeteria.
Tax shelter 
Voluntary participation in hospital plan.
Retirement investment 
Residents can elect to contribute to a retirement investment plan through Fidelity Investments.  Since the residency participates in a qualified pension plan, residents cannot deduct contributions they make to an IRA.
Parking 
Free parking is provided for both the hospital and clinic.
Centura Health
Our residency training began in 1970, the same year that Family Medicine became officially recognized as the twentieth primary medical specialty. It was known as the Mercy Family Medicine Residency, headquartered in east Denver at Mercy Medical Center. Mercy joined with St. Anthony Hospital in 1988 and in 1995, when Mercy closed its doors as an acute care hospital, our program became known as the St. Anthony Family Medicine Residency.
St. Anthony North is owned by Catholic Health Initiatives, who, along with the Adventist Health Systems, joined together in 1997 to form Centura Health. Learn more about Centura Health.
Our mission
We extend the healing ministry of Christ by caring for those who are ill and by nurturing the health of the people in our communities. 
Centura Health largely provides funding for the program, with additional funding provided by the Colorado State Legislature through the Advisory Commission on Family Medicine. Revenues generated by our practice in the Family Medicine Centers also offset a substantial portion of our costs.