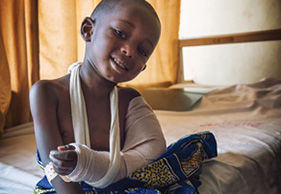 Disabilities and injuries which would be quickly addressed in the developed world are simply left untreated in Rwanda; Global Health Initiatives is working to change that reality.
In a country of over ten million people, only a few orthopedic surgeons exist. This has vast implications in a country where most people engage in manual labor to feed their families and ensure that they do not fall further into poverty. Furthermore, it is estimated that nearly 400 children are born with clubfoot in Rwanda each year. Babies born with clubfoot in industrialized countries are treated soon after birth when their tendons and ligaments are still very flexible. Unfortunately for children in Rwanda, treatment is not available at birth. When left untreated, clubfoot congenital deformity results in sever disability, social stigma and isolation.
"I was shocked when I first saw Emmanuel's feet. He suffered from a severe form of bilateral clubfoot which had never been treated or corrected - only endured. I was part of a Centura Health team of volunteers working at Mugonero Hospital in Rwanda when I first met Emmanuel. Since that day, Global Health Initiatives, through the financial support of generous donors, has funded many clubfoot surgeries for children like Emmanuel." - Greg Hodgson, GHI Director
Upcoming Trips
See information about our upcoming trips and application details.