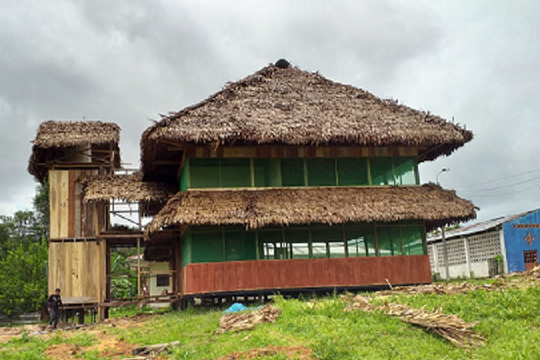 Construction on the house began in January 2019 and it was officially dedicated on June 12, 2019.
Total Health Program Launches in Sinchicuy
The jungle-heavy Loreto region of Peru is home to groups of hardy, kind people that live in small villages such as Manati I Zona and Sinchicuy. These communities are remote and lack infrastructure and economical resources. This isolation leaves them vulnerable to various diseases such as anemia and there is a general lack of accessible health care.
After a successful Total Health program in Manati I Zona that just finished its third year, Global Health Initiatives (GHI) set out to do the same in the small village of Sinchicuy. To do so, GHI commissioned the building of a clinic, officially named the Center of Influence and Education. 
The building was designed by local Denver architects from TreanorHL who designed it to be sustainable and used locally sourced materials to further benefit the community. As a result of their work and designs, TreanorHL was awarded the Western Mountain Region Design Award by the American Institute of Architects. The Center can house 5 students and 1 coordinator who work and live there. The students are local health science interns from the Union University of Peru who are in their 5th year. During their time with the Total Health program they teach workshops to the local community such as hand-washing, proper waste disposal, cooking with micronutrients and meal prep, home gardens, and emotional intelligence. These workshops are designed to impact families in the area, specifically those with school-age children, by partnering with their local school.
The impact of the Center on the local community is noticed not only by the people who live in Manati I Zona and Sinchicuy, but also regional government officials.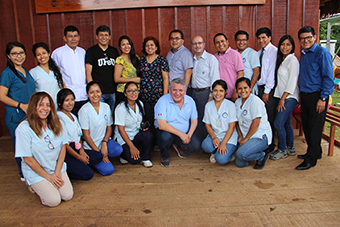 The June 12th dedication of the Center of Influence and Education in Sinchicuy was attended by local officials, medical personnel, regional health officials, Centura professionals including Porter Adventist Hospital's CEO Todd Folkenberg, and the regional governor, Elisban Ochoa.
In a last-minute presentation, Governor Ochoa commented on his surprise and pleasure at the obvious impact private entities are having in his region. The partnership of GHI, Clinica Ana Stahl, and the Union University of Peru was a success that the governor would not have believed if he did not see it himself.
This public acknowledgement is a significant step in furthering the development of similar clinics in the Loreto region and continuing partnerships with local entities to bring health and education to these isolated villages.
The specific goals for the Center of Influence and Education include:
Having 50% of local families involved in the education workshops. The main challenge here is educating parents as well as children. While children are more easily involved through partnerships with the local school, GHI desires to see more parents learning how to help their children.
Having 100% of mothers with children five-years-old and younger involved in workshops within a year.
Having 100% of school-age children in educational workshops.
Overall education on nutrition with a desired 50% decrease in anemia in children under five. 
Global Health Initiatives is impacting the local communities in the Loreto region of Peru through hospitals such as Clinica Adventista Ana Stahl and houses like the Center of Influence and Education. Through strategic partnerships with local governments and mission trips led by Centura professionals, the impact continues to thrive and grow. GHI hopes to replicate these results in even more communities and take more teams to the area to perform surgeries, train local health providers, and strengthen our relationship with the area villages.
If you'd like to see for yourself the impact GHI is making in these communities, email Kristen Carroll for information on attending a trip.
More Stories from Global Health Initiatives
Arthroscopy Surgery Made Available by Donations & Training

Thanks to the additional training and instruments, lives have already been changed.

Clinica Adventista Ana Stahl, located in Iquitos, Peru, is a hospital that treats local patients and partners with Global Health Initiatives. While this clinic does good and necessary work, there is need for further training and equipment to better serve the community.

This is where the Porter Adventist Hospital team offered their expertise during a recent trip to Iquitos. Among the team was surgeon Dr. Schwappach, anesthesiologist Dr. Hope, as well as two registered nurses, Angie Craig and Denise Benies. Susan Barnett was a member of the OR staff and spoke of the team's goals while in Iquitos:

The area is in need of more arthroscopic knee and shoulder surgeries but have so far lacked the expertise and equipment to perform such surgeries. Thanks to a generous donation from a local Denver hospital, the team was able to transport instruments and a shoulder positioner down to Clinica Adventista Ana Stahl that enables the surgeons to perform arthroscopic and open shoulder procedures.

Due to the critical nature of monitoring patients under anesthesia, proper training on the positioner is required to successfully perform these shoulder surgeries. The team trained the local clinic staff on how to use the positioner, eventually performing a total of 17 surgeries, 4 of which were shoulder arthroscopies.

Approximately three weeks before the Porter Adventist Hospital surgical team travelled down to Iquitos, 23-year-old Carlos dislocated his right shoulder. His lack of insurance or funds to seek private health care, combined with the abundant need at the government hospital, prevented him from receiving medical treatment. Carlos could not move or lower his arm to this side, leaving him in pain and discomfort for weeks.

Because of the new shoulder positioner, expertise, and training, the Porter surgical team successfully opened the joint, reduced the fracture, and repaired the tissue in hopes that the injury would scar inward, allowing for better healing and range of motion. Carlos's surgery lasted 90 minutes and has given him a chance at proper healing after weeks of pain and disuse. A local surgeon will follow up with Carlos in the coming weeks to track his progress.

Surgeries like this are only possible through generous donations of time, equipment, and knowledge that are given during GHI mission trips. This is a small look at what the Porter Adventist Hospital team was able to accomplish during their June trip. In the future, GHI hopes to provide more medical instruments to the Clinic. Many are loaned to them or provided by the surgeons themselves, resulting in a shortage of sterile equipment needed to perform surgery. Additionally, GHI sends teams six times each year, each of which take equipment, train staff, and provide surgeries for the poor in the community. These people are often without insurance and their only chance to receive much-needed surgeries is during a GHI trip. The medical personnel who give of their time are a huge blessing the Iquitos community.
Helping Babies Breathe Program Update in Nepal

Many who receive this training at the hospital take their skills back to their rural health outposts.

Global Health Initiative's (GHI) unique Helping Babies Survive program has been changing lives in the Kavre district of Nepal for the past two years thanks to country champion, Dr. Ananya Lusero, Michelle Perkins, and GHI-led mission teams.

In partnership with Scheer Memorial Adventist Hospital, teams of GHI professionals train the medical staff and local birth attendants in the Helping Babies Breathe (HBB) curriculum. HBB is an educational program developed by the World Health Organization and the American Academy of Pediatrics to teach neonatal resuscitation for birth attendants in resource-limited settings. These skills allow medical professionals to recognize when a baby is having difficulty breathing after birth and have the knowledge and tools to resuscitate them.

Over the last two years, these health personnel learned how to perform the HBB techniques using both a neonatal doll simulator and a bag-mask ventilator, which helps a baby in respiratory distress to breathe. However, when the GHI team returned in October 2018, they realized further training was required to hone the skills of these providers. GHI recognizes the importance of helping rural partners maintain these skills through site visits and encouragement to practice with the simulators.

In the last follow-up trip in May 2019, significant progress had been made! The local health providers were practicing more consistently and sharing their skills with others. In the two years since GHI has partnered with Scheer Memorial Adventist Hospital to provide the Helping Babies Breathe program, over 400 local health providers have been trained. This is above and beyond the initial goal of 200 per year.

In addition to this goal, GHI desires to have one Master Trainer at each health post in the region. These Master Trainers receive the HBB provider course and an additional training course in order to teach the program to others. As Dr. Lusero witnessed, these Master Trainers feel more competent and love being able to share their new knowledge by training others with the HBB materials and skills.

Not only does the HBB program make a difference in the lives of regional Kavre health providers and their communities, but also impacts the lives of Centura health professionals.

Dr. Ananya Lusero is a pediatrician in the small community of Canon City. While she loves impacting her local community, being a part of GHI allows her to be involved in the global community. Dr. Lusero sees her involvement with GHI as an integration of her desire to serve her local and global communities through the practice of medicine.

Interested in combining service with your career? Want to see the impact GHI is making around the world? Email Kristen Carroll for information on attending trips.
Continuation of Helping Babies Breathe in Uganda

In one year alone, this training is already saving lives in the area.

As GHI reached their one-year partnership anniversary with the Musana Hospital in Uganda, Dr. David Watson, Dr. Sharri Vares, and Gena Weir recently visited the site to assess the local, ongoing Helping Babies Breathe program.

The Helping Babies Breathe program teaches health care providers the necessary steps to save a baby's life in the first few moments after birth. This expertise is vital and has already been changing lives through GHI in other areas such as Peru and Nepal. With the lack of education and resources in Uganda, GHI launched the HBB program there to bring down the neonatal mortality rate.

At one local health center, the mortality rate was incredibly high, at 50 out of every 1,000. In comparison, according to the CDC, the neonatal mortality rate in the United States in 2017 was only 5.8 per 1000. In the year since GHI has initiated and implemented the Helping Babies Breathe training, not a single baby has been lost. We credit this to the vigilance of in-country champion Dr. Isa and Master Trainer Shamira, and know that with their leadership, these techniques continue to be taught and shared around the community.

We are also incredibly blessed by a strong relationship with the local health services officer, who recognizes the need for HBB training. This partnership is rooted in high collaboration and dedication to the community's overall health. With this unique partnership, HBB programs are continuing to take root in the area.

As GHI moves into its second year partnering with this Ugandan community, we look forward to continued growth in education and neonatal health.

You too can be involved! Consider joining a mission trip to Uganda or making a donation toward more training and involvement in the Iganga district. Email Kim Kennedy for more information.
More about Salud Total and life in the Peruvian Amazon Basin

The small village of Manati Zone I sits on the Rio Manati, a tributary of the Amazon River. It's hot and muggy. With the equator just a few miles to the north, the average temperature consistently hovers around 80 degrees.

There's a small-town center with a church and school, with some residents selling a small amount of dry goods out of their homes – the only version of a 'grocery store' in the village. The houses are built on stilts to avoid the river's flood waters during the rainy season. There are no streets because there are no access roads for cars to reach the village. Instead, dirt and grass paths travel from one building to another.

The people living in the village, all 500 of them, are in an isolated community about an hour's boat ride from the city of Iquitos, Peru. Most have no measurable income and are sustenance farmers that live off the land.

Their community faces numerous environmental problems that are contributing to a variety of health complications, among them: anemia, parasites, and mosquito-borne diseases. The village leaders decided to reach out for support.

The Introduction of Salud Total

Having served in Peru for over 10 years, it was apparent to GHI that many outlying villages surrounding Iquitos, a city of close to 500,000, have little to no access to basic health care. While the medical mission trips through GHI provided much needed surgeries and community clinics, there was still a lack of understanding among locals about how their daily living affects their health.

In Manati Zone I, many villagers use the muddy river water for their daily needs. The water is stored in a large cistern with a filtration system, but the filtration is inadequate. This leads to parasites and chronic diarrhea. Tests also revealed E. coli in the water. The tropical climate means that mosquito-born diseases, including malaria and dengue fever are common. Even more common is food insecurity, which contributes to deficiencies in their diet that lead to illness and anemia.

The idea for a new approach to health education and prevention in the Peruvian Amazon Basin was conceived two years ago by GHI. This pioneering program was designed to address the medical, environmental, and social determinates of health in a holistic manner.

Partner agreements between Centura Health, the Peruvian Ministry of Health, the local district government, Clinica Adventista Ana Stahl (GHI's partner hospital in Peru), and the Union University of Peru took several months to complete. Four University students in their final year of training (two in nursing, one in nutrition, and one in psychology) were then selected to spend an entire academic year living in the village of Manati Zone I to implement the program through targeting community-supported areas to improve different aspects of the health of the community. The students' projects included educative hygiene and nutrition education sessions, family support and counseling efforts, and hands-on group cooking sessions, to name a few. A nurse manager was employed to oversee the project and reside with the students in the Amazon community. 

Results from the inaugural year

The onsite placement of medical students and a nurse to provide 24/7 health care support is one of the signature aspects of Salud Total. By living every day in the village, these students developed strong relationships with community members, while serving as mentors to solve ongoing health challenges, like the contaminated water and mosquito-borne diseases.

The students moved in to the village in March 2017 and left in late November 2017. During this time, they helped coach the community through many lifestyle changes to improve their daily health. Of the main goals the medical students set out with, they were able to achieve a more than 50% reduction in children under the age of 5 with anemia, and a 64% decrease in the prevalence of parasites in children.

All organizations involved viewed Salud Total as a success and are eagerly looking forward to the launch of the next group of medical students later this year.

See the results of our first year.
Nepal Partner Hospital Receives Amazing Gift

A group of donors provided over $40,000 for hospital improvements.

At Scheer Memorial Adventist Hospital, GHI's partner hospital in Nepal, the doctors and nurses are skilled at making the best of limited resources and equipment.

Rusty, Outdated Equipment

Walking through the halls, you notice items like 4-foot tall air cannisters coated with rust, a door with the latch taped down so attendants can quickly enter the room, and an emergency room trolley that may well have been a living room storage cabinet before it was relocated to the hospital.

Their priority has always been to provide exceptional care to those who need it, no matter their ability to pay. And that means making do with what they have, because many are unable to pay.

But thanks to wonderful donors like you, Scheer is about to undergo some incredible renovations.

Last August Scheer's CMO, Dr. Jonathon Thorp, visited donors in Colorado to ask for help with two of the hospital's greatest needs: relocating the NICU and purchasing a ventilator.

A Three Minute Walk,
Rain or Shine

The current NICU is nowhere near the labor and delivery unit. If a baby needs immediate attention, the nurses are required to transport the infant through two outdoor hallways, down a series of ramps, and then into another hallway before arriving at the NICU.

Dr. Thorp proposed plans to relocate the unit right across from labor and delivery, but the hospital didn't have operational funds to cover the expense.

The other item needed, a ventilator, is critical to many of their emergency and ICU patients. The hospital only has two ventilators and the staff often found themselves caring for multiple patients needing assistance breathing.

"It Was Such a Blessing"

Dr. Thorp had hoped this group of supporters would generously give to provide for these critical items. And wonderfully, they did.

Over $40,000 was raised in one evening to make the hospital's biggest wish list items a reality. The team in Nepal is now in the process of finalizing plans to relocate the NICU and is ordering the ventilator.

Scheer's emergency trolley.

"It was a blessing to watch these individuals choose to give to a hospital halfway across the world," Dr. Thorp said. "My prayers were answered."

Thanks to the big-hearted generosity of donors like you, doctors and nurses at Scheer can enhance patient safety and quality of care, while continuing to offer the same exceptional support to their patients.
Spine Surgery Makes a Difference in Peruvian Community

In February 2019, Dr. Bradley Duhon, a neurological and spine surgeon at Parker Adventist Hospital, and his team conducted the first Neurosurgery Campaign at Clinica Adventista Ana Stahl, GHI's partner hospital in Iquitos, Peru. Before then, neural spinal surgery was unavailable at Clinica and many of the regions poorer individuals were unable to afford a plane trip to receive care in Lima, Peru.

During the trip, the team evaluated possible candidates for spinal surgery by comparing CT scans and symptoms and selected 4 individuals to participate in the new campaign. The first patient to receive surgery was 35-year-old Guzman Campos. A local teacher, Campos had been suffering with lower back and leg pain for eight years after surviving a car accident.

"We are so excited to have the opportunity to offer spine surgery at Clinca," said Dr. Milka Branez, CEO of Clinica Adventist Ana Stahl.

Even one day after surgery, Guzman was feeling relief and thanking the doctors for their incredible work. By the time he was discharged, he could walk up and down the hallway with no pain. This procedure truly changed Guzman's life, and was made possible by the Parker Adventist Hospital team. All the other spinal patients also passed rehabilitation and were discharged.

Even with these incredible results, there is still progress to be made.

"We want to be the best in the region and have the capacity for the best outcomes for our patients. We'd like to avoid referring patients to Lima," said Dr. Milka.

Additionally, Dr. Sanchez, the lead surgeon in Iquitos, and the Clinica staff are interested in having a full neurosurgery program.

Are you interested in being a part of this work? Global Health Initiatives is planning an August 2020 trip back to Clinica Adventista Ana Stahl to continue the work that has been started. If you want to be a part of this team, email Kristen Carroll for more information.
You made these Peruvian children feel cherished

GHI volunteers visited a school for children with disabilities to provide a pop-up clinic and offer hugs and smiles.

The children at Cebe 9 de Octubre in Peru love visitors. As soon as you walk in the door of any classroom, you're surrounded by dozens of smiling, curious boys and girls wanting nothing more than to be near you. Each child is at the school for special care, and though many were non-verbal, each child expressed their joy at receiving visitors in their own way.

A One-of-a-Kind Visit

It was a new experience for many GHI doctors and volunteers. Originally, this stop wasn't on the itinerary. In fact, it wasn't until the last day of the mission that a team was available to visit the school.

At first a group of non-medical volunteers arrived to spend time with the children. They were quickly welcomed into the little community and were drawn into impromptu basketball and soccer games and arts and crafts activities.

After visiting for an hour, the team realized that some of these children could use medical help – the exact kind of help that our doctors and nurses had been providing for communities up and down the Amazon all week.

The only problem was that the mission week for the medical group had officially ended, and personnel and equipment were scattered throughout the city.

An Unplanned Clinic

Despite some hiccups – a medical bag accidentally left on the taxi and difficulty connecting with doctors because of poor cell reception – the team was gathered at the school (and the medical bag was graciously returned by the taxi driver).

For the next two hours, the doctors met with over 30 children and their parents. Most of the issues could be treated onsite with leftover prescriptions the team had from the week's community health visits. For those who couldn't be treated immediately, we referred them to the best medical help available – our partner hospital, Clinica Adventista Ana Stahl.

You Provided Hope and Healing

Altogether, the children and their parents left filled with gratitude for the work of every volunteer. One young girl, in the pink shirt on the right, even went up to each person in the room and gave them a kiss before departing with her dad.

Though it was an unplanned visit, it quickly became the highlight for many on the trip. And it was only because of your support that we could offer free checkups and prescriptions to these incredible children.