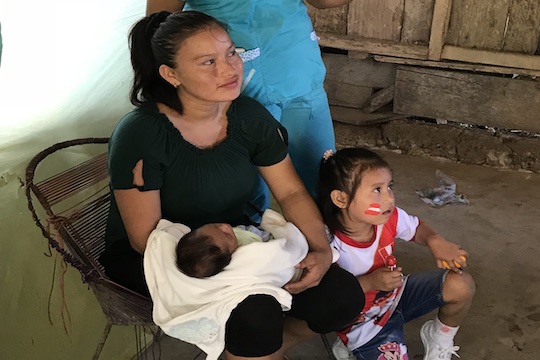 Thanks to your support of Helping Babies Breathe, baby Jose is alive today. He's one of 700 newborns saved in Peru during the past three years.
Helping Babies Breathe, a two-day class focused on saving infant lives when they struggle to breathe after birth, reached an amazing milestone. Now, we're moving forward again. When Jose was born, he weighed less than five pounds. He also had trouble breathing. His mom was frantic with worry – the birth of her daughter two years earlier had been nothing like this. 
Thankfully, the attending midwife had the training she needed to save his life. She quickly cleared Jose's airways so that he could breathe on his own.
She knew what to do because she had just completed the two-day Helping Babies Breathe class. The course provides nurses, midwives, and technicos working in remote villages with the skills needed to resuscitate a baby after birth if they have trouble breathing. The program was brought to Peru three years ago thanks to a grant and donors like you.
Recently, a GHI team visiting Peru met Jose and his mother. Jose was still tiny – a little over five pounds – and would have still been in the NICU if he was born in America. Yet, he was steadily gaining weight each day. Baby Jose's story gives us just a glimpse into three years of hard work and dedication that led to an amazing tally of over 700 toddlers, babies, and newborns born along the Peruvian Amazon who were given a chance at life through this program – and your generosity.
After the success of HBB in Peru, GHI is working to bring the program to our other partner countries. We can't wait to share more success stories with you in the future.
You made these Peruvian children feel cherished

GHI volunteers visited a school for children with disabilities to provide a pop-up clinic and offer hugs and smiles.

The children at Cebe 9 de Octubre in Peru love visitors. As soon as you walk in the door of any classroom, you're surrounded by dozens of smiling, curious boys and girls wanting nothing more than to be near you. Each child is at the school for special care, and though many were non-verbal, each child expressed their joy at receiving visitors in their own way.

A One-of-a-Kind Visit

It was a new experience for many GHI doctors and volunteers. Originally, this stop wasn't on the itinerary. In fact, it wasn't until the last day of the mission that a team was available to visit the school.

At first a group of non-medical volunteers arrived to spend time with the children. They were quickly welcomed into the little community and were drawn into impromptu basketball and soccer games and arts and crafts activities.

After visiting for an hour, the team realized that some of these children could use medical help – the exact kind of help that our doctors and nurses had been providing for communities up and down the Amazon all week.

The only problem was that the mission week for the medical group had officially ended, and personnel and equipment were scattered throughout the city.

An Unplanned Clinic

Despite some hiccups – a medical bag accidentally left on the taxi and difficulty connecting with doctors because of poor cell reception – the team was gathered at the school (and the medical bag was graciously returned by the taxi driver).

For the next two hours, the doctors met with over 30 children and their parents. Most of the issues could be treated onsite with leftover prescriptions the team had from the week's community health visits. For those who couldn't be treated immediately, we referred them to the best medical help available – our partner hospital, Clinica Adventista Ana Stahl.

You Provided Hope and Healing

Altogether, the children and their parents left filled with gratitude for the work of every volunteer. One young girl, in the pink shirt on the right, even went up to each person in the room and gave them a kiss before departing with her dad.

Though it was an unplanned visit, it quickly became the highlight for many on the trip. And it was only because of your support that we could offer free checkups and prescriptions to these incredible children.
Nepal Partner Hospital Receives Amazing Gift

A group of donors provided over $40,000 for hospital improvements.

At Scheer Memorial Adventist Hospital, GHI's partner hospital in Nepal, the doctors and nurses are skilled at making the best of limited resources and equipment.

Rusty, Outdated Equipment

Walking through the halls, you notice items like 4-foot tall air cannisters coated with rust, a door with the latch taped down so attendants can quickly enter the room, and an emergency room trolley that may well have been a living room storage cabinet before it was relocated to the hospital.

Their priority has always been to provide exceptional care to those who need it, no matter their ability to pay. And that means making do with what they have, because many are unable to pay.

But thanks to wonderful donors like you, Scheer is about to undergo some incredible renovations.

Last August Scheer's CMO, Dr. Jonathon Thorp, visited donors in Colorado to ask for help with two of the hospital's greatest needs: relocating the NICU and purchasing a ventilator.

A Three Minute Walk,
Rain or Shine

The current NICU is nowhere near the labor and delivery unit. If a baby needs immediate attention, the nurses are required to transport the infant through two outdoor hallways, down a series of ramps, and then into another hallway before arriving at the NICU.

Dr. Thorp proposed plans to relocate the unit right across from labor and delivery, but the hospital didn't have operational funds to cover the expense.

The other item needed, a ventilator, is critical to many of their emergency and ICU patients. The hospital only has two ventilators and the staff often found themselves caring for multiple patients needing assistance breathing.

"It Was Such a Blessing"

Dr. Thorp had hoped this group of supporters would generously give to provide for these critical items. And wonderfully, they did.

Over $40,000 was raised in one evening to make the hospital's biggest wish list items a reality. The team in Nepal is now in the process of finalizing plans to relocate the NICU and is ordering the ventilator.

Scheer's emergency trolley.

"It was a blessing to watch these individuals choose to give to a hospital halfway across the world," Dr. Thorp said. "My prayers were answered."

Thanks to the big-hearted generosity of donors like you, doctors and nurses at Scheer can enhance patient safety and quality of care, while continuing to offer the same exceptional support to their patients.
More about Salud Total and life in the Peruvian Amazon Basin

The small village of Manati Zone I sits on the Rio Manati, a tributary of the Amazon River. It's hot and muggy. With the equator just a few miles to the north, the average temperature consistently hovers around 80 degrees.

There's a small-town center with a church and school, with some residents selling a small amount of dry goods out of their homes – the only version of a 'grocery store' in the village. The houses are built on stilts to avoid the river's flood waters during the rainy season. There are no streets because there are no access roads for cars to reach the village. Instead, dirt and grass paths travel from one building to another.

The people living in the village, all 500 of them, are in an isolated community about an hour's boat ride from the city of Iquitos, Peru. Most have no measurable income and are sustenance farmers that live off the land.

Their community faces numerous environmental problems that are contributing to a variety of health complications, among them: anemia, parasites, and mosquito-borne diseases. The village leaders decided to reach out for support.

The Introduction of Salud Total

Having served in Peru for over 10 years, it was apparent to GHI that many outlying villages surrounding Iquitos, a city of close to 500,000, have little to no access to basic health care. While the medical mission trips through GHI provided much needed surgeries and community clinics, there was still a lack of understanding among locals about how their daily living affects their health.

In Manati Zone I, many villagers use the muddy river water for their daily needs. The water is stored in a large cistern with a filtration system, but the filtration is inadequate. This leads to parasites and chronic diarrhea. Tests also revealed E. coli in the water. The tropical climate means that mosquito-born diseases, including malaria and dengue fever are common. Even more common is food insecurity, which contributes to deficiencies in their diet that lead to illness and anemia.

The idea for a new approach to health education and prevention in the Peruvian Amazon Basin was conceived two years ago by GHI. This pioneering program was designed to address the medical, environmental, and social determinates of health in a holistic manner.

Partner agreements between Centura Health, the Peruvian Ministry of Health, the local district government, Clinica Adventista Ana Stahl (GHI's partner hospital in Peru), and the Union University of Peru took several months to complete. Four University students in their final year of training (two in nursing, one in nutrition, and one in psychology) were then selected to spend an entire academic year living in the village of Manati Zone I to implement the program through targeting community-supported areas to improve different aspects of the health of the community. The students' projects included educative hygiene and nutrition education sessions, family support and counseling efforts, and hands-on group cooking sessions, to name a few. A nurse manager was employed to oversee the project and reside with the students in the Amazon community. 

Results from the inaugural year

The onsite placement of medical students and a nurse to provide 24/7 health care support is one of the signature aspects of Salud Total. By living every day in the village, these students developed strong relationships with community members, while serving as mentors to solve ongoing health challenges, like the contaminated water and mosquito-borne diseases.

The students moved in to the village in March 2017 and left in late November 2017. During this time, they helped coach the community through many lifestyle changes to improve their daily health. Of the main goals the medical students set out with, they were able to achieve a more than 50% reduction in children under the age of 5 with anemia, and a 64% decrease in the prevalence of parasites in children.

All organizations involved viewed Salud Total as a success and are eagerly looking forward to the launch of the next group of medical students later this year.

See the results of our first year.