Centura CEO shares why we're now in the most dangerous surge of the COVID-19 pandemic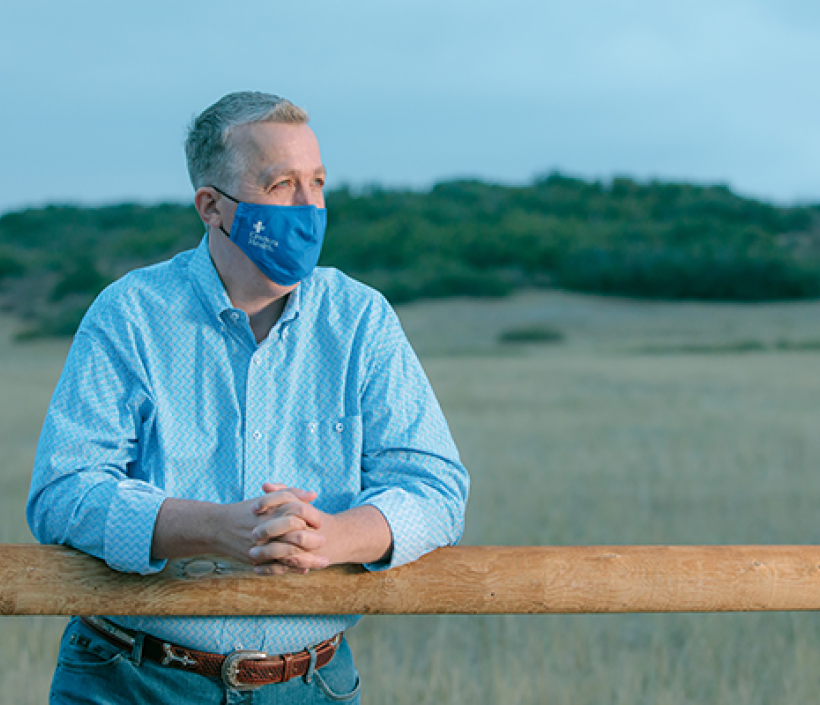 Across our country, we are experiencing a record number of positive COVID-19 individuals and COVID-related hospitalizations as the holiday season is rapidly approaching. This is the most dangerous surge of the pandemic yet, with estimates that we will start to exceed 2,000 deaths per day.
Today marks the 19th straight day of hospitalization increases across the United States – with 17 states in the West and Midwest (including Colorado) hitting their hospitalization peaks. On November 10, we had a record high of 61,964 hospitalizations nationwide, exceeding the previous record of 59,940 on April 15.
In just the last 48 hours, Centura Health has seen a significant increase in COVID-positive patients and hospitalizations across our physician clinics, our emergency departments, and pre-procedural testing. Roughly two-thirds of the COVID-19 patients being admitted to Centura facilities are 60 years of age and older.
Since the pandemic arrived in Colorado and Kansas in early March, we've learned so much about COVID-19 and how to respond to those who present with symptoms in our care settings and how to better clinically treat patients with COVID-19, resulting in improvements in length of stay, ventilator utilization, and mortality. We are able to treat COVID-19 patients with Remdesivir and convalescent plasma (CCP) as determined clinically appropriate by the physician.
We are prepared to safely and compassionately care for you. We continue to follow guidance from the Centers for Disease Control and Prevention for personal protective equipment (PPE). We have worked hard to ensure we have adequate supplies across our connected ecosystem. Our hospitals and physician clinics remain open and continue to partner with our providers and frontline caregivers to ensure those in our communities have access to urgent and emergent services.
Like you, I am both eager and anxious to move past this current surge and the entire pandemic in general. But as the data and trends are demonstrating, this virus will not go away on its own. Public communication continues to be confusing and often inaccurate. We do know that swift, aggressive, focused, and collective community action – flattening the curve – can slow the number of infections, hospitalizations, and deaths in a way that doesn't hurt individual livelihoods, businesses, and our economic recovery.
Across our communities in Colorado and Western Kansas, this coronavirus surge requires that we remain vigilant in our everyday lives. We should all take some simple steps to help slow the spread of the disease and to protect ourselves, our families, and our communities.
Continue to protect yourself and others. Wash your hands often. Put six feet of distance between yourself and others. Cover your mouth and nose with a mask when around others. Cover coughs and sneezes. Clean and disinfect touched surfaces daily.
Know before you go. Before going out, know and follow the guidance from local public health authorities where you live and work. Consider social distancing options when running errands or commuting to and from work.
Limit contact with others. Only visit places within your community when absolutely necessary. If possible, use drive-thru, curbside pickup, or delivery services to limit contact with others. If you are in a high-risk population, please stay home whenever possible.
Choose safe social activities. It is possible to stay connected with friends, family, and co-workers who don't live in your home by voice calling, video chats, or social media. Consider activities where you can maintain social distancing between yourself and others.
Keep distance at events and gatherings. It is safest to avoid crowded places and gatherings with others who are not from your household. Try to limit the number of people in crowded spaces to no more than 10 and for a limited duration in time.
Monitor your own health and well-being daily. Take your temperature two times a day and monitor for fever (temperature >100 degrees). People with COVID-19 may have a wide range of symptoms – ranging from mild to severe illness – and symptoms may appear 2-14 days after exposure to the virus. If you have any symptom, stay home and call your primary care provider for recommended next steps.
I remain immeasurably proud of how our incredible caregivers continue to respond to the ongoing challenges of COVID-19. They live our Mission, embody our core Values, and lean into our Vision of health and wholeness for every life, every neighbor, and every community.
Peter D. Banko is President and CEO of Centura Health.