Addressing Women's Health in Nepal
Global Health Initiatives has undertaken an ambitious project in Nepal. In partnership with Scheer Memorial Hospital and ADRA-Nepal, the Nepal Women's Health Initiative works to address complex issues surrounding the reproductive health of Nepali women with a specific focus on uterine prolapse.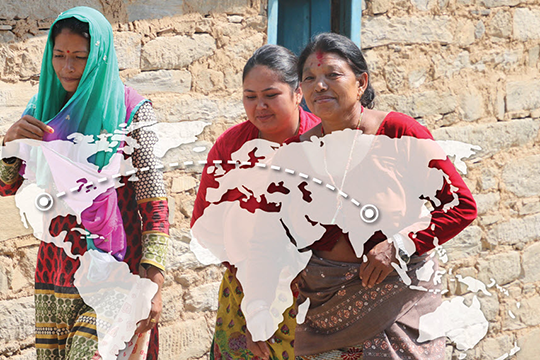 Women play a very important role in Nepali society, yet are given a very low status. Not only do Nepali women give birth and raise children, they also spend their days working in the fields, cooking, cleaning, and spend hours every day carrying water to their families, often touting urns weighing 30 pounds.
These cultural and gender traditions contribute to the high frequency of uterine prolapse in rural Nepal.
Uterine prolapse is a painful and debilitating condition. Many women suffer in silence in a nation that struggles with extreme poverty, only seeking help when symptoms cause them significant distress with their families.
Yashada's life mirrors that of thousands of other Nepalese women and for many years she suffered from chronic pain from a severely prolapse uterus. Yashada gave birth to her three children at home with no assistance. When she was asked if a family member or midwife assisted, she replied no. When asked who cut the umbilical cord, she answered simply "I did."

"When I got to the hospital I felt inferior and dirty. The people from Centura made me feel comfortable. Your people have done a lot for us, and you do it from your heart; I can tell. I would never have been able to have this surgery if it weren't for your group. I hope you will continue to help other women with these same problems."
See how one woman's life was changed with the help of supporters like you and Global Health Initiatives.
Mission trips to Global Health Initiative's partner hospital in Nepal, Scheer Memorial, focus on women's healthcare and surgeries. This video follows Samjana, a woman whose life was improved after receiving free pelvic prolapse surgery from the GHI team.