Empowering Healthcare Professionals in Nepal
Nepal is a beautiful country with rugged hills, rushing rivers, and the infamous Himalayan Mountains that include the world's tallest summit. However, hidden beneath all this beauty is a country that faces many challenges when it comes to providing health care.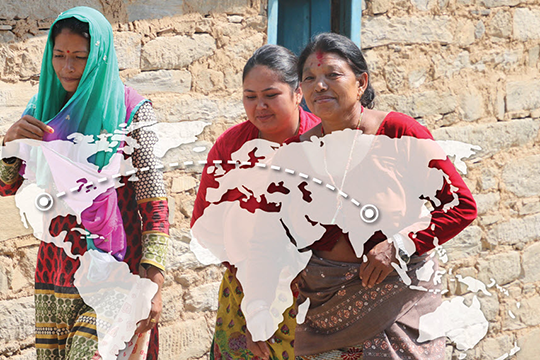 As a largely rural country with a variety of ethnic, religious, caste, and cultural practices, infrastructure is woefully lacking, and the government has been largely ineffective in improving the lives of average Nepalis.
Women's health presents a particular challenge due to the subsidiary role that women play in society.
How We Help
GHI has partnered with Scheer Memorial Adventist Hospital (SMAH) in Banepa, a commercial community located east of the Kathmandu Valley in the Kavre District of Nepal. GHI supports this hospital and its health care professions through a variety of activities.
Pelvic Organ Prolapse Surgeries, Prevention & Education

Nepal has one of the highest percentages of women who suffer from pelvic organ prolapse. The most debilitating conditions of this issue can be treated through surgery, however the best remedy is prevention and the use of ring pessaries. GHI sponsors village screenings, education, and provision of free surgeries in partnership with SMAH and its physicians.
Clinical Education

Physicians and nurses from Colorado are sharing skills with colleagues in Nepal, including courses at SMAH like BLS and ACLS.
Helping Babies & Mothers Survive

This train-the-trainer program seeks to reduce the infant and maternal mortality rates in the Kavre District. Hundreds of nurses, midwives, and birth attendants have participated in the training that has saved dozens of babies' lives.
Professional Development

Skilled professionals have worked with administrators at SMAH to improve their leadership skills as well as provide specific training for various hospital departments.
Infrastructure Development

GHI donors have provided much needed medical equipment at SMAH, including a C-arm, portable x-ray, and patient ventilators. Due to the proximity of quality equipment manufactured in India, we are able to support the purchase of new equipment without the hassle of shipping containers from Colorado. GHI has also partnered to develop a master plan for hospital growth and renovation, as well as facility development