Arthroscopy Surgery Made Available by Donations & Training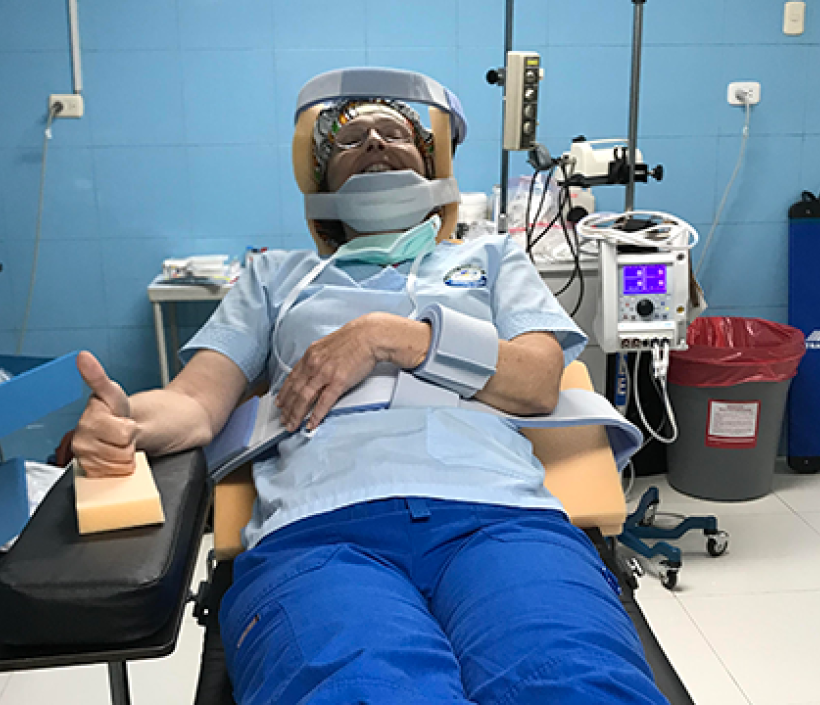 Clinica Adventista Ana Stahl, located in Iquitos, Peru, is a hospital that treats local patients and partners with Global Health Initiatives. While this clinic does good and necessary work, there is need for further training and equipment to better serve the community.
This is where the Porter Adventist Hospital team offered their expertise during a recent trip to Iquitos. Among the team was surgeon Dr. Schwappach, anesthesiologist Dr. Hope, as well as two registered nurses, Angie Craig and Denise Benies. Susan Barnett was a member of the OR staff and spoke of the team's goals while in Iquitos:
The area is in need of more arthroscopic knee and shoulder surgeries but have so far lacked the expertise and equipment to perform such surgeries. Thanks to a generous donation from a local Denver hospital, the team was able to transport instruments and a shoulder positioner down to Clinica Adventista Ana Stahl that enables the surgeons to perform arthroscopic and open shoulder procedures.
Due to the critical nature of monitoring patients under anesthesia, proper training on the positioner is required to successfully perform these shoulder surgeries. The team trained the local clinic staff on how to use the positioner, eventually performing a total of 17 surgeries, 4 of which were shoulder arthroscopies.
Approximately three weeks before the Porter Adventist Hospital surgical team travelled down to Iquitos, 23-year-old Carlos dislocated his right shoulder. His lack of insurance or funds to seek private health care, combined with the abundant need at the government hospital, prevented him from receiving medical treatment. Carlos could not move or lower his arm to this side, leaving him in pain and discomfort for weeks.
Because of the new shoulder positioner, expertise, and training, the Porter surgical team successfully opened the joint, reduced the fracture, and repaired the tissue in hopes that the injury would scar inward, allowing for better healing and range of motion. Carlos's surgery lasted 90 minutes and has given him a chance at proper healing after weeks of pain and disuse. A local surgeon will follow up with Carlos in the coming weeks to track his progress.
Surgeries like this are only possible through generous donations of time, equipment, and knowledge that are given during GHI mission trips. This is a small look at what the Porter Adventist Hospital team was able to accomplish during their June trip. In the future, GHI hopes to provide more medical instruments to the Clinic. Many are loaned to them or provided by the surgeons themselves, resulting in a shortage of sterile equipment needed to perform surgery. Additionally, GHI sends teams six times each year, each of which take equipment, train staff, and provide surgeries for the poor in the community. These people are often without insurance and their only chance to receive much-needed surgeries is during a GHI trip. The medical personnel who give of their time are a huge blessing the Iquitos community.