Helping Babies Breathe Program Update in Nepal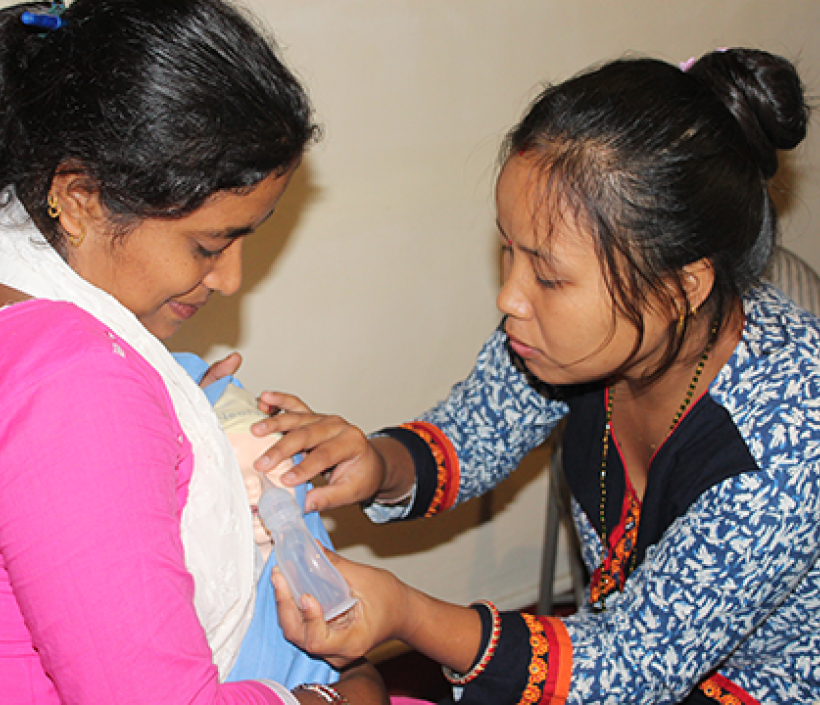 Global Health Initiative's (GHI) unique Helping Babies Survive program has been changing lives in the Kavre district of Nepal for the past two years thanks to country champion, Dr. Ananya Lusero, Michelle Perkins, and GHI-led mission teams.
In partnership with Scheer Memorial Adventist Hospital, teams of GHI professionals train the medical staff and local birth attendants in the Helping Babies Breathe (HBB) curriculum. HBB is an educational program developed by the World Health Organization and the American Academy of Pediatrics to teach neonatal resuscitation for birth attendants in resource-limited settings. These skills allow medical professionals to recognize when a baby is having difficulty breathing after birth and have the knowledge and tools to resuscitate them.
Over the last two years, these health personnel learned how to perform the HBB techniques using both a neonatal doll simulator and a bag-mask ventilator, which helps a baby in respiratory distress to breathe. However, when the GHI team returned in October 2018, they realized further training was required to hone the skills of these providers. GHI recognizes the importance of helping rural partners maintain these skills through site visits and encouragement to practice with the simulators.
In the last follow-up trip in May 2019, significant progress had been made! The local health providers were practicing more consistently and sharing their skills with others. In the two years since GHI has partnered with Scheer Memorial Adventist Hospital to provide the Helping Babies Breathe program, over 400 local health providers have been trained. This is above and beyond the initial goal of 200 per year.
In addition to this goal, GHI desires to have one Master Trainer at each health post in the region. These Master Trainers receive the HBB provider course and an additional training course in order to teach the program to others. As Dr. Lusero witnessed, these Master Trainers feel more competent and love being able to share their new knowledge by training others with the HBB materials and skills.
Not only does the HBB program make a difference in the lives of regional Kavre health providers and their communities, but also impacts the lives of Centura health professionals.
Dr. Ananya Lusero is a pediatrician in the small community of Canon City. While she loves impacting her local community, being a part of GHI allows her to be involved in the global community. Dr. Lusero sees her involvement with GHI as an integration of her desire to serve her local and global communities through the practice of medicine.
Interested in combining service with your career? Want to see the impact GHI is making around the world? Email Kristen Carroll for information on attending trips.