Partnering with Founding Organizations
The Total Health project was first implemented in the village of Manati I Zona in 2017. This community was chosen following an extensive program of data collection, local interviews, and a selection process involving proposals submitted by six villages within the local district (county), all which have a health post and a tecnico (community health worker) to partner with.
A significant factor in the success of this project is based on the partnership among several founding organizations, including Clinica Adventista Ana Stahl, Union University of Peru (UPeU), the local government of the District of Indiana, the Regional Ministry of Health, and GHI.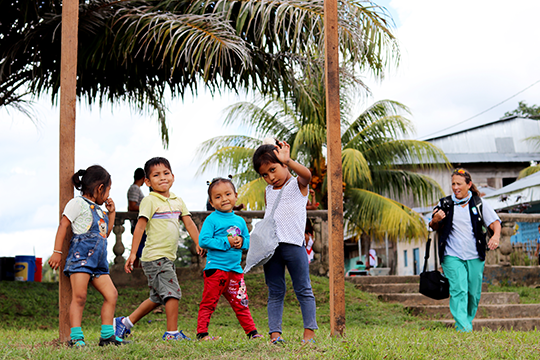 Role Models to Local Youth
Students from UPeU who are finishing their final year of university are crucial to program success. They come from the various schools of nursing, nutrition, and psychology, and they are responsible for planning and implementing program activities for Total Health.
Under the leadership of a clinical coordinator employed by Total Health, the university students conduct various activities involving the local primary and secondary school, parents, and community groups, as well as individual counseling. Not only do these students provide important information to the community about maintaining and improving their health, but they also serve as role models to the local youth who otherwise might live their lives without ever even considering higher education.
Planned by Denver minds, constructed by local hands.
In order to house the students, a large house, or casone, was planned by Denver-area architects at TreanorHL and constructed by the local community. Designed to be an example of a home that enhances the inhabitants' health, the structure was intentionally designed to be constructed with local materials that are inexpensive and easy to access. The house has won an award from the American Institute of Architects for its innovative design.
Following the achievements in Manati, a second project was begun in the village of Sinchicuy in 2019. News of these two projects and their success in improving the lives of these communities has spread, and several other district leaders have asked to have similar projects established in their territories. We hope to continue expanding the program, but we need ongoing support to do so.
The blessing of good health is something we often take for granted…until we get sick. Many of the basic health principles that we learn in the US as toddlers – like washing our hands, brushing our teeth, and using a toilet – are not common knowledge in many parts of the developing world.
Total Health is a project which has and will continue to make a huge difference in the health and well-being of communities in some of the most hard-to-reach areas of our globe.