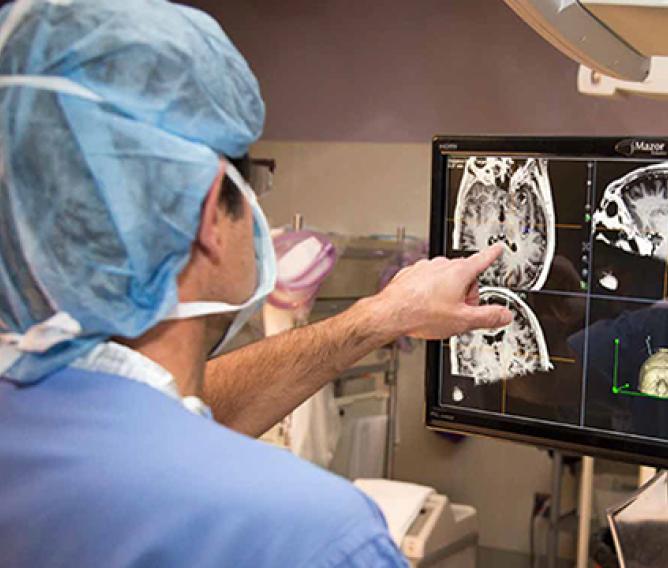 Advancing neurological care at Littleton Adventist Hospital
People are suffering from some sort of neurological disorder such as epilepsy, stroke, essential tremor, Parkinson's disease, behavioral health disorders and many other conditions.

Today, real solutions for some of these chronic and debilitating conditions are within our reach, but we need your help. Brain Matters, a campaign to advance neurological care at Littleton Adventist Hospital will bring these new treatments and life-changing developments to Colorado and beyond.
When you invest in Brain Matters, you're investing in your community, facility expansion, technology and research advancements, and the talent to elevate the depth and breadth of neurological care offered at Littleton Adventist Hospital.
Research will now be possible, treatment options, not conceivable previously, will now be attainable and enhanced outcomes for patients will be realized – all with your help. With these investments, Littleton Adventist Hospital will increase its national prominence, making it a renowned facility and maintaining its position as a top-ranked brain and spine facility.
What does it mean to be a not-for-profit health system?
Not-for-profit health systems play vital roles in their communities by allocating resources and developing services based on the healthcare needs of residents. Any excess of revenue over expenses realized are not distributed to shareholders; instead, these funds are invested to further the organization's mission through capital improvements, new equipment and technology, and/or new programs and services.
Why is philanthropic support essential for hospitals like Littleton Adventist Hospital?
Not-for-profit hospitals rely on revenues from operations and investment income to fund improvements such as new and enhanced facilities, new equipment and technology, and new programs and services. With disruptive changes occurring in the healthcare industry - such as declining reimbursements, costly mandates, the advent of high deductible health plans and the soaring costs of new equipment, technology and medications - hospitals are increasingly turning to philanthropy to help fund essential projects and programs that improve patient safety, care, and satisfaction.
What is the goal of the campaign?
The campaign seeks to raise a minimum of $5.5 million in gifts and pledges. This effort will be led by 100 percent participation from the Community and Foundation Board of Directors as well as strong support from Littleton Adventist Hospital leaders and staff, physicians and others in the community. In order to reach the campaign goal, individuals, businesses and foundations will be asked to generously support the campaign.
How long is the pledge period?
Donors are asked to consider a pledge paid over a three year period. Five year pledges are accepted for gift of $25,000 and greater. Fulfillment of the pledge is at the discretion of the donors, most often, monthly, quarterly, semi-annually or annually.
How do I make my pledge?
Most donors who pledge to support the Campaign will fulfill their commitment with pledge payments or securities. Littleton Hospital Foundation staff will work with donors to arrange a pledge fulfillment schedule. Credit card payments are welcome should donors wish to take advantage of credit card company bonus miles or other earning opportunities.
How much am I expected to give?
Gift size is a personal decision based upon each individual's circumstances. No one will tell you how much to give, but you will be asked to consider a specific gift amount so that the goal can be achieved. Littleton Hospital Foundation requests that you consider a gift that is meaningful to you, and one that reflects how important the projects and the future of Littleton Adventist Hospital is to you, your family and your community.
May I donate in honor or in memory of a loved one?
Yes, making a gift in honor or in memory of a loved one is a special and meaningful way to pay tribute to someone's life. Gifts at any level may be made in honor or in memory of a loved one, and all such gifts will be publicly acknowledged.
Can I contribute assets other than cash?
Yes, donors may contribute stocks and other appreciated assets such as IRA assets, life insurance or real estate, for example. A Ways of Giving document has been developed to outline the numerous options to support the campaign. The Littleton Hospital Foundation staff will work with you to ensure that such gifts are made as seamlessly as possible.
Can I create a bequest or other type of planned gift for the campaign?
Yes, bequests or other planned gifts are acceptable as part of the campaign. Many in the community may want to make a gift in a meaningful way but may not be able to make an outright pledge. A bequest or other planned gift can accomplish this objective.
Are there recognition and commemorative opportunities?
Yes, there are several recognition and commemorative opportunities available. Please contact the Littleton Adventist Hospital Foundation staff for more details.
There are many options available for you to make an impact at Littleton Adventist Hospital through our Brain Matters Campaign. Click the link below to learn more about how you can make a difference, from cash donations, to donor advised funds and even planned giving bequests.
Littleton Hospital Foundation is grateful for the generosity of our donors, friends and volunteers who make a difference in the lives of our patients.
Donors may make pledges over a three-year period. (The pledge period may be extended for commitments over $25,000). The Ways of Giving information provides details on the various options to support the campaign.
Donors will be recognized in a variety of ways within the Hospital and through other means.
The Foundation is offering a limited number of specific naming opportunities throughout the expanded program. We would be honored to work with you on a naming opportunity that is meaningful to you and your loved ones. Please contact the Foundation office to explore these opportunities.