Centura - Avista Adventist Hospital
Location
100 Health Park Dr
Louisville
,
CO
,
80027
Centura Avista Adventist Hospital in Louisville, Colorado is a comprehensive medical center that provides a full range of medical specialties and exceptional health care to the Louisville, Superior, Broomfield and surrounding Boulder area communities. A 114-bed full-service hospital, Avista provides first-rate Heart and Vascular and emergency care. Avista is home to a Joint and Spine Care Center specializing in hip and knee replacement and spine surgery. It is also widely recognized for its award-winning New Life Center, the Louisville and Boulder area's largest and most innovative birth center and home of the area's largest Neonatal Intensive Care Nursery.
About Our Hospital
About Our Hospital
Avista Adventist Hospital by the numbers
Active Medical Staff: 959
2022 Admissions: 4,035
2022 ED visits: 10,179
Caregivers: 525
Beds: 114 Licensed Beds
Surgical suites: 7
2022 Charity/Uncompensated Care: $30.2 million
Top-Rated for Quality Patient Safety
CMS Five-Star Rating
Leapfrog "A" Grade for Patient Safety and Clinical Excellence in Spring 2021

First-Rate Heart & Vascular
Society of Cardiovascular Patient Care

Award-Winning Primary Stroke Center
Joint Commission-Certified Advanced Primary Stroke Center
American Heart Association Get With The Guidelines Stroke Gold Plus Quality Award

Award-Winning Joint and Spine Program
Joint Commission: Gold Seal of Approval
Joint Commission: Gold Seal of Approval Geriatric and Hip Fracture

Award-Winning New Life Center and the area's largest Neonatal Intensive Care Unit
Joint Commission: Gold Seal of Approval

Award-Winning Women's Care
AAGL: Center of Excellence in Minimally Invasive Gynecology

Award-Winning Pulmonary Care
Healthgrades Five-Star Recipient for Treatment of Pneumonia in 2021

GI Center of Excellence certified by the American Society for Gastrointestinal Endoscopy
CNOR Strong
Recognition of a high level of advanced certification among operating room nurses. Reflects nursing excellence for enhanced patient safety.
Leaders
Leaders
Avista Adventist Hospital Leadership
Carol Travis joined Avista as its Chief Financial Officer in 2018. In her role, Carol provides leadership and oversight of hospital operations, financial performance, and stewardship. She has been with Centura Health for more than 15 years serving in various finance leadership roles. Prior to her work in healthcare, Carol worked in the assurance and advisory business services division of Ernst & Young, LLP in Denver, CO. Carol is a licensed CPA in the state of Colorado and a graduate of Colorado State University.
Dr. Sorensen joined Avista Adventist Hospital, as Chief Medical Officer in February of 2019. Known for his mission-driven leader style, Dr. Sorensen has worked with Centura Health since 2009 — most recently as a regional specialty medical director with Centura Health Physician Group (CHPG), as well as the medical director for Centura's physician well-being initiative.
Dr. Sorensen earned his medical degree at Loma Linda University, CA., in 2004. He is double board certified in both Anesthesiology and Interventional Pain Medicine. He is a member of numerous professional and community committees and is affiliated with the American Academy of Pain Medicine and Spinal Intervention Society.
Paul Heskin RN, MBA, CCRN, serves as the Chief Nursing Officer at Avista Adventist Hospital. A relationship-focused leader, Paul is passionate about coaching, mentoring, and developing the incredible nurses who care for those in our communities.
"I am on a mission to create an empowering, nourishing, and healing environment for all those that I serve," Paul said. "I am looking to build on the incredible reputation at Avista and Centura Health while guiding our nurses through the COVID-19 pandemic and into the next normal in healthcare."
Before joining Centura Health in August of 2021, Paul held leadership positions at multiple Colorado hospitals, where he focused on nurse engagement and development. He has frontline experience working in cardiac and pediatric intensive care units. Paul earned his Bachelor of Science in Nursing at Rush University in Chicago and his Master of Business Administration at the University of Colorado Denver.
When he is not leading Avista's nursing teams, Paul enjoys exploring Colorado outdoors on skis, on his bike, and on foot. A Chicago native, he and his wife have two children.
Volunteer
Volunteer
Real happiness is found in service to others and nowhere are there more opportunities to serve than in healthcare. Opportunities to serve at Avista Adventist Hospital are varied, and can be tailored to your talents and interests.
For questions about volunteering, contact us:
Learn, teach, and share. Make an impact!
Must be 16 to 80 years of age — including retirees, students, young professionals, homemakers, and grandparents.
$30.2 million
FY22 Charity/Uncompensated care
Known for its award-winning New Life Center and the area's largest neonatal intensive care nursery, Louisville's community hospital is also widely recognized for; first-rate emergency services, world-class joint and spine program, comprehensive cardiac care, general surgery with the latest physician-driven robot technology, and its Primary Stroke Center.
Delivering customized experiences at our New Life Birth Center
Amazing is the most common word we hear in our New Life Birth Center, ranked continually by Moms in the Top 100 nationally. Amazing people helping to bring amazing lives into this world. From the pre-delivery consultation where you outline your vision for your baby's birth to our private birthing suites, our caregivers are passionate about providing a warm, personal, and compassionate experience for your baby's birth.
Visitor Information
You can count on us to be there for you. We understand that times of illness and injury affect not only our patients, but also their loved ones. The information below will help you before, during, and after you come to our hospital. Our goal is to provide the level of patient experience that enhances your peace of mind and earns your full confidence.
Visitor information
Visitor information
Please read Centura Health's current COVID-19 visitor restrictions. Contact the hospital directly for additional individual visitor policies that may apply.
All visitors of patients at our hospital enjoy equal visitation privileges consistent with patient preferences and subject to the facility's clinical restrictions. Visitor policy may be subject to change. Please adhere to any adjustments to permitted visitors, as posted in our facility.
Visitors under the age of 14 must be escorted by a responsible adult.
At 7 pm, seven days a week, the main lobby entrance will be locked. After 7 pm, enter the hospital through the emergency department walk-in entrance.
Visitors remaining after 7 pm are asked to go to the security desk in the emergency department to get a special visitor's badge.
There may be times when visitors are asked to leave to better meet the needs of our patients.
Patients and visitors may park in the parking lot in front of the main entrance and adjacent lots around the hospital.  Free parking is available 24 hours a day.
Vending machines
Vending machines are located on the lower level next to the cafeteria, and on the first floor in the atrium near the gift shop.   
A 24-hour Micro Mart with fresh food, frozen items, and drinks is located in the patient waiting area on the first floor.
Café/Cafeteria
Roots Café
Location:  Lower level of Avista
Monday - Friday: 7 am – 2 pm
Closed on weekends
Our gift shop is conveniently located on the first floor. Visitors can find a variety of gifts and convenience items for their family members or loved ones in the hospital. Call 303-673-1187 to get the most updated hours.
Letters and packages are delivered to patients Monday - Friday. If you have letters to be mailed, you may give them to your nurse. Flowers addressed to you will be delivered to your room unless you are in the intensive care unit. Only Mylar® balloons are permitted in the hospital. Latex balloons can cause allergic responses and interfere with hospital safety systems.
ATMs are located by the gift shop on the first floor.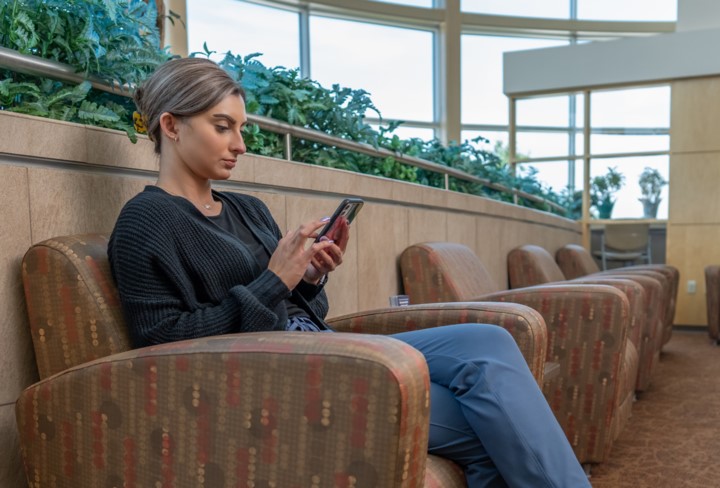 Our Foundation
Avista Adventist Hospital Foundation a nonprofit, faith-based fundraising organization dedicated to providing financial support to Avista Adventist Hospital, thereby helping to facilitate and improve healthcare for the people of our community. We are committed to extending the healing ministry of Christ, by caring for those in need – particularly the sick, the injured and the elderly – through our financial support of Avista Adventist Hospital.
At  Avista Adventist Hospital, we believe our community's health is a family affair. Join the Avista Adventist Hospital Foundation to make a difference.
Programs
Avista Adventist Hospital's programs and services reach beyond the hospital's walls into our community, bringing education, comfort, healing and life-saving care to people in need. Donors to Avista Adventist Hospital Foundation make it possible for  Avista Adventist Hospital to continue its mission of caring for those who are ill and nurturing the health of the people in our communities.
Avista Therapy Dog Program
Avista Therapy Dog Program
The therapy dogs and their handlers are a welcome distraction from illness or pain by bringing laughter and encouragement to everyone they meet. It's always a joy to see one of our dogs providing comfort and bringing smiles to patients, their families and our staff when it's needed most. Donations to this program ensure scholarships, uniforms, rewards, incentives, program candidate promotion, and community outreach programs.
Fall & Balance Prevention
Fall & Balance Prevention
Move with Strength and Confidence 
Among older Americans, falls are the leading cause of death. They can also diminish your ability to lead an active and independent life. It's estimated that one third of people over the age of 65 and almost half of the people over the age of 80 will fall at least once this year. According to the Centers for Disease Control and Prevention, about 20-30 percent of those falls will result in moderate to severe injuries, including traumatic brain injuries and bone fractures. However, falls can be dramatically decreased through education, exercise and mindfulness. 
Our program can help you understand and reduce the factors that place you at greater risk for a fall. Statistics show that individualized multi-dimensional exercise programs yield significant improvements in balance, mobility and awareness.
This program includes a comprehensive assessment to help identify:
Existing medical conditions that may contribute to an increased risk of falling
Fall hazards and risks related to the home environment and activities
The need for and correct utilization of assistive devices
A specific exercise program to improve strength, mobility and balance
Who can benefit from this program?
Adults age 65 and over
Individuals concerned with falling
Those that have experienced falls in the past
Those who just don't move or walk with the confidence they used to have
Those with muscle weakness and limited mobility
Those who complain of dizziness or lightheadedness
Individuals with problems with the senses, such as vision or numbness in their feet
What are the benefits of participating in this program?
Better understanding of how to reduce the risks of falls in the home
Develop better strength and improve balance
Avoid injury and hospitalization
Live independently with strength and confidence
About us
Our developer of the Balance and Falls Prevention Program is specifically trained and certified in fall prevention as well as being a licensed physical therapist. We offer a variety of programs for both the individual needing one on one treatment (including treatment for vertigo) as well as affordable group classes to improve balance, educate in falls prevention and increase safe activity to those of ALL abilities. 
Community Engagement Request
Community Engagement Request
Centura Health hospitals receive many requests each year asking us to engage in community events and programs. Supporting the communities we serve in this way is a reflection of our mission: to extend the healing ministry of Christ by caring for those who are ill and by nurturing the health of the people in our communities.
Before submitting a request, please consider the following:
Sponsorships and events should align with our mission, vision and values. All sponsorships and events should relate to community health improvement or prevention and one of the hospital's Community Health Needs Assessment priorities.
Please make your request at least 60 days prior to your event or sponsorship deadline.
Completion of this form does not guarantee a donation or sponsorship.
We are only able to support non-profit organizations.
Completed requests will be considered by an internal committee. We will contact you within 30 days regarding the status of your request.