Centura - Castle Rock Adventist Hospital
Location
2350 Meadows Blvd
Castle Rock
,
CO
,
80109
Since opening in 2013, the Castle Rock community has grown to appreciate the convenience of having expert medical care close to home. Our dedicated caregivers are fueled by their individual passions and purposes to serve our flourishing community. We offer advanced care in many specialties. Our comprehensive medical teams deliver remarkable care, high-quality outcomes, and unparalleled patient satisfaction among a wide variety of medical specialties, services, and programs.
About Our Hospital
About Our Hospital
By the numbers
Active Medical Staff – 828
Caregivers – 635
Emergency Department – 12 Private Rooms
Surgical Suites – 5
2020 Admissions – 3,260
2020 ED Visits – 14,967
Beds – 55 Licensed Beds
FY21 Uncompensated / Charity Care – $15,125,314
Quality and safety
Leapfrog Hospital Safety Grade A – Spring 2021
Leapfrog Top Hospital – 2020
CMS 4-Star Rating
Emergency care
Level III trauma center
Board-certified emergency physicians, specialty trained emergency nurses, trauma-trained surgeons, orthopedists and anesthesiologists
Pediatric emergency care
Stroke care
Joint Commission Primacy Stroke Center
Cardiac care
State-of-the-art cardiac and interventional radiology technology to support 24/7 treatment of cardiac and bleeding emergencies.
Intersocietal Accreditation Commission (IAC)-accredited for echocardiograms
Birth center
Newsweek's Best Maternity Hospitals for 2020 and 2021
Orthopedics & spine care
Award winning orthopedic care provided in sports medicine, spine care and joint replacement
Minimally-invasive robotic program for general surgery and joint replacement surgery
Breast care
3D mammography is offered in Colorado's first sensory suite for a calming and inviting mammography experience
Screening and diagnostic breast care is offered onsite at Castle Rock Adventist Hospital
Outpatient services
Medical imaging, including MRI, nuclear medicine, CT and X-Ray are located in facilities accredited by the American College of Radiology
The Center for Rehabilitation is a one-stop-shop for physical and occupational therapy, and speech language pathology.
Leaders
Leaders
Centura Castle Rock Adventist Hospital Leadership
Prior to Jeremy's being appointed to CEO at Castle Rock, he was Centura Porter Adventist Hospital's, Chief Financial Officer. He was instrumental in supporting the development and implementation of Porter's 2025 strategic market plan — the Porter Spark — and in regrowing the spine and orthopedic services. He also led work to expand Porter's digestive health services. A faithful and servant leader, Jeremy is personally and professionally connected to our Mission and advancing whole person care to the communities we serve.
Prior to Centura Porter Adventist Hospital, Jeremy served as Chief Financial Officer/Chief Operating Officer of Centura Castle Rock Adventist Hospital and also held leadership roles at Centura Littleton Adventist Hospital in finance and surgical services. Jeremy received his Bachelor of Finance and Accounting from Union College and his master's degree in Finance and Entrepreneurship from the University of Colorado. Jeremy is passionate about community wellness and funding programs to help educate the public about a balanced, healthy lifestyle. He amplifies his passion for this by serving on several community boards, including HSS, the security partner of Centura Health.
Jeremy was born and raised in Colorado, where he attended Denver's Mile High Academy. He lives in Castle Rock with his wife and two children and is excited to work in the Castle Rock community again. He enjoys visiting his family cabin in Grand Lake, snowmobiling, hiking, dirt biking, and all kinds of mountain fun.
Matt Gal serves as Chief Financial Officer of Centura Castle Rock Adventist Hospital. Prior to his role with Centura Health, Matt served as the Regional Director of Capitation Management of Adventist Health in Santa Rosa, CA. Matt joined Adventist Health in 2003 and held progressive leadership roles within finance and operations during his tenure there until 2017.
He has also served as the Director of Finance for St. Mary's Medical Center in San Francisco, where he led the financial operations of a 304-bed acute care hospital with a $200M net revenue. Highlands Ranch is home to Matt, who is excited to return to his roots and join a growing community and hospital at Castle Rock Adventist.
He enjoys developing and participating in a strong team culture and expanding the hospital's reputation in the local community. Matt earned his Master of Business Administration from La Sierra University, a Master of Arts in Divinity from Andrews University, and a Bachelor of Science in Finance from Union College in Lincoln, NE.
Devin Bateman, MD, is Centura Castle Rock Adventist Hospital's Chief Medical Officer (CMO) and is on a mission to ensure the hospital's patients and people experience the same care we would want for our own loved ones. Dr. Bateman is instrumental in managing Centura Castle Rock Adventist Hospital's medical partners and is committed to ensuring each patient receives high-quality, safe, and effective care to meet their unique needs.
He is a member of the American Medical Association, the Colorado Medical Society, and the American College of Emergency Physicians. Dr. Bateman holds certifications from the American Board of Emergency Medicine and the Colorado Board of Medicine.
Dr. Bateman earned a Bachelor of Science degree from the University of California, San Diego, in Biochemistry and Cell Biology, and a Medical Degree from Loyola University Chicago, IL. He completed his residency at the University of Virginia, Charlottesville, before serving as the University's Chief Resident in Emergency Medicine. Additionally, Dr. Bateman is a proud veteran, having served as a Major in the United States Air Force Medical Corps from 1999 to 2003, with deployments in support of Operation Enduring Freedom.
Ellery Reed comes to Centura Castle Rock Adventist Hospital as Chief Nursing Officer (CNO) from Centura Littleton Adventist Hospital, where she has served in various roles since 2013, most recently as the Director of Acute Care Services, where she aligned patient priorities with Centura strategic focus for maximized patient outcomes.
She brings an extensive knowledge of the Centura Health mission, vision, and values and fulfills them each day through her skills and leadership. Ellery is on a mission to connect, learn, empower, and lead with a growth mindset in the creation of the Centura Experience.
In her role as CNO, Ellery will provide leadership in the hospital's clinical operations, setting standards for nursing care and practice, ensuring compliance with regulatory standards, and driving improvement to achieve organizational goals. Ellery has a Bachelor of Science in Nursing from the University of Wyoming, a master's from Chamberlain University in Nursing — Executive Leadership, and a master's degree from Western Governors University in Business Administration — Healthcare.
Lisa Hinton is the Director of Business Development at Centura Castle Rock Adventist Hospital and joined our healing ministry in November 2015. Lisa's mission is to offer the best healthcare possible to our growing community and is rooted in fostering healing care to meet the unique needs of each person.
Lisa has served in various roles with Centura Health, including as Director of Outpatient Services for Centura Castle Rock Adventist Hospital. Prior to her time at Centura Castle Rock Adventist Hospital, Lisa worked for HealthSouth corporation for 15 years in California and Colorado as Director of Business Development/Marketing Operations and Director of Therapy Operations.
Lisa holds a Master of Science in Speech-Language Pathology from the University of Nebraska – Lincoln and a Bachelor of Science in Communication Disorders from Minot State University, Minot, ND.
Rooted in the Castle Rock community, Lisa enjoys serving on the Board of Directors for two local organizations. She is the mother of two children and enjoys spending time with family and friends.
Volunteer
Volunteer
At Centura Castle Rock Adventist Hospital, we are grateful for our volunteers who serve throughout the hospital, making a difference in the lives of patients and visitors. Volunteers need to be at least 16 years old to apply.
For more information, contact the Manager of Volunteers.
Volunteer service is a responsibility that requires a definite commitment of time, energy, and desire to serve and therefore requires preparation, orientation, and training. Because of the nature of care being delivered at the hospital, all volunteers are carefully screened and placed into appropriate assignments, and each volunteer must adhere to standard policies and procedures.
Must be at least 16 years of age
Commit to a four-hour volunteer shift, one day a week, for a minimum of six months (minimum of 100 hours of volunteer service in one year)
Attend a volunteer information session
Complete the volunteer application
Pass a background check
This process is designed to ensure the safety and well-being of patients and families, as well as the confidence and success of volunteers.
Next steps
Complete the medical health screening provided by our employee health nurse, including:

TB Blood Draw
Flu Vaccination

Attend volunteer orientation
Train for their specific volunteer position
Remain current with provided biennial TB form and annual flu vaccinations
We have a variety of volunteer opportunities throughout the hospital, and we work to match each volunteer with the service area of their interest. Please read through the volunteer opportunities and responsibilities below prior to completing your contact information.
High school volunteer applications are accepted in May and in November. We appreciate the year-round interest but ask that all high school volunteer applications are held until that time.
Ambassador Outreach
Volunteers bring hospital information to the local community of Castle Rock by participating in local year-round events outside the hospital. You will be answering questions and advertising the various programs that the hospital offers. Volunteers deal with a variety of people while maintaining a friendly and professional manner. Hours will vary throughout the year and may include days, evenings, and weekends.
Emergency Department (must be 18 years old)
Volunteers assist with two different roles. One role is assisting with preparing the rooms for new patients, restocking supplies, and providing comfort measures for patients and families. The second role is visiting patients to ask a few questions to make sure they are receiving quality care. This role works in partnership with our Patient Representative.
Gift Shop
Volunteers provide excellent customer service for patients, visitors and staff shopping in the gift shop. Volunteers answer questions, run the cash register and assist in restocking shelves.
*Closed Saturdays & Sundays in observance of the Adventist Sabbath.
Front Desk
Volunteers greet all patients, visitors, and hospital staff making them feel comfortable so that their impression of Centura Castle Rock Adventist Hospital will be positive. Duties include assisting with registering patients for medical procedures, escorting patients and guests to hospital departments, giving directions and answering general questions, and being prepared to explain hospital guidelines and policies.
Labor and Delivery Reception
Volunteers screen visitors and family members for patients and hospital staff. Volunteers also work on special projects for the department.
Medical Imaging
Volunteers at the medical imaging desk are the first to greet patients, guests and serve as goodwill ambassadors - being aware of the patient's needs and concerns. Duties include assisting the medical imaging staff with registering patients for medical procedures, clerical duties and escorting patients.
PACU (Post Anesthesia Care Unit) (must be 18 years old)
Volunteers enhance the surgical services team. Duties include stocking patient rooms and nurse servers, preparing the rooms for new patients and providing comfort measures for patients. Volunteers also sometimes escort patients when discharged.
PACU Liaison 
Volunteers greet patients and visitors at reception desk outside of PACU, share knowledge of all hospital resources available to visitors, communicate with family and visitors about patient's status and facilitates the transfer of paperwork from patients to proper nursing station.
Women's Imaging Reception
Volunteers assist the department staff on special projects, welcome patients arriving for procedures and escort patients to other hospital departments.
14,967
2020 Emergency Department visits
$15,125,314
FY21 uncompensated charity care
Our Medical Services
Centura Castle Rock Adventist Hospital is a 50-bed acute care hospital providing comprehensive health care to the greater Castle Rock community and surrounding areas. From experienced emergency services to delivering babies in our Birthplace, Centura Castle Rock Adventist Hospital is ready to provide personalized health care when you are sick and wellness programs to keep the entire family healthy.
Using innovative technology to perform better knee replacements
Driven by a passion for bringing patients the most effective solutions to joint pain, our orthopedic surgeons employ robotic-arm assisted technology for total knee replacement. Robotic assistance allows surgeons to more precisely fit the knee implant, resulting in more comfort for the patient and a more durable implant.
Visitor Information
We are committed to making your experience at Centura Castle Rock Adventist Hospital a first-rate experience.
All Visitor Information
All Visitor Information
Please read Centura Health's current COVID-19 visitor restrictions. Contact the hospital directly for additional individual visitor policies that may apply.
A chapel is located near the gift shop and is open at all times for prayer or quiet reflection.
Manna Restaurant
Manna Restaurant is redefining hospital food with a casual, sit-down restaurant that includes wait staff. Tips and donations are used to benefit health inspired wellness projects within the Castle Rock community. Learn more about Manna Restaurant.
Hours:
Monday - Saturday: 10:30 am - 9:00 pm
Sunday: Closed
The gift shop is located in the main lobby of the hospital and offers unique, one-of-a-kind gifts. Phone orders are welcome.
Hours:
Monday - Friday: 9:00 am - 5:00 pm
Phone: 720-455-0460
We are a completely volunteer-run gift shop, so if a volunteer is unable to make a shift, the gift shop may be closed.
Ample parking is located on the west side of hospital.
There is no valet parking available.
Every Centura Health hospital provides you with a patient representative to help you have a better hospital experience. Our representatives address and investigate your concerns, and then respond to you and your family with findings and recommendations for how your concerns can be resolved. 
How Needle-Free Blood Draw Works
Centura Health is excited to bring this procedure and technology to our entire ecosystem of health care locations, especially for our most vulnerable patients. 
Centura Health, the region's health care leader, is now the first hospital system in Colorado and Kansas, and among the first in the nation, to offer needle-free blood draws for inpatients – fulfilling our promise of delivering compassionate and whole person care.
Centura Health is continually striving to improve the patient experience and lead Colorado and Kansas in comfort and quality. By using this revolutionary technology Centura Health's caregivers can collect blood samples from an indwelling peripheral IV line, enabling a high quality blood draws directly from the vein without having to stick patients with another needle. This standard of care is currently in use in several of Centura Health's Denver metro area hospitals and will become available at the other Centura Health hospitals throughout the year as part of our system-wide rollout and commitment to an improved patient experience while in our care.
More than 400 million blood draws occur annually in hospitals around the U.S., informing more than 70% of all clinical decisions. Many of these are conducted in a hospital setting on patients that receive as many as three blood draws daily. This number can increase dramatically for the 30% of U.S. hospital patients that are considered Difficult Venous Access (DiVA) due to obesity, age, and disease, a condition that makes blood collection more challenging.
Our chaplains at Centura Castle Rock Adventist Hospital work closely with other department personnel in an effort to meet the spiritual needs of the patients both within the hospital and identified patients within the community. Staff members initiate contact with patients in all areas and consult with patients, families, significant others and hospital staff as referred and requested.
The chaplains also provide consultation to managers regarding employee problems, team development and stress debriefing after critical incidents. Services are provided to individual employees and family members, including assessment of personal problems, counseling and referrals to treatment providers and community resources.
Spiritual care, comfort, encouragement and counsel are available to all persons in the hospital and other service areas, regardless of religious or non-religious beliefs. In addition, spiritual care is provided through the denominational ministry of the person's choice and at their request.
Our chaplains can provide service or sacraments for patients, or help them connect to their religious or spiritual community to receive them. We understand the importance of sacraments and rites, and perform many in our chapel or at a patient's bedside. We regularly offer communion, anointing, commitment ceremonies, weddings, prayer and scripture.
For more information about Spiritual Care Services at Centura Castle Rock Adventist Hospital, or to speak with a chaplain, contact us.
We strive to promote a healing environment for our patients, guests, associates, volunteers and the community. The use of any tobacco product is prohibited in all areas of our campus including buildings, leased facilities, offices, grounds, vehicles, parking lots, and ramps. If you are a patient and use tobacco products, please speak with your physician or nurse for options that are available to you during your stay in the hospital. Thank you for your cooperation.
Centura Health provides complimentary wireless Internet access for guests and visitors.
What do I have to do to connect?
Simply connect to the guest network using your wireless network settings. When you first connect, you'll notice "Terms and Conditions" for Centura Health's Guest Network. When you click "Accept", you'll be automatically granted access. Guests must have experience in connecting to wireless networks as Centura Health does not provide any assistance in connecting your device to the wireless network.
Where and when can I connect?
The wireless network is available throughout both hospitals. The wireless network is available 24/7.
Disclaimer
Enjoy your time on our wireless network. As with any public wireless network, we strongly recommend guests take measures to secure their devices and internet communications. We encourage using virtual private networks in conjunction with personal firewalls and virus protections to mitigate risk to personal data. It is the user's responsibility to take precautions and provide security measures suited to their situation and intended use of the service. Our wireless network should not be used for inappropriate or unlawful purposes.
Centura Health is not responsible for any personal information that is compromised.
Centura Health is not responsible for any damage caused to your hardware or software while at any Centura Health facility.
Please Note: Because this is a free service, Centura Health does not provide technical support for your device or assistance in connectivity. Guests and visitors should understand how to configure their computer or device and know what hardware or software is necessary to connect to the wireless network.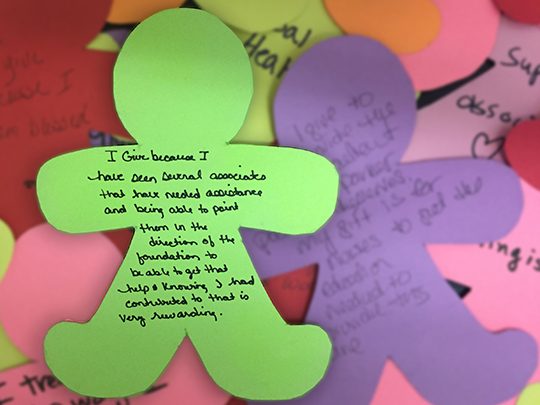 Our Foundation
We ignite passionate giving by connecting generous hearts to transform lives.
Generosity sustains us at Centura Castle Rock Adventist Hospital. We are a nonprofit, faith-based community hospital dedicated to the great purpose of healing and enriching lives in our community. We continually strive to be purpose-driven and clinically excellent as we extend the healing ministry of Christ every single day. 
We believe giving is part of healing, and the value of philanthropy is not just in dollars raised, but also in the emotional investment people make with us when we help connect them to our mission. Our foundation exists to facilitate giving in a way that helps donors accomplish their philanthropic goals and meet the needs of our community in a rapidly changing healthcare environment. 
Programs
Centura Castle Rock Adventist Hospital's programs and services reach beyond the hospital's walls into our community, bringing education, comfort, healing and life-saving care to people in need. Donors to Centura Castle Rock Adventist Hospital Foundation make it possible for Centura Castle Rock Adventist Hospital to continue its mission of caring for those who are ill and nurturing the health of the people in our communities.