Centura - Littleton Adventist Hospital
Location
7700 S Broadway
Littleton
,
CO
,
80122
Innovative thinking, advanced technology, expert providers, and world-class resources right here in our community. Our mission is to extend the healing ministry of Christ by caring for those who are ill and by nurturing the health of the people in our communities, and we have done that for more than 30 years.
As part of fulfilling our mission, Littleton Adventist Hospital has grown into a world-class organization, serving more than 70,000 patients a year in the flourishing Littleton, Highlands Ranch, and Centennial communities, and the number keeps growing.
About Our Hospital
About Our Hospital
The incredible caregivers at Littleton Adventist Hospital are proud to serve our flourishing south metro Denver community as your trusted partner in health. Providing whole person care and treatment that is powered by faith, we serve our local and regional communities in providing essential healthcare needs, including primary care, orthopedic services, and The BirthPlace.  We are also a destination hospital for highly specialized care in emergency and trauma services, neurosciences, and cancer care.
By the numbers:
Active Medical Staff: 1,546
2022 Admissions: 8,594
2022 ED Visits: 33,660
Caregivers:1,054
Emergency Department Beds: 36
Surgical Suites: 9
Beds: 231 Licensed Beds
FY22 Uncompensated/Charity care: $109.8 million
Emergency care and Level II trauma center
The first hospital in Colorado to receive accreditation as a Geriatric ED by The American College of Emergency Physicians
Dedicated Forensic Nurse Examiner program
Critical Care
Healthgrades Five-Star Recipient for Treatment of Sepsis, Respiratory Failure and Diabetic Emergencies in 2021
Neurological care
State-of-the-art neuro and spine care, advanced neuro-guidance and neuro-interventional, and dedicated neuro ICU.
Certified Comprehensive Stroke Center
Healthgrades Five-Star Recipient for Treatment of Stroke in 2021
American Heart Association GWTG: Stroke Gold Plus and Target: Stroke Honor Roll Elite
National Association of Epilepsy Centers: Level 3 Epilepsy Program with Epilepsy Monitoring Unit.
Heart and vascular care
Accredited Chest Pain Center with Primary PCI
American College of Cardiology's Chest Pain – MI Registry 2021 Silver Performance Achievement Award
Orthopedics care
Comprehensive orthopedics program with expert joint replacement revision, orthopedic-oncology, complex limb preservation and reconstructive surgery.
The first hospital in south Denver to offer robotic-arm assisted total knee and partial knee replacements with a Robotic-Arm Assisted Surgery System
Cancer center
Offering comprehensive radiation and medical oncology
Part of the only accredited Cancer Care Network in Colorado
Breast Care program is nationally accredited by NAPBC and offers advanced screening technologies and multidisciplinary care continuum
The BirthPlace
Designated Level III Neonatal Intensive Care Unit (NICU)
Healthgrades Five-Star Recipient for Vaginal and C-Section Delivery for 2020
In 2020, Littleton Adventist Hospital achieved Magnet™ designation for excellence in nursing services by the American Nurses Credentialing Center (ANCC)'s Magnet Recognition Program, the largest and most prominent nursing credentialing organization in the United States.
The Magnet™ designation places Littleton Adventist Hospital among healthcare organizations that demonstrate excellence in nursing practice and adherence to national standards for the organization and delivery of nursing services.
Professional nursing contributes to the care of patients at Littleton Adventist Hospital and the surrounding community through the following services:
Bone and joint care: Nurses provide pre-and post-operative care to patients needing new joints or other surgical intervention. Nurses teach classes on what to expect while in the hospital, then support the patient and family through the hospital experience. Nurses prioritize early mobility and pain control to help patients get home as soon as possible.
Cancer care: Littleton Adventist Hospital nurses are part of the Centura Health Cancer Network, providing evidence-based diagnosis and treatment unique to each patient. Oncology nurses are nationally certified, providing a high level of expertise in providing chemotherapy medications. Nurse navigators support the patient and connect them to hospital and community resources. Radiation Oncology nurses provide targeted treatments and assist patients to reduce side effects from those treatments. Palliative care nurses support pain management throughout the cancer journey. Nurses facilitate multiple community support groups to help patients manage their cancer experience.
Cardiology care: Nurse practitioners coordinate cardiac testing for early identification of heart disease. The cardiac catheterization lab nurses collaborate with the Emergency Department to provide prompt interventions to reduce the negative effects of heart attacks. The Telemetry nurses provide inpatients with support and monitoring to manage cardiac symptoms.
Emergency and trauma care: Our emergency and trauma services nurses drove implementation of protocols providing the optimum outcomes for geriatric, stroke, and heart attack patients. Nurses complete Rapid Triage to decrease patient wait times and provide prompt emergency care. Nurses support achievement of, and care provided through, the Level II Trauma Certification.
Intensive care: Nurses care for patients who need critical care around the clock. These ill patients require highly-skilled nursing interventions. Intensive care nurses have worked to reduce patient infections and improve patient comfort, supporting both the patient and their family members.
Medical and surgical care: Nurses care with compassion for patients needing general medical and/or surgical services. Littleton Adventist Hospital medical units were the first in the state of Colorado to implement the PIVO device, which eliminates multiple blood draws for patients, making the patient
experience more comfortable.
Neurology care: Nurses provide care to patients through the diagnosis, treatment, and surgical intervention process. There is a Nurse Stroke Coordinator who leads the Littleton Adventist Hospital Stroke Certification process, ensuring top-level care for stroke patients.
Outpatient care: Nurses support patients who may not need an inpatient stay but need care and treatment. Our gastro-intestinal lab nurses prepare and care for patients needing procedures like colonoscopies. The interventional radiology nurses support patients through skilled vascular procedures to improve circulation. Infusion center nurses provide outpatient intravenous medications, including chemotherapy and antibiotics.
Perioperative care: Our skilled nurses support the patient through preparation for surgery, assist during surgical procedures, and provide support and care during the recovery process. Professional nursing organization standards have been implemented by nurses, including the time-out process, reduction of micro-organisms that can result in infections, and team communication to track surgical instruments.
Women and newborn care: Nurses support families preparing for the birth process through community-based birth and sibling preparation classes. Nurses work with families prior to the birth process to develop a birth plan, then support the individual birthing experience. Each patient and family are supported through the newborn experience, breastfeeding, and infant care.
If you are interested in a nursing position at Littleton Adventist Hospital, please visit www.centura.org/careers to learn about positions available and contact information for Human Resources.
Leaders
Leaders
Littleton Adventist Hospital Leadership
Rick Dodds serves as Chief Executive Officer at Littleton Adventist Hospital. A mission-and-faith-driven leader with a passion for serving humanity to honor God, Rick comes to Centura Health from Kettering Health in Ohio, where he nurtured a culture that elevated quality of care and patient safety.
At Littleton Adventist Hospital, Rick is fostering a team-focused environment, helping to guide our ministry through the pandemic and toward opportunities that will lift up our caregivers and reinforce our healing mission.
A graduate of Union College in Lincoln, NE, with a bachelor's in Business Administration, Rick received his MBA from La Sierra University in Riverside, CA. He has served on a variety of community boards, including Her Story, an Ohio non-profit that provides a holistic, faith-based approach to addiction treatment for women and helps more than 150 community members a year.
Rick and his wife have two children, and all love camping, mountain biking, and getting to know the great outdoors in Colorado.
Chase Aalborg serves as Chief Operating Officer at Littleton Adventist Hospital. On a mission to elevate whole person care so that every person can enjoy every moment, Chase has devoted more than a decade to our ministry at Centura Health, most recently in the role of Interim Chief Executive Officer at Castle Rock Adventist, where he concurrently served as both Chief Operating Officer and Chief Financial Officer.
Chase received his Master of Business Administration in Finance and Accounting from Regis University in Denver and a Bachelor of Business Administration with a concentration in Finance from Walla Walla College in Washington State. He is looking forward to continuing to grow our ministry at Littleton Adventist by leading projects that will only enhance the care that our communities deserve.
Chase and his wife have two young children. They enjoy camping in the mountains with family and friends and experiencing everything Colorado has to offer.
Kelley earned her Bachelor of Science in Nursing at the University of Northern Colorado, her master's degree in Nursing Education at the University of Phoenix, and a Doctorate of Nursing Practice in Nursing Leadership at Regis University. Her mission is to care for others. This mission includes caring for others in every setting, at work, at home, and within the community. Kelley enjoys spending time with family and appreciates the beauty of the Colorado mountains in every season. She is happy to be a part of the amazing care team at Littleton Adventist Hospital.
Matthew Mendenhall, MD, MBA, MPH, FACEP, is the Chief Medical Officer at Littleton Adventist Hospital. As the leader of our physicians and other medical providers, he works to ensure the hospital provides excellent patient care.
"I'm on a mission to support a thriving community of healers that provides exceptional healthcare to our community," Dr. Mendenhall said. "Working in healthcare is an incredible privilege. I am surrounded by teams of intelligent, talented, dedicated people who are united by the common goal of taking care of others."
A graduate of Stanford University, Dr. Mendenhall has more than a decade of experience in emergency medicine that led him around the world and back, from Wyoming to New Zealand to Colorado. Before becoming Chief Medical Officer, he was Director of Operations for the US Acute Care Solutions Mountain South group and was USACS' Assistant Medical Director of Emergency Medicine at Littleton Adventist Hospital before that.
"Working in healthcare comes with the luxury of knowing that 'what you do matters.' My goal is for us to make it easy for patients to access the highest possible quality of care."
Volunteer
Volunteer
Littleton Adventist Hospital has an enormous commitment to bringing our community the very best in care with the highest level of compassion. Part of that care and compassion comes from our amazing community of volunteers, who are the heart and soul of Littleton Adventist Hospital. Whether you are welcoming people at our front desk, walking with someone to a testing area, or making rounds with our angel cart, you are always good medicine!
If you have questions or want more information, contact us:
At Littleton Hospital, our patients, visitors, and staff benefit when volunteers serve on a regular, long-term basis. We ask that you carefully consider your schedule and your abilities before you apply to volunteer at Littleton Adventist Hospital. See a list of volunteer requirements:
Must be 15 years of age or older.
Adults over 18 must commit to a minimum of six months.
Available for one 3–4-hour shift per week (varies by assignment).
Undergo a background check.
Provide records for required immunizations.
Take a tuberculosis test (free of charge).
Complete an application, interview, orientation, and specific training for your volunteer position.
Junior Volunteer Program: This summer program is offered to students 15-18 years old. Junior volunteers must be able to make a commitment to nine weeks during the summer. This is a highly sought-after program, and we cannot guarantee placement for every student. Please have applications submitted by April 30. Interviews are conducted in May. Immunization records, TB test as well as 2 letters of recommendation are required.
Upon submitting your online application, you will receive an email to schedule an interview.
During the interview we will talk about the different volunteer opportunities we have available. We have opportunities to meet a variety of schedules, skills and interests.
Next steps
Once you have successfully completed the background check, TB test and all documentation has been submitted and approved, you will receive your uniform and departmental training.
$109.8 million
FY22 Charity/Uncompensated care
Littleton Adventist Hospital is a full-service medical center that has provided compassionate health care and quality treatment for more than 30 years. Our medical teams specialize in cardiology, orthopedics, neurology, cancer care, as well as women's and children's services. The hospital is home to a Level III NICU, a Level II Trauma Center, and a nationally accredited breast center.
Leading advancements in neurosurgical care
Littleton Adventist Hospital helped pioneer deep brain stimulation performed while a patient is asleep and continues to lead DBS advancements with robotic-guided surgery, directional DBS, and remote programming for rural patients. Our neurosciences center also provides patients with the most advanced technology in brain tumor treatment, including laser interstitial thermal therapy and awake craniotomy to protect critical functions during surgery to remove deep tumors.
Visitor Information
You can count on us to be there for you. We understand that times of illness and injury affect not only our patients, but also their loved ones. The information below will help you before, during, and after you come to our hospital. Our goal is to provide the level of patient experience that enhances your peace of mind and earns your full confidence.
Visitor information
Visitor information
Please read Centura Health's current COVID-19 visitor restrictions. Contact the hospital directly for additional individual visitor policies that may apply.
All visitors of patients at our hospital enjoy equal visitation privileges consistent with patient preferences and subject to the facility's clinical restrictions. Visitor policy may be subject to change. Please adhere to any adjustments to permitted visitors, as posted in our facility.
Visitors under the age of 14 must be escorted by a responsible adult.
At 9 pm, seven days a week, the main lobby entrance will be locked. After 9 pm, enter the hospital through the emergency department walk-in entrance.
Visitors remaining after 9 pm are asked to go to the security desk in the emergency department to get a special visitor's badge.
There may be times when visitors are asked to leave to better meet the needs of our patients.
Patients and visitors may park in the parking lot in front of the main entrance and adjacent lots around the hospital.  Free parking is available 24 hours a day. Please see the security office, located at the emergency department, for assistance after hours.
Café/Cafeteria
Windows on the Rockies Café
Location: first floor
Weekday hours: 6:30 am - 7:30 pm
Weekend hours: 6:30 am - 7:30 pm
Our gift shop is conveniently located on the first floor by the cafeteria. Visitors can find a variety of gifts and convenience items for their family members or loved ones in the hospital.
Letters and packages are delivered to patients by a hospital volunteer. If you have letters to be mailed, you may give them to your nurse. Flowers addressed to you will be delivered to your room unless you are in the intensive care unit. Only Mylar® balloons are permitted in the hospital. Latex balloons can cause allergic responses and interfere with hospital safety systems.
ATMs are located in the cafeteria along the south wall.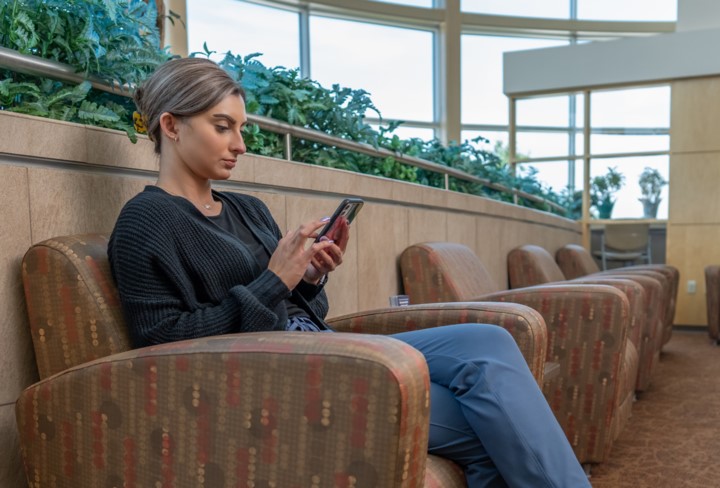 Our Foundation
We ignite passionate giving by connecting generous hearts to transform lives.
The mission of Littleton Adventist Hospital is to extend the healing ministry of Christ by caring for those who are ill and by nurturing the health of the people in our communities.
Littleton Adventist Hospital Foundation is a nonprofit, faith-based fundraising organization dedicated to providing financial support to Littleton Adventist Hospital. Through our efforts, we are able to give funds dedicated to improving care, purchasing equipment, and developing programs needed to care for the people of our community.
We are committed to extending the healing ministry of Christ, by caring for those in need – particularly the sick, the injured and the elderly – through our financial support of Littleton Adventist Hospital.
Programs
Littleton Adventist Hospital's programs and services reach beyond the hospital's walls into our community, bringing education, comfort, healing and life-saving care to people in need. Donors to Littleton Adventist Hospital Foundation make it possible for Littleton Adventist Hospital to continue its mission of caring for those who are ill and nurturing the health of the people in our communities.