Centura - Parker Adventist Hospital
Location
9395 Crown Crest Blvd
Parker
,
CO
,
80138
Parker Adventist Hospital, located at E-470 and Parker Road, offers leading medical experts, cutting-edge technology, and a broad array of clinical services. We are committed to excellence in healthcare. Ranked among the top hospitals in the nation for patient satisfaction, Parker Hospital performs complex spine and brain surgery along with weight loss and joint-replacement surgery. We have a Level II Trauma Center, and a BirthPlace with a NICU specialized in caring for high-risk newborns.
About Our Hospital
About Our Hospital
World class doctors. Compassionate care. Close to home.
When Parker Adventist Hospital opened in 2004, it set a new standard of care in the community. Its welcoming atmosphere, patient-centered holistic care and community commitment have represented the hospital's foundation from the beginning. Over time, the hospital has expanded its facility and enhanced its services to be able to care for even the most complicated cases - all without losing sight of those key founding principles.
Parker Adventist Hospital by the numbers
Active Medical Staff: 1,230
FY20 Admissions: 7,678
FY20 ED Visits: 26,903
Beds: 170 licensed beds
Surgical Suites: 14
FY21 Uncompensated/Charity Care: $29,456,489
Services
Emergency, urgent care & trauma services
Birth center & women's health
Center of bariatric surgery
The cancer center
Breast care center
Colon & rectal screening, gastroenterology
Neurology care
Orthopedics & joint replacement
Spine surgery
Robotic surgery
Awards and recognition
Magnet Designation | Nursing Excellence Designated by the American Nurses Credentialing Center (ANCC)
Nationally Certified Bariatric Program by The Joint Commission
Nationally Accredited Breast Care Center
Accredited Cancer Center by ACR
Joint Commission-certified Spine Program
Joint Commission-certified Joint Replacement Program
At Parker Adventist Hospital, our philosophy creates an environment where nurses are respected, trained, and equipped to provide the highest level of patient care. We believe that when nurses are skilled, confident, and satisfied with their career, patients' outcomes improve, and that truly is the best of science and spirit.

Magnet™ Designation

Parker Adventist Hospital has achieved Magnet™ designation for excellence in nursing services by the American Nurses Credential Center's (ANCC) Magnet Recognition Program®, the largest and most prominent nursing credentialing organization in the United States.

The Magnet™ designation places Parker among healthcare organizations that demonstrate excellence in nursing practice and adherence to national standards for the organization and delivery of nursing services. Parker completed a rigorous evaluation that included extensive interviews and a review of nursing services.

Research shows there are clear benefits to hospitals that are awarded Magnet status and to the communities they serve:
Healthcare consumers have more confidence in the overall quality of a hospital if it has achieved the level of excellence established by the Magnet Recognition Program.
Magnet designated facilities consistently outperform other facilities in recruiting and retaining nurses resulting in increased stability in patient care and patient satisfaction.
Because quality nursing is one of the most important factors in enlisting high-caliber physicians and specialists, Magnet status becomes an attractive force that extends to the entire facility.
Professional Nursing contributes to care of patients at Parker Adventist Hospital and the surrounding community through the following services: 
Bariatric care: Parker Adventist Hospital is a Nationally Certified Center for Bariatric Surgery. Nurses support the care of bariatric weight loss surgery patients and innovative interventions to increase post-operative comfort.
Bone and joint care: Nurses provide pre-and post-operative care to patients needing new joints or other surgical interventions. Nurses teach classes on what to expect while in the hospital, then support the patient and family through the hospital experience. Nurses prioritize early mobility and pain control to help patients get home as soon as possible.
Cancer care: Parker Adventist Hospital nurses are part of the Centura Health Cancer Network, providing evidence-based diagnosis and treatment unique to each patient. National Oncology Nurse Certification supports a high level of expertise in providing chemotherapy medications. Nurse navigators support the patient and connect them to hospital and community resources. Radiation oncology nurses provide targeted treatments and assist patients in reducing side effects from those treatments. Palliative care nurses support pain management throughout the cancer journey. Nurses facilitate multiple community support groups to help patients manage their cancer experience.
Cardiology care: Nurse practitioners coordinate cardiac testing for the early identification of heart disease. In the cardiac catheterization lab, nurses support patients through skilled vascular procedures to improve circulation and collaborate with the Emergency Department to provide prompt interventions to reduce the negative effects of heart attacks. The telemetry nurses provide inpatients with support and monitoring to manage cardiac symptoms.
Emergency and Trauma Care/Southlands Emergency Department: Our emergency and trauma services nurses drove the implementation of protocols providing the optimum outcomes for opioid reduction, stroke, and heart attack patients. Nurses complete triage to decrease patient wait times and provide prompt emergency care. Nurses support the achievement and care provided through the hospital's Level II Trauma Certification.
Intensive care: Nurses care for patients who need critical care around the clock. These ill patients require highly-skilled nursing interventions. Intensive care nurses have worked to reduce patient infections and improve patient comfort, supporting both the patient and their family members.
Medical and surgical care: Nurses care with compassion for patients needing general medical and/or surgical services. Nurses have driven protocols to reduce hospital-acquired infections and increase comfort.
Neonatal intensive care: Nurses care for newborns who need critical care around the clock. These ill patients require highly-skilled nursing interventions. Neonatal intensive care nurses have worked to reduce infants' high blood sugar levels and improve patient comfort, supporting both the newborn and their family members.
Neurology care: Nurses collaborate with the interprofessional team to provide care to patients through the diagnosis, treatment, and surgical intervention process. There is a Nurse Stroke Coordinator who leads the Parker Adventist Hospital Stroke Certification process, ensuring top-level care for stroke patients.
Outpatient care: Nurses support patients who may not need an inpatient stay but need care and treatment. Our gastrointestinal lab nurses prepare and care for patients needing procedures like colonoscopies. Interventional radiology nurses support patients through skilled diagnostic procedures to inform their healthcare. Infusion center nurses provide outpatient intravenous medications, including chemotherapy and antibiotics.
Perioperative care: Our skilled nurses support the patient through preparation for surgery, assist during surgical procedures, and provide support and care during the recovery process. Professional Nursing Organization standards have been implemented by nurses, including the time-out process, reduction of micro-organisms that can result in infections, and team communication to track surgical instruments.
Women and newborn care: Nurses support families preparing for the birth process through community-based birth and sibling preparation classes. Nurses work with families prior to the birth process to develop a birth plan, then support the individual birthing experience. Each patient and family are supported through the newborn experience, breastfeeding, and infant care.
If you are interested in a nursing position at Parker Adventist Hospital, please visit www.centura.org/careers to learn about positions available and contact information for Human Resources.
Leaders
Leaders
Parker Adventist Hospital Leadership
Michael Goebel joined Parker Adventist Hospital as Chief Executive Officer in June 2018. Michael works closely with the hospital's board to ensure that the hospital is serving its mission and vision and providing care according to its values.
Prior to joining Parker Hospital, Michael served as CEO of Adventist Medical Center, Hinsdale, and Adventist Medical Center, La Grange in Illinois. He was instrumental in the integration of the two facilities, driving the concept of one hospital, two campus philosophy. Under his leadership, Michael guided the planning, design, construction, and opening of the $48 million AMITA Health Cancer Institute and Outpatient Center Hinsdale, followed by the construction of the expanded emergency department at La Grange. He guided Hinsdale to numerous recognitions, most notably the 2017 - 100 Top Hospital designation by Truven Analytics.
With more than 25 years of robust healthcare experience, Michael also previously served as Chief Financial Officer for Regional West Medical Center in Scottsbluff, Nebraska as well as Chief Operating Officer for our Centura Health sister hospital, Littleton Adventist Hospital.
Michael holds a Bachelor of Business Administration from Union College in Lincoln, NE, and a Master of Business Administration from Keller Graduate School of Management in Chicago, IL. He and his wife, Lori, have two adult daughters, Lauren, a graduate of Andrews University, and McKenzie, a student at Denver University.
Leanne Naso is Chief Operations Officer for Parker Adventist Hospital. She has oversite of the hospital's strategic growth as well as day-to-day operations. Leanne has been in the Adventist Health System for 20 years and has been an exemplary leader since she started at Parker Hospital in 2002.
Beginning as Director of Physician Services, she was instrumental in successfully opening the hospital in 2004. Over the years, she has fostered growth and innovation by developing and growing numerous service lines. She has played a pivotal role in the recruitment of countless physicians of various specialties who lead the charge in providing compassionate and personalized care to our community. Leanne also led the ambulatory development of the South Denver Group's first Neighborhood Health Center at Southlands. Leanne's passion for serving our community by meeting their healthcare needs continues to drive her each and every day.
Prior to joining Parker Adventist Hospital, Leanne was with Central Texas Medical Center in San Marcos, TX, where she held various roles during her seven years of service. Her background includes extensive training in managed care contracting, negotiating, management, physician relations, and credentialing. Leanne was a Magna Cum Laude graduate of Southwest Texas University with a bachelor's degree in Marketing.
Devin Bateman, MD, is Parker Adventist Hospital's Chief Medical Officer (CMO) and is on a mission to ensure the hospital's patients and people experience the same care we would want for our own loved ones. Dr. Bateman is instrumental in managing Parker Adventist Hospital's medical partners and is committed to ensuring each patient receives high-quality, safe, and effective care to meet their unique needs.
He is a member of the American Medical Association, the Colorado Medical Society, and the American College of Emergency Physicians. Dr. Bateman holds certifications from the American Board of Emergency Medicine and the Colorado Board of Medicine.
Dr. Bateman earned a Bachelor of Science degree from the University of California, San Diego, in Biochemistry and Cell Biology and a medical degree from Loyola University Chicago, IL. He completed his residency at the University of Virginia, Charlottesville, before serving as the University's Chief Resident in Emergency Medicine. Additionally, Dr. Bateman is a proud veteran, having served as a Major in the United States Air Force Medical Corps from 1999 to 2003, with deployments supporting Operation Enduring Freedom.
Erin Ward joined Parker Adventist Hospital in February 2021 as Chief Financial Officer (CFO) and is on a mission to improve himself and Centura Health each day. As a dedicated member of the Centura Health family, Erin joined the team from Longmont United Hospital, where he has served as Director of Finance since 2019. Erin brings more than ten years of experience in financial goal execution and program implementations, achieving department targets, and is a skilled expert in influencing quality-driven benchmarks in healthcare.
During his time at Longmont United Hospital, Erin played a vital role in the growth and development of the organization and was a key leader in helping the team deliver on budget results, fostering communication and education for teams on stewardship management, and prioritizing capital needs. While there, Erin also served on the TruHospice Board and led chaplain services. Prior to his time with Centura Health, Erin had experience in healthcare systems across Colorado and California.
He received his Master of Business Administration with a concentration in finance from Claremont Graduate University, Claremont, CA. and his Bachelor of Arts in Finance from Walla Walla College, College Place, WA. Erin is Six Sigma Black Belt certified and is a member of the American Society for Quality, among several other professional memberships and certifications.
In his spare time, Erin enjoys spending time with his wife and two children. They like traveling, skiing, and biking together. Erin is also an avid runner when time allows.
Andréa Narvaez, MHA, BSN, RN, was named Chief Nursing Officer (CNO) at Parker Adventist Hospital in September 2019. She is responsible for leading the hospital's clinical operations, setting standards for nursing care and practice, ensuring compliance with regulatory standards, and driving improvement to achieve organizational goals. Andréa is on a mission to help build a positive culture and make lives better for the hospital's associates, physicians, and patients.
Prior to joining Parker Hospital, Andréa was a valued member of the Porter Adventist Hospital community, a sister Centura Health hospital. Andréa served in multiple roles where she was instrumental in driving the strategic direction and operational management in nursing and process improvement.
Andréa received her Bachelor of Science in Nursing from Regis University, a Master of Healthcare Administration from Grand Canyon University, and is pursuing a Doctor of Nursing Practice in Advanced Healthcare Leadership also from Regis University. She is also a member of the American College of Healthcare Executives.
Andréa is proud to be leading Parker Adventist as a Magnet hospital and is dedicated to creating high-quality and reliable systems of care while fostering the next generation of nurses to lead in the ever-changing landscape of healthcare.
Volunteer
Volunteer
At Parker Adventist Hospital, volunteers are essential in carrying out our mission of nurturing the health of the people in our community. Your wisdom, passion, and experience can be used in a meaningful, life-changing way. Our volunteers provide unique contributions to the overall health and comfort of our patients, families, visitors, and staff.
Many of our volunteers are active retirees who serve Parker Adventist Hospital as a way to stay involved in the community and have a passion for healthcare. We also have volunteers who are college and high school students who give their time and want to learn more and better understand healthcare. They are all an invaluable part of our hospital team.
Contact volunteer services if you have any questions.
Phone: 303-269-4971
Email: [email protected]
Volunteer service is a responsibility that requires a definite commitment of time, energy, and desire to serve and therefore requires preparation, orientation, and training. Because of the nature of care being delivered at the hospital, all volunteers are carefully screened and placed into appropriate assignments, and each volunteer must adhere to standard policies and procedures.
Volunteer requirements for Parker Adventist Hospital are:
Must be at least 16 years of age or older
Six-month commitment, minimum of 100 hours of volunteer service in one year
Available for 4-hour volunteer shifts one day/week
Pass a background check
Complete medical health screening for TB blood draw and flu vaccination
Provide two non-family references
Attend a volunteer information session
Attend an onboard meeting to receive assignments and tasks
Application process
All interested applicants must attend a volunteer information session. This process is designed to ensure the safety and well-being of patients and families, as well as the confidence and success of volunteers.
Once this process is complete, volunteers will shadow the area of interest. Once a position is agreed upon by both sides, the volunteer will attend an onboard meeting where they will receive a written service description outlining their assignment and tasks.
Next steps
Train for their specific volunteer position
ID badge and uniform — volunteers are required to wear a blue smock or vest with a white shirt, ID badge, black dress pants or skirt, and closed toed shoes
Attend regularly scheduled safety training and volunteer meetings
Remain current with provided biennial TB skin testing and annual flu vaccinations
We have a wide range of volunteer opportunities in patient and non-patient service areas. Below are just a few of the many volunteer opportunities available at Parker Adventist Hospital:
Information Desk
Surgery Waiting Reception
Cancer Center
Admissions
Emergency Department
PawPals (Therapy Dog Program)
Gift Boutique
Needle Arts Guild
Nurse Server
Nutrition Services
Office Support
Collating Crew
Hospital Tea Cart
Patient Visitation
Rehabilitation
Neurosciences/Sleep Lab
Curious George Tour Program
Southlands ER 
The Breast Care Center at Parker Adventist Hospital, Office Support 
We would love to talk with you about how you can make a difference as part of the Parker Adventist Hospital volunteer team!
If you are interested in helping in other ways, you can participate in Girl Scouts, Boy Scouts, Rotary, or another group and support special projects. We have some opportunities and are open to new ones:
Make no-sew fleece lap blankets, size 36" X 36" or 36" X 48", adult patterns
Donate soft-bound books to our Little Library in the hospital lobby
Build children's activity kits of stickers, coloring pages, crayons, etc.
Donate magazines to be distributed to waiting areas — published within the last three months
$29,456,489
FY21 uncompensated charity care
At Parker Adventist Hospital, a non-profit hospital within Centura Health system of care, we are committed to excellence in healthcare. Ranked among the top hospitals in the nation for patient satisfaction, our expert doctors and experienced medical teams provide the best health care and specialize in over 55 medical specialties. Our nationally-accredited Joint and Spine Programs, BirthPlace and NICU, Cancer Center, Center for Bariatric Surgery, and Level II Trauma Center Emergency Department are just a few examples of the sophisticated healthcare excellence we provide.
Putting patients on road to health with weight-loss surgery
The Center for Bariatric Surgery provides a comprehensive program to help patients safely and effectively achieve and maintain a healthy weight. We offer three types of surgery, nutritional and psychological counseling, online education and more to help patients attain their health goals. Our program is recognized by Optum, Cigna, and Blue Cross/Blue Shield as delivering exceptional care and clinical outcomes .
Visitor Information
Welcome to Parker Adventist Hospital. We want your experience at here to be as comfortable and relaxed as possible. Following you can find helpful information when visiting the hospital.
All Visitor Information
All Visitor Information
Please read Centura Health's current COVID-19 visitor restrictions. Contact the hospital directly for additional individual visitor policies that may apply.
A chapel is located on the first floor of the hospital behind our fireplace. It is open at all times and offers a quiet, reflective place to meditate, pray or worship.
It might sound far-fetched, but believe it - our patients and their families enjoy some of the tastiest food in town at the Peakview Café. Unlike most hospitals, Parker Adventist doesn't contract with a giant food-service companies to dish up meals. Instead, we hired a culinary team, who combines creativity with health-conscious preparations to create savory, eye-appealing meals that are good for you.
Freshly baked pizza from a wood-fired pizza oven, gourmet soups, a fresh salad bar, deli sandwiches, daily chef specials and a barista bar that uses gourmet coffees, make this a place where anyone can come enjoy freshly prepared food while gazing out over the Front Range.
Guest trays are available in-room to the family and friends of our patients from 7:00 am -7:00 pm each day. We accept cash, check, Visa, MasterCard, Discover and American Express.
Peakview Café
Hours:
Monday - Friday: 7:00am - 7:00pm
Saturday - Sunday: 7:00am - 2:00pm
Red Aspen Gifts
Located on the main floor of the hospital, Red Aspen Gifts offer a variety of unique gifts for our patients, visitors and associates. Browse and order gifts through our website:
Hours:
Mon-Fri 9am-5pm
Sunday 10am-2pm
Phone: 303-269-4950
Visitors:
We have no restricted visiting hours or ages in the ICU. If your visitor is feeling ill or under the weather or if they are at a higher risk of getting ill, we recommend that they stay home as to not spread any illness or become sick themselves. If your visitor is a child or infant, they must be supervised at all times and we encourage that they stay reasonably quiet while they are here as to not disturb other patients. A family member is welcome to stay the night on the sofas that are provided in each room, but no family members are to be in the beds with any patient. If at any point in time the visitor's presence appears agitating or disruptive to the patient, the nurse may ask them to leave per his/her discretion. We do try and limit visitors to 2 people at a time in order to allow our staff to be able to move freely about the room and care for you/your loved one adequately.
Smoking:
There is no smoking allowed anywhere on the Parker Adventist Hospital campus. E-cigarettes, marijuana, and other forms of tobacco are strictly prohibited. If you are a smoker, the members of your care team can arrange for a nicotine patch or other alternative during your stay. Any visitors must go off of hospital property to smoke.
Patient Updates:
Each patient is assigned a HIPAA code which is a 4 digit number used for privacy purposes. Your nurse will give you a card with the HIPAA code as well as the direct number to the unit. Please give this code to individuals you wish to have access to information about your condition. In order to protect your privacy, we will not release information about your stay unless this code is provided. When calling to get an update on a patient, please refrain from calling between the hours of 7:00-8:00 AM and PM. This is when our nurses are getting report and learning about each patient and their story so the fewer interruptions during this crucial time, the better our nurses can care for you and your loved one.
Pets:
We understand how important pets are to our patients however we have restrictions on pet visitation in the hospital. Pet visitation is allowed only under certain circumstances in extreme cases. In those situations, we only allow dogs who are freshly bathed, current on all vaccinations, remain only in your room, and who are under the direct care and control of an adult handler other than you. Our staff is not allowed to provide care for visiting pets. Please see your nurse for additional requirements prior to a pet visit.
Alarms:
In the ICU, we monitor our alarms both in the room and at satellite monitors located at our nursing stations. There is always someone listening for alarms and watching the monitors even if your nurse is not in the room. You will hear many beeps and buzzes throughout your stay. Your nurse will explain the monitor to you/your family and answer any questions you have. Typically while in intensive care, we carefully monitor your heart rate and rhythm, blood pressure, respiratory rate and oxygen saturation. We may also monitor other things on the screen and your nurse can explain if there are any additional monitoring devices being utilized. We do check blood pressures at least once an hour and sometimes more frequently if the situation calls for it.
Any questions that arise please let your nurse know and we will be happy to answer them for you!
Parking is available in multiple locations surrounding the hospital.
Every Centura Health hospital provides you with a patient representative to help you have a better hospital experience. Our representatives address and investigate your concerns, and then respond to you and your family with findings and recommendations for how your concerns can be resolved. 
At Parker Adventist Hospital high quality care is our top concern. Whether you are here to welcome a new baby or visiting a recovering family member, your words of appreciation are our highest compliment and inspire us to serve each family that walks through our doors. SHARE stands for:
Sense people's needs before they ask
Help each other out
Acknowledge people's feelings
Respect the dignity and privacy of others
Explain what is happening
How Needle-Free Blood Draw Works
Centura Health is excited to bring this procedure and technology to our entire ecosystem of health care locations, especially for our most vulnerable patients. 
Centura Health, the region's health care leader, is now the first hospital system in Colorado and Kansas, and among the first in the nation, to offer needle-free blood draws for inpatients – fulfilling our promise of delivering compassionate and whole person care.
Centura Health is continually striving to improve the patient experience and lead Colorado and Kansas in comfort and quality. By using this revolutionary technology Centura Health's caregivers can collect blood samples from an indwelling peripheral IV line, enabling a high quality blood draws directly from the vein without having to stick patients with another needle. This standard of care is currently in use in several of Centura Health's Denver metro area hospitals and will become available at the other Centura Health hospitals throughout the year as part of our system-wide rollout and commitment to an improved patient experience while in our care.
More than 400 million blood draws occur annually in hospitals around the U.S., informing more than 70% of all clinical decisions. Many of these are conducted in a hospital setting on patients that receive as many as three blood draws daily. This number can increase dramatically for the 30% of U.S. hospital patients that are considered Difficult Venous Access (DiVA) due to obesity, age, and disease, a condition that makes blood collection more challenging.
It begins with a belief that as human beings we experience life as whole people, through our mind, body and soul. When something happens to any of these components of a person it affects another. What spiritual care has to offer is the recognition of this while caring for the soul. That intangible part of a person that is just as vitally important for wholeness and health as a beating heart. As our mission statement says, we believe this is truly manifested in the healing ministry of Christ. He who touched and healed people where they lived remains the same today, still revealed as those in our community are touched whether they work here or arrive as patients with families.
We believe that one's spiritual resources are essential to his or her healing process, therefore we offer:
Daily visits with most if not all medical and surgical patients
24-hour emergency intervention for patients and their families
Spiritual counseling with active listening
Community referrals
For our Catholic patients who would like Holy Communion, we have daily visits by Eucharistic Ministers from the Ave Maria parish.
Please visit the following links for additional information and resources. For questions and concerns regarding spiritual care, email us.
If You Are Experiencing Grief
It is important to know that you are not alone in your grief. You are not the only one who has experienced grief and your experience of grief is unique to you. These links offer some places to find help and resources about grief, including the loss of a child and differences on how men and women grieve.
Centura Bereavement Center - Centura's own center to help with individual grief as well work in a group setting through workshops and seminars and even aromatherapy. To contact a grief counselor, contact us. Phone: 303-561-5100.
Heartlight Center - A local resource at Dartmouth and Parker Road, about 20 minutes north of the hospital.  This is a list of the current programs they offer.
Restored Hope/Macedog Foundation - This foundation and website were started when Suki Meyer of Parker lost her son to a car accident in 2004.  It offers local resources and contacts for those grieving in our community.
Rowan Tree Foundation - This Colorado-based website is focused on helping families heal after the loss of a precious child. It includes online forums and general reading.
Center for Loss and Life Transition - This Fort Collins-based center offers help with people who grieve through workshops along with published material as well as training for those would like to become a bereavement caregiver.
Compassionate Friends - An online support group offering tools for those supporting family members after the loss of a child. Use the "Find Support - Local Chapter" to find which one of their thirteen Colorado chapters is nearest to you.
Hannah's Prayer - A Christian site providing information and links on dealing with infant loss and infertility.
Griefnet.org - This is "an Internet community of persons dealing with grief, death, and major loss" and includes email support groups and resources for kids and grief.
Resources for Men - Men and women grieve differently. These links will help fathers and men as they face the loss of a child.

Men and Grief: How Fathers Survive Loss - How one mother and her husband learned to cope after the stillborn birth of their daughter. Article includes links to other resources & answers to questions about miscarriage and baby loss.
Silent Grief - A message board spreading "a message of hope for the grieving heart," linked to the pages especially for fathers.
Grief Helps - An organization that serves the grieving by offering information, encouragement, and inspiration through a variety of media.
When to See a Chaplain
If you are planning a hospital stay and don't know whether you should contact a chaplain here is some helpful information, shared by Avista Adventist Hospital pastoral care department, that may help you decide: 
You would like someone to pray with you for extra strength.
You would like your community clergy person to come and visit, but you don't know how to contact him or her.
You would like to have sacraments, such as communion, anointing, baptism or dedication for yourself or a child.
You have spiritual questions you would like to explore with someone.
You are going to have surgery or an important medical procedure and would like to have someone say a prayer with you.
You would like to talk to someone who is not a physician, nurse, or somehow involved in your physical care.
There is an ethical question that is bothering you and you would like a safe person to talk to.
You are wondering about where God is because you feel like God is not listening to your prayers.
You are scared and just want someone to be with you, and listen if necessary.
You are mourning a loss, and would like to find supportive resources in the hospital or your community.
Please feel free to use the chapel, located on the first floor of the hospital behind our fireplace. It is open at all times and offers a quiet, reflective place to meditate, pray or worship.
Memorial Bench
Located on a tranquil hillside outside of Elizabeth our memorial bench is for those who have experienced the loss of a baby before full term.  The lives of our little ones are especially sacred and with each death special care is taken to recognize that fact. When a family comes into the hospital and loses their baby before full term, we give them options for what they would like to do next.  One, of course, is to make arrangements through a funeral home of their choice.  Another is to care for the baby themselves through the Tri-County Health Department.  And finally we offer what is called "Hospital Disposition," where we take care of arrangements for them. 
The third option is how we use the memorial bench.  An agreement with a local funeral home utilizes their cremation facilities and they have arranged with the Our Lady of the Visitation Cemetery to care for the remains and place them under the bench.  With every placement there is a special ceremony acknowledging the sacredness of each child. 
If you have any questions about this ministry or the cemetery, contact us.
Phone: 303-646-9195
We strive to promote a healing environment for our patients, guests, associates, volunteers and the community. The use of any tobacco product is prohibited in all areas of our campus including buildings, leased facilities, offices, grounds, vehicles, parking lots, and ramps. If you are a patient and use tobacco products, please speak with your physician or nurse for options that are available to you during your stay in the hospital. Thank you for your cooperation.
Centura Health provides complimentary wireless Internet access for guests and visitors.
What do I have to do to connect?
Simply connect to the guest network using your wireless network settings. When you first connect, you'll notice "Terms and Conditions" for Centura Health's Guest Network. When you click "Accept", you'll be automatically granted access. Guests must have experience in connecting to wireless networks as Centura Health does not provide any assistance in connecting your device to the wireless network.
Where and when can I connect?
The wireless network is available throughout the hospital. The wireless network is available 24/7.
Disclaimer
Enjoy your time on our wireless network. As with any public wireless network, we strongly recommend guests take measures to secure their devices and internet communications. We encourage using virtual private networks in conjunction with personal firewalls and virus protections to mitigate risk to personal data. It is the user's responsibility to take precautions and provide security measures suited to their situation and intended use of the service. Our wireless network should not be used for inappropriate or unlawful purposes.
Centura Health is not responsible for any personal information that is compromised.
Centura Health is not responsible for any damage caused to your hardware or software while at any Centura Health facility.
Please Note: Because this is a free service, Centura Health does not provide technical support for your device or assistance in connectivity. Guests and visitors should understand how to configure their computer or device and know what hardware or software is necessary to connect to the wireless network.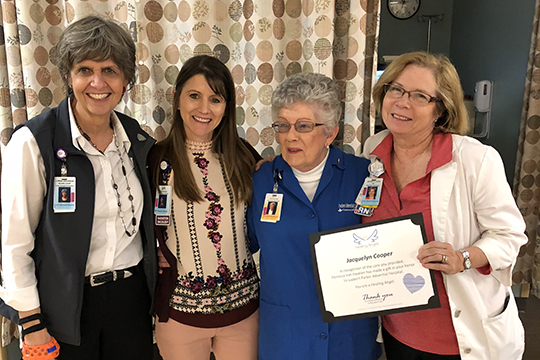 Our Foundation
We ignite passionate giving by connecting generous hearts to transform lives.
Parker Hospital Foundation a nonprofit, faith-based fundraising organization dedicated to providing financial support to Parker Adventist Hospital, thereby helping to facilitate and improve healthcare for the people of our community. We are committed to extending the healing ministry of Christ, by caring for those in need – particularly the sick, the injured and the elderly – through our financial support of Parker Adventist Hospital.
At Parker Adventist Hospital, we believe our community's health is a family affair. Join the Parker Hospital Foundation to make a difference.
Programs
Community health and wellness is a priority to us, that's why we're proud to offer a wide range of community programs, classes and events designed to keep you well.