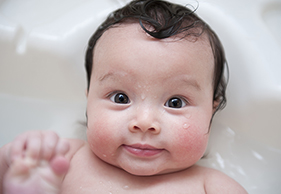 The labor and delivery department at Bob Wilson Memorial Hospital consists of five large, open labor/delivery/postpartum suites that will accommodate your family during the joyous birthing process. Open 24 hours a day, seven days a week, this department offers outstanding continuity of care from admission and delivery, to taking your sweet bundle home.
Our services include labor and delivery, postpartum care, newborn care, and surgical care following C-sections. Emphasis is placed on coordinating quality patient care with our physicians and other health professionals in order to meet all the needs of the mother and family. The rooms are set up to allow for rooming in so that the family can have time to bond with the new baby. The spacious, private restrooms have walk-in showers. This secure department also has a C-section operating room for scheduled and emergency surgeries.
Labor & Delivery
To learn more about our labor and delivery or to schedule an appointment, contact us.
Family & Parenting Resources
A partnership with Russell Child Developmental Center provides help with the adjustments and care of a newborn. Additional services may be available as needed following the assessment of your baby.
The department participates in the National Center on Shaken Baby Syndrome promotion known as the "Period of Purple Crying Program" to prepare parents and other family members with ways to cope with an upset infant.