Expert and compassionate care, honoring and respecting patients and their families.
Castle Rock Adventist Hospital opened in 2011 and continues to be the only hospital in Castle Rock. We offer advanced services in many specialties, allowing countless families to receive expert medical care close to home. Our comprehensive medical teams deliver high-quality outcomes and unparalleled patient satisfaction among a wide variety of medical specialties, services and programs.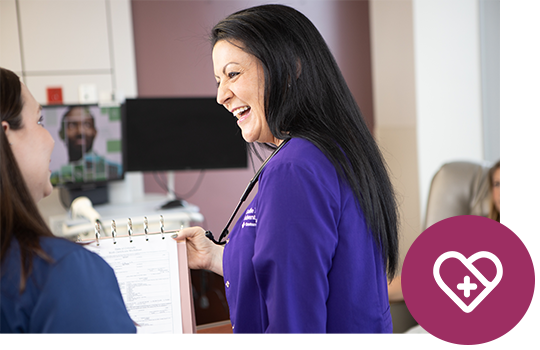 Fulfilling patient-provider relationships through relationship-based nursing.
At Castle Rock Adventist Hospital, our care is founded upon relationship-based nursing, a philosophy designed to create fulfilling patient-provider relationships. We believe in supporting our community and providing excellent medical care to those who live here, so they can receive world-class treatment close to home.
Distinctive Services
At Castle Rock Adventist Hospital, our community has access to emergency care, heart and stroke care, outpatient services, breast care, our birthing center, and many other medical services. 
Patient & Community Resources
In addition to education classes, event sponsorships, contributions and community partnerships, we offer several ongoing community programs
Mommy & Me Market
We accept donations of new and gently used baby items to stock the market. Families in need can "shop" the Mommy & Me Market and bring home new and gently used baby items at no cost. 
Castle Rock Adventist Hospital | By the Numbers
Active Medical Staff
1061
Admissions
3,364
2018 ED Visits
18,560
ED Private Rooms
12
Caregivers
482
Licensed Beds
55
Surgical Suites
5
2018 Uncompensated/Charity Care
$7,370,000
*For the fiscal year 2019