Individualized care is our specialty
We don't believe you should ever settle for second best in life. Especially not when it comes to your health and wellness. So at Castle Rock Adventist Hospital, we're pleased to offer the superior technology of 3D Mammography. This state-of-the-art equipment produces a clearer, better image. Plus, it's quicker and more comfortable than a traditional mammogram, so you're in and out almost before you can appreciate our beautiful surroundings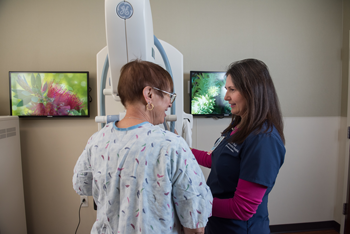 Our Breast Care Center is a quiet, serene environment where every woman is treated individually.
Sensory Suite at Castle Rock Adventist Hospital Breast Care Center
At the Breast Care Center at Castle Rock, we are taking our patients' care to a whole new level by offering the first Sensory Suite in Colorado. This allows patients to choose from a variety of environments (including seaside, garden and waterfall) that are accompanied by soothing video, photos, sounds and a calming fragrance to create a serene atmosphere during your mammogram.
Breast Surgery Options

If you have had a breast cancer diagnosis or require breast surgery in Castle Rock, CO, our team at the Breast Care Center at Castle Rock Adventist Hospital can help. We partner with patients to provide personalized surgical treatment plans that utilize advanced technology and a caring staff of professionals to promote positive outcomes. 

Breast Reconstruction at Castle Rock Adventist Hospital

We offer a wide range of breast surgery options at Castle Rock Adventist Hospital, including breast reconstruction. If your treatment course includes breast reconstruction, the Breast Care Center at Castle Rock can refer you to surgeons who specialize in this area. 

These referrals include breast surgeons in Castle Rock, as well as general surgeons and plastic surgeons who will help you make an informed decision about your treatment plan. In fact, there are surgeons and specialists on the hospital campus, so our patients can stay close to home while they undergo surgical procedures.

Breast Health Nurse Navigator

We know the success of your treatment can often depend on the staff providing your care. That's why at the Breast Care Center at Castle Rock, our team partners with Breast Health Nurse Navigators as a resource for our breast cancer patients. These nurse navigators provide guidance in identifying needs — physical, emotional, spiritual and psychosocial — as well as advice pertaining to the disease process, physician options and health insurance details.
Genetic Counseling

The Women's Imaging Center partners with genetic counselors who offer one-on-one genetic counseling to determine an individual's risk of cancer, including cancer inherited from family members. Each counseling session includes recording the individuals personal and family history and using that information to make appropriate recommendations for prevention and screening. If the information collected indicate that further genetic testing, such as lab work, is right for you, the counselor will discuss the pros and cons of such testing with you during your session.
 
Do you need financial help for a Mammogram?
If you do not have medical insurance coverage and cannot afford to pay for a mammogram, you may be eligible for assistance from the Castle Rock Hospital Foundation.
Our focus is regular screenings for early breast cancer detection, available to every person in our community. Generous donations from our caring community may be able to cover the cost of your mammogram.