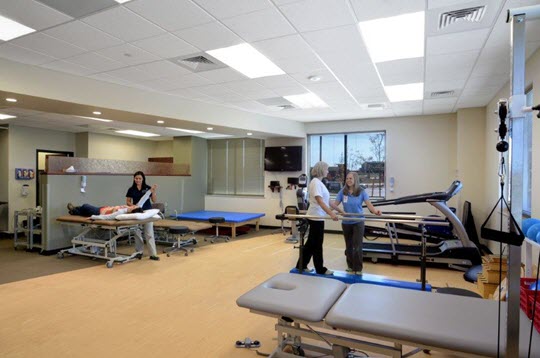 Helping You Reach Your Goals
Our dedicated professionals tailor one-on-one treatment sessions to your goals, whether it's to ski a black diamond run, get back to work, or enjoy one of your favorite foods. When you need to get on the road to recovery after surgery or injury, our providers will create a personalized path to get you back to doing the things you love.
Already have an appointment? Download patient forms.
Physical Therapy

At Center for Rehabilitation at Castle Rock Adventist Hospital, we'll work with your goals, starting with a comprehensive evaluation and then offer a variety of personally tailored physical therapy techniques, including manual therapy, sports rehab and vestibular retraining.

Our rehabilitation experts are trained to help patients recover from orthopedic, neuromuscular, neurological injuries, illnesses or surgery. We also specialize in helping athletes recover from injuries, and regain strength and range of motion.

We provide comprehensive care for a wide variety of illnesses, injuries and post-surgical recovery including:

Sports medicine injuries
Total joint replacements including knee, hip, and shoulder
Knee injuries including ACL (anterior cruciate ligament injuries) and meniscus (cartilage) tears
Hip injuries
Shoulder injuries
Foot and ankle injuries
Low-back pain, strain and sprain
Neck pain and strain, headache, and whiplash
Work injuries
Temporomandibular joint pains and dysfunctions
Stroke / neurological diagnoses
Traumatic brain injuries
Multiple sclerosis
Parkinson's disease
Vestibular deficits, balance deficits, and recurrent falls
Prenatal back pain
Postnatal rehabilitation
Speech Therapy

With a focus on communication and swallowing disorders, the speech-language pathologists at Center for Rehabilitation at Castle Rock Adventist Hospital begin each patient's care with a comprehensive initial screening.

A thorough assessment and diagnosis helps our experts then develop a customized plan including the best intervention, treatment, and management. We also provide counseling and other follow-up services for some of the most common speech-language disorders.

Diagnoses we treat include:

Accent reduction program to improve communication for people with accents
Augmentative/alternative communication for nonverbal clients, often using technology and adaptive devices
Cognitive therapy to improve memory, attention, processing, problem solving, and executive functioning
Language therapy to improve developmental delays or language impairments due to neurological events
Speech therapy for articulation disorders and patients affected by surgery, trauma, cancer or neurological conditions
Swallowing therapy including Modified Barium Swallow Studies to measure swallowing impairment, and electrical stimulation technology treatments for swallowing impairments
Voice therapy
Occupational & Hand Therapy

When pain, stiffness, or other deficits keep you from daily activities-whether work or play-the occupational therapists at Center for Rehabilitation at Castle Rock Adventist Hospital can provide the specialized care you need.

We work with clients with physical, mental or developmental conditions to help them achieve their goals to recover or maintain the daily activities and work skills of patients with a wide range of conditions. Sometimes that means modifying home or work environments, using assisted devices, changing daily living or work tasks to make them attainable, or educating patients and their families about new ways to overcome deficits.  

Diagnoses we treat include:

Hand, elbow, and shoulder injury
Upper extremity splinting by our hand therapist
Orthopaedic injuries or post-surgical treatment
Neurological deficits
Cognitive and perceptual deficits
Low vision and visual motor deficits
Upper extremity strengthening and coordination
Ergonomics training
Home adaptation and adaptive equipment
Relief of painful conditions, such as carpal tunnel syndrome and arthritis