Welcome to CHPG Vascular and General Surgery
CHPG Vascular and General Surgery offers vascular and general surgical specialty services in Colorado Springs and is proud to promote the prevention and treatment of vascular disease using the most advanced techniques and technology available. Our team has vast expertise and experience in diagnosing and treating common, complex and rare vascular diseases, as well as in traditional open and endovascular procedures. Additionally, we treat a broad spectrum of general surgical issues and are involved with the patient's care from diagnosis, through surgery and postoperative care.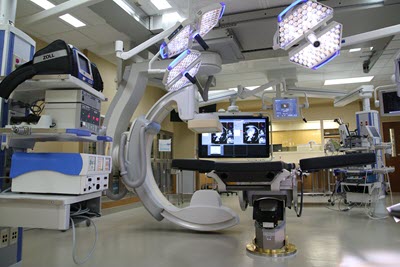 Southern Colorado's First and Most Advanced Hybrid OR Suite
The Hybrid OR Suite is a large surgical suite that combines state-of-the-art computer-generated technology and radiologic imaging with a sterile operating room environment. It allows physicians to switch minimally-invasive operations into open surgical procedures when needed, without having to transport the patient. Critical time can be lost when a patient needs to be transferred to a separate operating room. Sometimes these moments can save the patient's life. Our vascular surgeons use this unique suite for many procedures. Penrose Hospital is the only hospital in Colorado Springs to offer this technology.
Our Locations
To schedule please contact us at one of our locations below or request an appointment online.