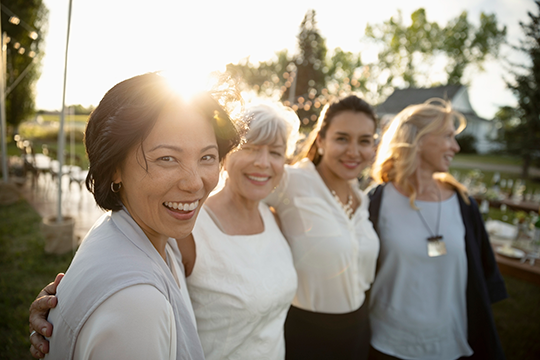 Whether you're planning for an addition to your family, searching for a new OB-GYN, or you have concerns about your health, you can rely on our team of board-certified gynecologists and obstetricians.
We offer complete gynecology and obstetric services from caregivers who will make you feel comfortable throughout your care journey.
Gynecologic Services

Women over 18 or who are sexually active should see a gynecologist for the following:

Annual routine pelvic and breast exams
Special needs or unusual symptoms
Contraceptives

Pregnancy, to provide optimal health for both mother and baby

Our women's health practice provides the following gynecologic care and treatments:

Well-women exams
Health education
Cancer screening
Menopause
Reproductive health
Hormone replacement therapy

Infertility
Incontinence
Treatment of sexually-transmitted diseases
Surgical care, including minimally invasive laparoscopic surgery
Osteoporosis management
Obstetrics & Prenatal Care Services

Prenatal care services:

Prenatal wellness visits
Diagnostic tests
Labs

Ultrasounds
Nutrition counseling and education

Healthy babies are worth the wait! 
At CHPG Women's Health and Avista Adventist Hospital, we are committed to your baby's health and wellbeing. We support the Association of Women's Health, Obstetric and Neonatal Nurses (AWHONN) and the March of Dimes campaign to educate women about the 40 reasons to "Go the Full 40".
Meet our obstetricians and gynecologists.
Our board certified women's health physicians and providers strive for the highest quality of obstetrics and gynecologic care in an environment that allows our patients to ask questions and understand every step of their care.
Schedule a Mammogram
With mammogram screening locations throughout Colorado and western Kansas, scheduling your next mammogram at a place and time convenient for you is easier than ever.
Patient Forms & Check-In Information
In order to streamline your appointment check-in process, we encourage you to activate a MyCenturaHealth account for online access to your patient portal via website or mobile app.
With an active MyCenturaHealth account you will have the ability to complete patient demographic and health history forms prior to your appointment. This will also allow you to communicate with your provider, receive health screening reminders, access test results, read progress notes and schedule future appointments.
If you are a new patient with a scheduled appointment and need a MyCenturaHealth activation code please call 866-414-1562.
If you do not want to complete your check-in process via MyCenturaHealth, we ask that you arrive 30 minutes prior to your appointment to complete your patient forms.