Colorado Joint Replacement Surgeon Selected for Esteemed Fellowship
Dr. Jason Jennings was selected as one of four Insall Traveling Fellows chosen in 2017. This revered fellowship only accepts four of the most qualified international candidates. 
We are so excited for Terry
Terry is a recent recipient of a joint replacement from Operation Walk Denver. See his story below from Colorado's Own Channel 2 News.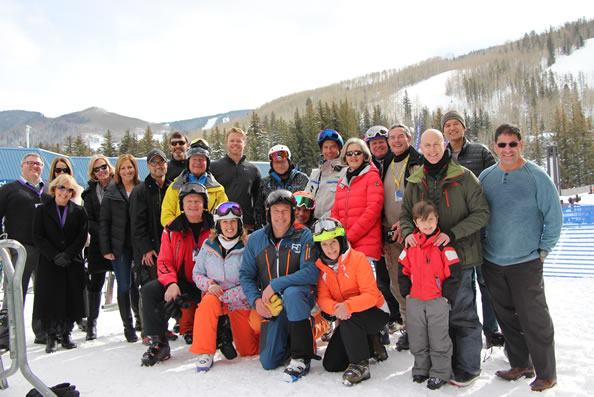 Group photo of ski day participants
Colorado Joint Replacement hosted our annual Ski Day on Friday, January 13th, 2017 at Vail Ski Resort. Patients were invited to hit the slopes and spend the day with fellow joint replacement patients and CJR staff. This was an informal day for patients who have had a knee or hip replacement to ski and socialize alongside their care teams, including physician assistants and surgeons from CJR. This year's Ski Day was a great success and will be an annual event. It will continue to take place in either January or February and all CJR patients are welcome to participate. Like the patient 14er hike, these yearly events are meant to encourage patients to return to their pre-arthritic activity levels and share their stories with others who have had similar experiences.
8th Annual Joint Replacements with Altitude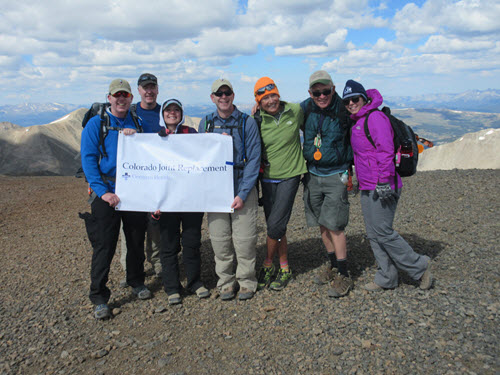 Joint replacement patients and CJR staff hike to the summit of Mt. Cameron.
Colorado Joint Replacement held our 8th Annual Joint Replacements with Altitude Hike on Saturday, August 19, 2017. Led by Will Petitt, PA-C, the annual event provides a chance for past joint replacement patients to join nurses, physicians and friends to hike a Colorado 14er. This year hikers climbed Mt. Lincoln, Mt. Cameron, and Mt. Democrat. This year's event had 18 hikers, including 10 of our hip and knee replacement patients, climbing over 14,200 feet. While some of the patients were challenging themselves to return to better than previous function, others weren't even a year out from their surgeries.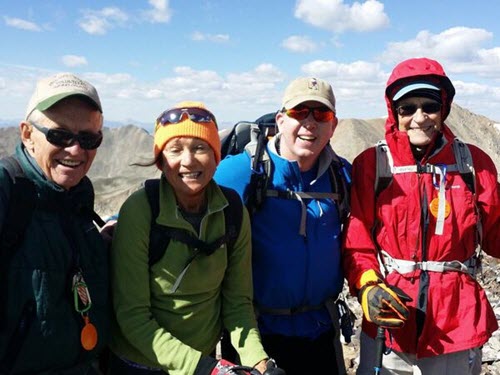 Hiking between Mt. Democrat and Mt. Cameron.
This annual event is truly inspirational and shows how important the relationships between our providers and patients are at Colorado Joint Replacement. We're thrilled to see firsthand how we have helped our patients return to full and active lives!
Interested in joining next year's climb? Call: 720-372-0926