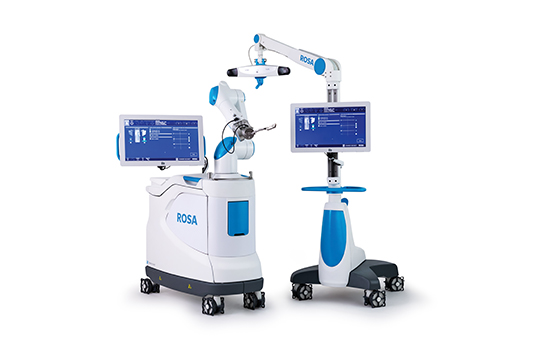 Robotic technology for your personalized knee replacement.
ROSA, which stands for Robotic Surgical Assistant, enables our renowned surgeons to operate with greater precision during total knee replacement procedures. The ROSA Knee System uses real-time data to help surgeons fit knee implants for each individual's unique anatomy, which aids in comfort and recovery, post-surgery, for the patient.
How knee replacement with the ROSA® Knee System works.
Before Surgery

Your preoperative experience will be like that of most total knee patients. But, unlike traditional knee replacement methods, with ROSA Knee, a series of x-rays may be used to create a three-dimensional (3D) model of your knee anatomy. This 3D model will enable the surgeon to plan many specifics of your knee replacement prior to your surgery.
During Surgery

The surgical procedure using ROSA Knee is similar to traditional total knee replacement, but with a robotic assistant. Your surgeon has been specially trained to use ROSA Knee in order to personalize the surgical approach for your unique anatomy. It's important to understand that the robot does not operate on its own. That means it does not move unless your surgeon prompts it to. Your surgeon is still in the operating room the entire time and is making all of the decisions throughout your surgery.

During your procedure, ROSA Knee is like a very detailed global positioning system (GPS) and utilizes a camera and optical trackers attached to your leg to know exactly where your knee is in space. If your leg moves even a fraction of an inch, the robot can tell and adjusts accordingly. This helps ensure that the plan your surgeon put into place is executed as intended. Throughout your surgery, ROSA Knee provides your surgeon with data about your knee. This information, combined with your surgeon's skill, helps them know how to position your implant based on your unique anatomy.
After Surgery

Plan on a brief hospitalization period post-surgery depending on the recovery plan your surgeon selects. While recovery times vary, many people can comfortably drive after two weeks, garden after three to four weeks, and golf after six to eight weeks, getting you back to the life you love. Consult with your surgeon for guidance on activity-based specifics.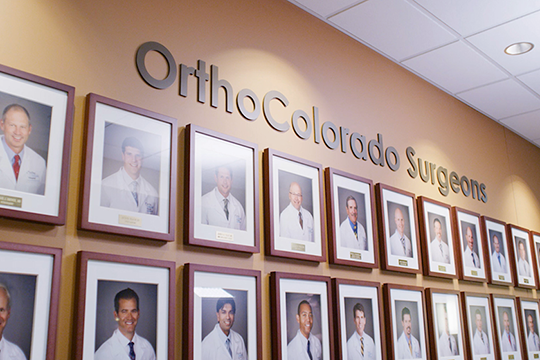 The region's leading orthopedic specialists.
At OrthoColorado Hospital, we are dedicated to providing orthopedic patients and their families a truly remarkable experience.
Our state-of-the-art facility, located on the St. Anthony Medical Campus, is the only orthopedic specialty hospital in the Rocky Mountain Region, meaning that orthopedics is all we do.
Complete with collaborative pre-admission consultations, large private patient rooms, and our beautiful therapy gym, you're sure to find every facet of your experience is extraordinary.
We're here to serve you.
Our team is specially trained in orthopedics from preoperative care through recovery. Our surgeons are renowned for their talent, knowledge, and experience in their orthopedic specialties. Everyone is dedicated to getting you back to being the best you.
For more information call 720-321-5154.