Parker Adventist
Emergency Room
If you have a medical or life-threatening
or limb-threatening emergency dial 911 immediately.
Erwait featured locations block
Across Centura Health, our hospitals, Emergency Departments, Urgent Care centers and clinics are prepared to care for you upon your arrival. We adhere to best-practice clinical care protocols and safety measures, and our hospitals and clinics are staffed and ready to provide you with immediate care. Please do not delay seeking important or life-saving care because of the coronavirus.
Providing the expertise you need to manage your health and wellness.
Our leading-edge teams deliver remarkable care, high-quality outcomes and unparalleled patient satisfaction among a wide variety of medical specialties, services and programs to help you get well and stay well. View all medical services. 
PIVO Needle-Free Blood Draw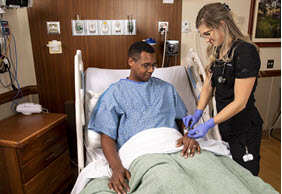 Centura Health offers needle-free blood draws for inpatients using needle-free blood draw technology. This innovative technology in the hands of our expert caregivers has eliminated over 400,000 needlesticks for patients and reduced the risk of accidental needlesticks for our healthcare providers.