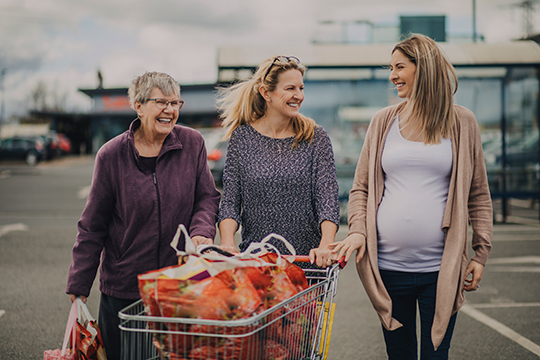 We look forward to providing you with the highest quality of care possible - whether you're newly pregnant, about to have your baby or you're here for routine well woman care, our friendly physicians will make you feel comfortable.
Gynecologic Care

Women's Gynecologic Care

Pinnacle Women's Healthcare provides comprehensive gynecological care and women's health services, including:

Annual well woman exam (may or may not include a Pap smear)
Contraception options - IUDs, birth control pills, injection and implants
Hysterosonogram and Doppler ultrasound
Menopausal health
Minimally invasive surgery
Ovarian cysts

Endometrial ablation
Endometriosis
Endometrial biopsy
Treatment for abnormal uterine bleeding
Colposcopy and LEEP to help prevent cervical cancer
Cervical cancer screening

Minimally Invasive Robotic Gynecologic Surgery

Our physicians at Pinnacle Women's Healthcare are trained in cutting edge minimally invasive robotic gynecologic surgery techniques and equipment. Some of the minimally invasive gynecologic surgeries our physicians perform include treatment for abnormal uterine bleeding, hysterectomies, uterine fibroids and cervical and uterine cancer. Minimally invasive robotic surgery requires just a few small incisions each about half-inch long to allow for the insertion of very small surgical instruments. These smaller incisions generally means less blood loss during surgery, less pain, less risk of infection, a shorter hospital stay, and a faster recovery than traditional surgical approaches.

Pinnacle Women's Healthcare specializes in the below minimally invasive robotic gynecologic procedures:

Treatment for abnormal uterine bleeding
Vaginal hysterectomies

Uterine fibroids
Cervical and uterine cancer

---

Teen Gynecologic Care

At Pinnacle Women's Healthcare, we understand and respect these needs and concerns, and take this into account in how we approach the care of our teen patients. For teens, seeing a gynecologist (GYN) for the first time can be an uncomfortable and scary experience, however pre-teen and teen care is extremely important. We create a safe and welcoming environment where adolescents feel comfortable talking to our physicians and staff about their health questions and concerns.The needs of teens and young women are unique and different from those of older women. 

During your appointment your provider will discuss your health history, health concerns you may be experiencing, talk to you about how your body works and provide tips on minimizing your risks and developing healthy habits.
Obstetric Care

As an active partner in your pregnancy, we are dedicated to creating a personalized experience that fits your individual preferences and needs. We strongly believe in relationship based care, providing you with as much information as possible, so you feel empowered and comfortable throughout your pregnancy. 

Our partnership with The BirthPlace at Parker Adventist Hospital, allows us to provide you and your baby with the best possible care. At The BirthPlace, a team of highly trained perinatologists, 24/7 on-call anesthesiologists, neonatal specialists from Children's Hospital Colorado and International Board Certified Lactation Consultants (IBCLC), are standing by ready to care for you and your baby.  

The BirthPlace at Parker Adventist Hospital

The BirthPlace at Parker Adventist Hospital  delivers an amazing experience for new moms, families and guests, immersing you in the utmost of safety, comfort and confidence. From large private birthing suites, gourmet room service and a unique family-centered approach to care, The BirthPlace combines advanced medical expertise with comfort and confidence. Their highly skilled team is ready to handle anything-including high-risk pregnancies, multiples and premature babies.

Schedule your Birthplace Tour and pre-register for your baby's birth at The BirthPlace.
Meet Our Obstetricians and Gynecologists
Our physicians at Pinnacle Women's Healthcare our physicians, nurses and staff spend time to get to know you as a person. Our practice is comprised of four board-certified physicians, registered nurses, and medical assistants.
Learn more about our team members, specialties and best practices as we continue to build informational videos for your viewing pleasure.
Patient Forms & Check-In Information
In order to streamline your appointment check-in process, we encourage you to activate a MyCenturaHealth account for online access to your patient portal via website or mobile app.
With an active MyCenturaHealth account you will have the ability to complete patient demographic and health history forms prior to your appointment. This will also allow you to communicate with your provider, receive health screening reminders, access test results, read progress notes and schedule future appointments.
If you are a new patient with a scheduled appointment and need a MyCenturaHealth activation code please call 866-414-1562.
If you do not want to complete your check-in process via MyCenturaHealth, we ask that you arrive 30 minutes prior to your appointment to complete your patient forms.