Across Centura Health, our hospitals, Emergency Departments, Urgent Care centers and clinics are prepared to care for you upon your arrival. We adhere to best-practice clinical care protocols and safety measures, and our hospitals and clinics are staffed and ready to provide you with immediate care. Please do not delay seeking important or life-saving care because of the coronavirus.
Providing the expertise you need to manage your health and wellness.
Our leading-edge teams deliver remarkable care, high-quality outcomes and unparalleled patient satisfaction among a wide variety of medical specialties, services and programs to help you get well and stay well. View all medical services.
PIVO Needle-Free Blood Drive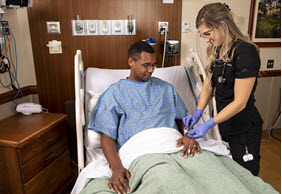 Centura Health, the region's health care leader, is now the first hospital system in Colorado and Kansas, and among the first in the nation, to offer needle-free blood draws for inpatients using needle-free blood draw technology.