Providing the expertise you need to manage your health and wellness.
Our leading-edge teams deliver remarkable care, high-quality outcomes and unparalleled patient satisfaction among a wide variety of medical specialties, services and programs to help you get well and stay well. View all medical services.
Patient safety is our top priority at Porter Adventist Hospital. Beginning September 1, 2018, we will be providing regular reports to the Colorado Department of Public Health & Environment (CDPHE) to confirm that Porter Adventist Hospital continues to meet all sterilization process standards. This condition will remain in place on Porter's operating license for one year. We want to assure our patients and community that no new or reoccurring deficiencies have been found by the CDPHE and all current health care services and procedures will continue at Porter Adventist Hospital without interruption.
PIVO Needle-Free Blood Drive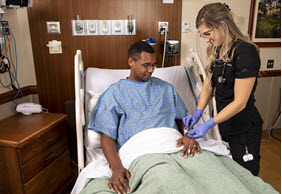 Centura Health, the region's health care leader, is now the first hospital system in Colorado and Kansas, and among the first in the nation, to offer needle-free blood draws for inpatients using needle-free blood draw technology.