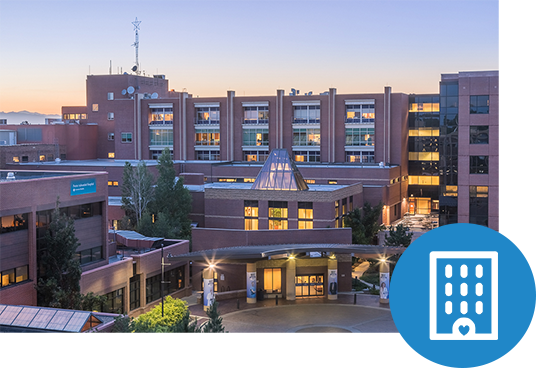 Henry Porter recognized the value in holistic health care after receiving treatment at two Seventh-day Adventist Sanitariums. His experiences at these sanitariums changed his life, and the face of health care in Denver, forever.
The treatment he received in both facilities was unlike anything he had experienced before. State-of-the-art hydrotherapy, coupled with remarkable kindness and a focus on healthful living was revolutionary in Henry's day. Even more remarkable was a letter Henry received from the bookkeeping clerk at the Paradise Valley Sanitarium. The clerk sent an apology for overcharging Mr. Porter and enclosed a forty-five cent refund check.
The care he received left such an impact on him that he became committed to opening a similar facility in Denver, CO. Today Porter Adventist Hospital along with its sister facilities, continues to apply the same philosophy of care in treating the mind, body and spirit.
Level III Trauma Center
Recipient of 2018 Platinum Performance Achievement Award, recognizing a higher standard of care for heart attack patients.
The Porter Center for Joint Replacement
The Porter Center for Joint Replacement has an international reputation for teaching, research and surgical excellence.
Behavioral Health
We offer comprehensive behavioral healthcare services including outpatient therapy and medication management, intensive outpatient programs, electro-convulsive therapy and more.
Patient & Community Resources
Porter Adventist Hospital and its associates are passionate about our mission of extending the healing ministry of Christ and nurturing the health of the people in our communities. We serve people inside and outside our doors with spiritual and emotional care that respects every person for who they are, regardless of background or faith tradition. We host regular classes, educational sessions and support groups on campus to support area residents on their wellness journey. We actively partner with organizations who are experts in crime, suicide and substance abuse prevention, family counseling, children's dental needs, providing access to healthy foods and more.
Porter Adventist Hospital | By the Numbers
Active Medical Staff
940
Admissions
9,524
2018 ED Visits
20,742
Caregivers
1,411
Licensed Beds
368
ED Private Rooms
24
Surgical Suites
20
2018 Uncompensated/Charity Care
$10.3 million
Excellence in Nursing Services

In 2018, Porter was recognized as a Magnet Hospital for a third time, placing it in the top 6th percentile of hospitals nationwide for its standard of care.

At Porter Adventist Hospital, our philosophy creates an environment where nurses are respected, trained and equipped to provide the highest level of patient care. We believe that when nurses are skilled, confident and satisfied with their career, patient's outcomes improve; and that truly is the best of science and spirit.

Magnet™ Recognition

Porter Adventist Hospital has achieved Magnet™ designation for excellence in nursing services by the American Nurses Credential Center's (ANCC) Magnet Recognition Program®, the largest and most prominent nursing credentialing organization in the United States. Porter is the first hospital in the Centura Health system to achieve this national status.

The Magnet™ designation places Porter among health care organizations that demonstrate excellence in nursing practice and adherence to national standards for the organization and delivery of nursing services. Porter completed a rigorous evaluation that includes extensive interviews and review of nursing services. Research shows there are clear benefits to hospitals that are awarded Magnet status and to the communities they serve:

Healthcare consumers have more confidence in the overall quality of a hospital if it has achieved the level of excellence established by the Magnet Recognition Program.
Magnet designated facilities consistently outperform other facilities in recruiting and retaining nurses resulting in increased stability in patient care and patient satisfaction.
Because quality nursing is one of the most important factors in enlisting high caliber physicians and specialists, Magnet status becomes an attractive force that extends to the entire facility.

NICHE

Porter Adventist hospital has recently earned the NICHE (Nurses Improving Care for Health System Elders) designation, which recognizes the hospital's commitment to excellence in geriatric care. Through Porter's participation in the NICHE program — a leading elder care nursing program — we are able to offer evidence-based, interdisciplinary approaches promoting better outcomes, positive experiences, and improved care for older adults. This leads to greater satisfaction rates for patients, families and staff.

Shared Governance

Porter Adventist Hospital Nursing Division supports a shared decision making model. Our council model consists of the following councils: Nursing Practice Council, Professional Development Council, Advanced Practice Nurse Council, Evidence-Based Practice and Research Council, Clinical Management Council and Shared Leadership Council.

The Nursing Practice Council... 
has oversight for promotion of excellence and quality in the practice of nursing at Porter Adventist Hospital. The NPC translates empowerment, responsibility, and accountability to the clinical nurses. Members of the Nurse Practice Council represent each of their respective nursing units.

The NPC defines, approves, implements, and maintains a standard of practice in which clinical excellence and optimal patient care are promoted through shared governance. The Council works to ensure all practice and patient care decisions are consistent with evidence-based practice and professional standards.

The Professional Development Council...
promotes educational initiatives that create a learning organization and enhance the education and development of PAH associates. In addition, council members facilitate specialty development and career advancement for PAH employees. Membership of the PDC includes Advanced Practice Nurses, general staff development educators, and unit-based clinical educators.

The PDC will focus on facilitating needs assessment and competency processes, along with highlighting innovative educational resources and technology that will ensure associates learn in the most effective manner. In addition, council members will facilitate specialty development and career advancement for PAH employees.

The Advanced Practice Nurse Council...
enhances and promotes Advance Practice Nursing (APN) at Porter Hospital through leadership, education, research, and collaboration/consultation. This Council promotes the opportunity for growth of advanced practice nurses, along with leadership, through identification of areas for improvement and their resolutions within this diverse group of clinicians. The Council serves as an advisory council to the Senior Administration Team.

The Evidence-Based Practice and Research Council...
supports evidence-based practice and nursing research as two critical elements basic to the provision of nursing care at Porter Adventist Hospital. The Council aims to increase the ability of all nursing staff to provide evidence-based care, to increase the involvement of the nursing staff in nursing research and to facilitate nursing research at Porter Adventist Hospital. Members of the EBP council include staff nurses, nursing leadership and interdisciplinary members.

The Clinical Management Council...
defines, approves, implements, and maintains fiscal and human resource accountability for the practice of clinical excellence and optimal patient care through shared governance. Membership of the management council includes representatives from all levels of nursing leadership and clinical representation.

The Shared Governance Leadership Council...
coordinates projects and efforts of all Councils, working toward consensus of identifying priorities to support excellence in collaborative patient care through shared governance. Membership of this council consists of chairs of each of the shared governance council. The CNO facilitates the shared governance model as the chair of this council.
Student Placement Resources

Porter Adventist Hospital provides valuable learning experiences and opportunities for professional growth for students. We partner with numerous academic institutions in support of building the next generation of nurses. Academic partners can access the required forms for student placement and subsequent forms below.

Academic Institution Responsibilities

After placements have been approved please review and complete all appropriate documentation.

Important Documents for Reference for Clinical Rotations

Required Documents for Clinical Rotations

Academic Institutions are required to submit the following documents by email 30 days prior to each clinical rotation/practicum.

Required Documents for 1st Day

Instructors are required to submit the following documents to the education department on the 1st day of the clinical rotation.

Student to complete Clinical Scholar/Clinical Instructor Evaluation and Evaluation of Clinical Experience on the last day of the clinical rotation.

Evaluation of Clinical Scholar/Instructor by Student