39th Annual Swks Pro Am Date Set
December 21, 2017
(GARDEN, KS) The 2018 date and format of the 39th Annual Southwest Kansas Pro-am have been announced. Mark your calendars for August 9-12 for great play on two of the top rated Kansas golf courses; Buffalo Dunes and the Golf Course at Southwind. All proceeds benefit the Newborn Intensive Care Unit at St. Catherine Hospital (NICU). The 2017 event raised $70,000 that was used to purchase a new warmer and oxygen blender for the NICU as well as an investment in the Dr. Meyer's Endowed Fund. This fund provides advancements in education to nurses and respiratory therapists in the Maternal Child Department.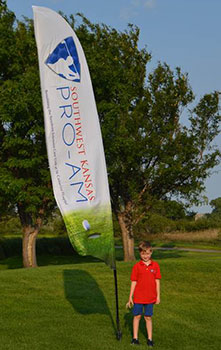 2017 NICU Graduate, Charlie Unger, stands next to a Pro Am flag at the Golf Club at Southwind. Each year a child is chosen who was a patient in the NICU and has 'graduated' to a full and healthy life.
Just like last year, the tournament will remain a five-person format where players create their own teams. Moving forward, the SWKS Pro Am has decided to not affiliate with a professional tour. Instead, they will remain with what has worked for 34 of the past 38 years, and that is to run the event without the affiliation.
"I think that 2017 showed us what we needed to see, that we ran an excellent event and our longtime sponsors and players told us that it was not only about having a professional to play with, but it was more about fellowship, great golf courses and being a part of a profitable charity tournament that mattered more," said Founding Pro-Am Board Member and High Plains Pizza Sponsor, Kent Colvin. "Our results show that we are making a difference in babies lives and what better way to invest your dollars and time than with friends around a golf course."
Sponsor packets will be sent out in January and professional recruitment has already began. For questions about the SWKS Pro Am or to become a new sponsor, please call Paige Kraus at 620-272-2376.
###
Quote(s)
"I would highly recommend playing in the SW Kansas Pro-Am! An awesome event, supported by the community, and run by great people, as well as played on two really good golf courses!" – Scott Petersen, Golf Professional
"I'm very excited to return to Garden City. I played the event last year, and was super impressed with everything." - Ryan Hogue, Golf Professional
"Please accept my heartfelt appreciation and gratitude for those that have stayed with us and "made the journey" for many years... you have a choice as to where you invest your dollars and we could not do what we do without your loyalty." – Kent Colvin, Founding Pro-Am Board Member and Sponsor, High Plains Pizza
About St. Catherine Hospital
St. Catherine Hospital is a Joint Commission-accredited, award winning, regional health care center that provides a full-range of medical specialties and exceptional health care in southwest Kansas. Through affiliations with clinics throughout western Kansas, St Catherine Hospital is expanding services to improve access to both primary and specialty care while enhancing local health care delivery. For more information, please visit St. Catherine Hospital.
Media Contact
Charmaine Tompkins
Phone: 518-621-7982
Centura Health does not discriminate against any person on the basis of race, color, national origin, disability, age, sex, religion, creed, ancestry, sexual orientation, and marital status in admission, treatment, or participation in its programs, services and activities, or in employment. For further information about this policy contact Centura Health's Office of the General Counsel at 1-303-673-8166 (TTY: 711). Copyright © Centura Health, 2017. ATENCIÓN: Si habla español, tiene a su disposición servicios gratuitos de asistencia lingüística. Llame al 1-303-673-8166 (TTY: 711). CHÚ Ý: Nếu bạn nói Tiếng Việt, có các dịch vụ hỗ trợ ngôn ngữ miễn phí dành cho bạn. Gọi số 1-303-673-8166 (TTY: 711).