Mercy Hospice House Opens
October 03, 2017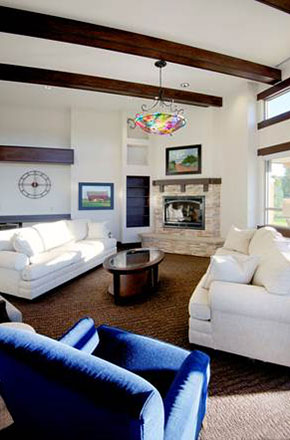 (DURANGO, COLO.) Mercy Hospice House, a new residential hospice facility on the Mercy Regional Medical Center campus, opens for patient care on Tuesday, October 3, 2017.
At Mercy Hospice House, hospice-trained professionals will provide 24-hour care, and other staff will be available to care for the emotional and spiritual needs of patients and their families.
Residential hospice care is often chosen when patients have symptoms that may be difficult to manage at home, or when patient families need respite from the demands caring for a loved one at home or in another setting.
The eight-bed, 11,000-square-foot facility's home-like features include a shared family kitchen where families can prepare meals; a living room and other family gathering areas; a library; private patios attached to each patient room; gardens; and a beautiful art collection.
Mercy Hospice House is the only residential hospice facility available to serve communities in the Four Corners region.
Mercy Regional Medical Center and Mercy Hospice House are located at:
1010 Three Springs Blvd.
Durango, CO 81301
For more information about Mercy Hospice House and Hospice of Mercy, contact us.
Phone: 970-764-1700
###
About Mercy Regional Medical Center
Mercy Regional Medical Center is an 82-bed acute care hospital in Durango, Colorado. As a non-profit hospital that is part of the Centura Health network, Mercy is committed to improving the health and wellness of the communities it serves in the Four Corners region. For more information visit Mercy Regional Medical Center website.
Media Contact
David Bruzzese
Director Marketing & Outpatient Rehab
Phone: 970-764-3910
davidbruzzese@centura.org
About Centura Health
Centura Health connects individuals, families and neighborhoods across Colorado and western Kansas with more than 6,000 physicians and 21,000 of the best hearts and minds in health care. Through our 17 hospitals, two senior living communities, health neighborhoods, physician practices and clinics, home care and hospice services, and Flight For Life® Colorado, we are making the region's best health care accessible and affordable in every community we serve. We believe you can inspire the people you care about to live healthier lives by encouraging them to do the little things that can make a big difference. We're Centura Health, and we're here for your health. For information on Centura Health or any of the facilities in our network, please visit Centura Health website.
Centura Health does not discriminate against any person on the basis of race, color, national origin, disability, age, sex, religion, creed, ancestry, sexual orientation, and marital status in admission, treatment, or participation in its programs, services and activities, or in employment. For further information about this policy contact Centura Health's Office of the General Counsel at 1-303-673-8166 (TTY: 711). Copyright © Centura Health, 2017. ATENCIÓN: Si habla español, tiene a su disposición servicios gratuitos de asistencia lingüística. Llame al 1-303-673-8166 (TTY: 711). CHÚ Ý: Nếu bạn nói Tiếng Việt, có các dịch vụ hỗ trợ ngôn ngữ miễn phí dành cho bạn. Gọi số 1-303-673-8166 (TTY: 711).