St. Catherine Hospital Becomes 2nd Kansas Hospital to Receive Prestigious International Award
December 13, 2017
(Albany, NY) Baby-Friendly USA, announces that St. Catherine Hospital has received prestigious international recognition as a Baby-Friendly Designated birth facility and only the second Kansas hospital to do so.
Baby-Friendly USA, Inc. is the U.S. authority for the implementation of the Baby-Friendly Hospital Initiative ("BFHI"), a global program sponsored by the World Health Organization (WHO) and the United Nations Children's Fund (UNICEF). The initiative encourages and recognizes hospitals and birthing centers that offer an optimal level of care for breastfeeding mothers and their babies. Based on the Ten Steps to Successful Breastfeeding, this prestigious international award recognizes birth facilities that offer breastfeeding mothers the information, confidence, and skills needed to successfully initiate and continue breastfeeding their babies.
There are more than 20,000 designated Baby-Friendly hospitals and birth centers worldwide. Currently there are 474 active Baby-Friendly hospitals and birth centers in the United States. The "Baby-Friendly" designation is given after a rigorous on-site survey is completed. The award is maintained by continuing to practice the Ten Steps as demonstrated by quality processes.
Further information about the U.S. Baby-Friendly Hospital Initiative may be obtained by contacting:
Baby-Friendly USA, Inc.
125 Wolf Road, Suite 402
Albany, NY 12205
Phone: 518-621-7982
Fax: 518-621-7983
OR
Visit Baby-Friendly USA website.
###
Quote(s)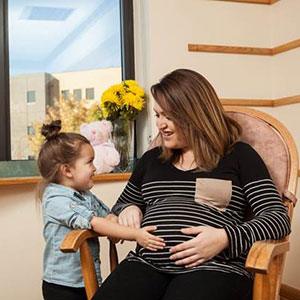 "The affirmation of excellence by the World Health Organization and UNICEF reinforces what western Kansas has come to know, what a superior center of care the Maternal Child Center at St. Catherine Hospital is," said Hospital President and CEO, Scott Taylor. "By combining some of the most dedicated and trained staff with the most advanced technology in the region, St. Catherine delivers clinical outcomes and patient safety scores that are some of the best in the state. Whether for routine delivery or high risk obstetric and pediatric care, the Maternal Child Center at St. Catherine Hospital should be your facility of choice."
About St. Catherine Hospital
St. Catherine Hospital is a Joint Commission-accredited, award winning, regional health care center that provides a full-range of medical specialties and exceptional health care in southwest Kansas. Through affiliations with clinics throughout western Kansas, St Catherine Hospital is expanding services to improve access to both primary and specialty care while enhancing local health care delivery. For more information, please visit St. Catherine Hospital.
Media Contact
Charmaine Tompkins
Phone: 518-621-7982
Centura Health does not discriminate against any person on the basis of race, color, national origin, disability, age, sex, religion, creed, ancestry, sexual orientation, and marital status in admission, treatment, or participation in its programs, services and activities, or in employment. For further information about this policy contact Centura Health's Office of the General Counsel at 1-303-673-8166 (TTY: 711). Copyright © Centura Health, 2017. ATENCIÓN: Si habla español, tiene a su disposición servicios gratuitos de asistencia lingüística. Llame al 1-303-673-8166 (TTY: 711). CHÚ Ý: Nếu bạn nói Tiếng Việt, có các dịch vụ hỗ trợ ngôn ngữ miễn phí dành cho bạn. Gọi số 1-303-673-8166 (TTY: 711).