Williams Honored With National Award
November 29, 2017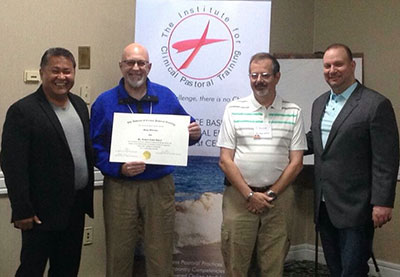 (GARDEN CITY, KS) Recently, Doug Williams, D. Med/D. Min, received the Dr. Richard C. Cabot, MD, award. The presentation, held in Jacksonville, FL, is awarded to only one recipient annually and recognizes "Excellence in Clinical Pastoral Education" (CPE). St. Catherine Hospital's nationally accredited CPE program emphasizes developing pastoral skills and strengths. Clergy, church workers, and other people-centered professionals use this training.
Richard Cabot (1868-1939) pioneered several medical advances and advocated for holistic patient treatment. Noting their needs and improved healing rates, he insisted patients also receive social and spiritual support. He committed to personally paying for those supports until health care facilities caught his vision.
Chaplain Williams directs the CPE program at St. Catherine. He underscores that while the award came to him, recognition goes to the staff and students at St. Catherine. "We certainly work as a unit. It simply would not be a stellar program if it rode on one person's shoulders," He continued, "Dedicated contributions by a team earned this recognition." For more information on the CPE Program, please call 620-272-2512.
###
About St. Catherine Hospital
St. Catherine Hospital is a Joint Commission-accredited, award winning, regional health care center that provides a full-range of medical specialties and exceptional health care in southwest Kansas. Through affiliations with clinics throughout western Kansas, St Catherine Hospital is expanding services to improve access to both primary and specialty care while enhancing local health care delivery. For more information, please visit St. Catherine Hospital website.
About Centura Health
Centura Health connects individuals, families and neighborhoods across Colorado and western Kansas with more than 6,000 physicians and 21,000 of the best hearts and minds in health care. Through our 17 hospitals, two senior living communities, health neighborhoods, physician practices and clinics, home care and hospice services, and Flight For Life® Colorado, we are making the region's best health care accessible and affordable in every community we serve. We believe you can inspire the people you care about to live healthier lives by encouraging them to do the little things that can make a big difference. We're Centura Health, and we're here for your health. For information on Centura Health or any of the facilities in our network, please visit Centura Health website.
Media Contact
Shawna Deal
Community Relations Coordinator
St. Catherine Hospital, Bob Wilson Memorial Hospital, Dodge City Medical Center
Cell: 620-805-9959
Phone: 620-272-2529
shawnadeal@centura.org
Centura Health does not discriminate against any person on the basis of race, color, national origin, disability, age, sex, religion, creed, ancestry, sexual orientation, and marital status in admission, treatment, or participation in its programs, services and activities, or in employment. For further information about this policy contact Centura Health's Office of the General Counsel at 1-303-673-8166 (TTY: 711). Copyright © Centura Health, 2017. ATENCIÓN: Si habla español, tiene a su disposición servicios gratuitos de asistencia lingüística. Llame al 1-303-673-8166 (TTY: 711). CHÚ Ý: Nếu bạn nói Tiếng Việt, có các dịch vụ hỗ trợ ngôn ngữ miễn phí dành cho bạn. Gọi số 1-303-673-8166 (TTY: 711).