To the Magnet Commission and Appraisers:
Welcome to Porter Adventist Hospital! We trust that the documents we submit and your upcoming visit will provide you with a full appreciation of our mission and passion for nursing excellence. For the last four years, we have proudly served as a Magnet hospital. This designation has allowed us to prosper from the level of excellence that accompanies a nursing culture where every nurse owns their practice.
This culture of nursing excellence is essential to achieving patient value. From a system-wide perspective, Centura Health defines value as the confluence of convenience, cost, service and outcome effectiveness. The goal is for health care to be readily available and accessible with exceptional and long-lasting clinical outcomes provided in an environment of service excellence at a reasonable cost. For value to be recognized and rewarded, an organization must differentiate its products and services from the fray of the marketplace. That is why, from a local perspective, the Board of Directors for Porter Adventist Hospital has chosen outcome effectiveness as our differentiating strategic competency and value proposition. Because nursing excellence is fundamental and essential to achieving effective outcomes, our Magnet designation aligns perfectly with our overarching strategy.
We appreciate and support the work that the Magnet Commission has accomplished to define and recognize the essential elements of such a vibrant nursing culture. As a result of the professional achievement of our nursing organization, the medical staff of Porter Adventist Hospital actively engages in the Magnet journey and partners with our nurses in providing excellent patient care.
Once again, welcome to Porter Adventist Hospital. We are grateful for the Magnet program that continues to motivate our efforts toward higher levels of nursing excellence.
Sincerely,
Sharon Pappas, R.N., Ph.D.
Chief Nursing Officer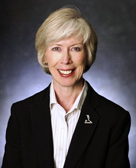 Randy Haffner, Ph.D.
Chief Executive Officer