July 9, 2020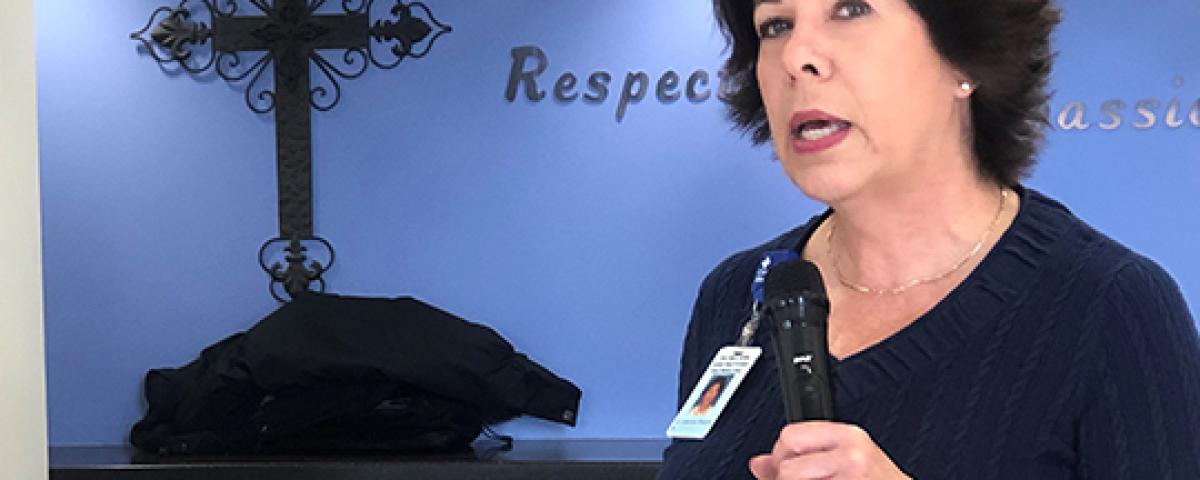 Terri Worf didn't have to look far to see the devastating effects of diabetes. It was all around her. Her grandmother had type 1 diabetes, as does her brother. Her father had type 2 diabetes. 
 
That was enough to inspire Worf, an APRN and Certified Diabetes Educator at Centura - St. Catherine Hospital, to not only take care of herself but also help others manage or prevent the deadly disease. 
 
"'Oh my gosh, I'm gonna have it," Worf remembers thinking as her family members one by one were diagnosed. "So, I do try to practice what I preach, and I understand how hard it is. It's not easy to be diligent with your behaviors, and we all fall off the wagon." 
Worf and St. Catherine Hospital want to do their part to educate people on why diabetes occurs, the different types, what can be done to help prevent it and how to manage the disease. 
 
According to the National Institute of Diabetes and Digestive and Kidney Diseases, diabetes occurs when your blood sugar levels are too high. Insulin, a hormone made by the pancreas, helps glucose from food get into your cells to be used for energy. Sometimes people's bodies don't make enough insulin, causing glucose to stay in the blood and not reach cells, which causes health problems. 
With type 1, the body does not produce insulin and results in the need for insulin therapy. Type 2 is when the body doesn't use insulin properly. A third type, gestational diabetes, happens during pregnancy for some women and causes the mother to become insulin resistant. 
 
"It's so rampant. It's such an epidemic in our country," Worf said about diabetes. "We have a lot of people who are struggling with it. So, it's not just an individual's problem. It's not just an individual issue. It's a community issue." 
 
Worf helps patients manage their diabetes by encouraging healthy dietary decisions, promoting increased physical activity, and preaching the importance of monitoring blood sugar levels. 
 
As the featured speaker in November 2019 at St. Catherine's Pace with a Provider program, Worf told those in attendance that for people to successfully manage diabetes they need support – not only from CDEs like herself, but also from family and friends. 
Some ways people can offer support to diabetes patients, Worf said, include: 
Not bringing fattening, sugary snacks to work. 
Going for walks with them and encouraging them to exercise. 
Encouraging them to pay attention to their blood sugar levels and go to checkups. 
She also offered these dietary tips: 
Include vegetables with every meal. 
Eat healthy proteins. 
Cut down starches. 
Don't drink soda. 
Be more active, such as taking stairs instead of elevators, getting on a treadmill, and walking to work. 
Combating the causes at a young age is key to curbing the diabetes epidemic. A good start, Worf said, would be to feed children a healthy diet that limits soda and processed and junk foods, and to encourage them to be active. 
 
"If we start out with youngsters, sometimes we can make a difference when they're 40 or 50. And they can influence their grandmas and grandpas to be active," Worf said. "'Let's go out and play Frisbee. Let's throw the ball. Let's go for a walk. Let's ride a bike. Let's not eat for entertainment.' Our society is really food-oriented. We think everything should be celebrated with food." 
 
St. Catherine offers a Diabetes Prevention Program that includes lessons on healthy eating, healthy activities, and how to incorporate mindfulness and relaxation into your life to help with your health management, Worf said. 
 
The National Diabetes Prevention Program is a partnership of public and private organizations working to prevent or delay type 2 diabetes. One key feature of the National DPP is the  CDC-recognized lifestyle change program, which focuses on healthy eating and physical activity. Statistics show that people with prediabetes who take part in a structured lifestyle change program can cut their risk of developing type 2 diabetes by 58% (71% for people older than 60). 
For more information on the DPP, contact St. Catherine Health and Wellness Educator Bridget Clarke, email or 620-272-2157. 
 
The Chronic Disease Self-Management Program is offered through K-State Research and Extension for people with different health issues, including diabetes. People can attend free weekly workshops for six weeks that cover the following topics: 
Techniques to deal with problems such as frustration, fatigue, pain and isolation; 
exercise for maintaining and improving strength, flexibility and endurance; 
appropriate use of medications; 
communicating better with family, friends and health professionals about your condition 
nutrition; 
decision making; 
how to evaluate new treatments. 
For more information on the CDSMP, contact local Extension agent Bertha Mendoza at 620-27-.9164. 
 
Diabetes education, which Worf offers, usually is covered by insurance, with Medicare patients able to qualify for 10 diabetes education sessions in a year, she said. 
 
No referral is necessary to make a diabetes counseling appointment with Worf; just call Siena Medical Clinic's Internal Medicine, at 620-275-3710.