July 2, 2020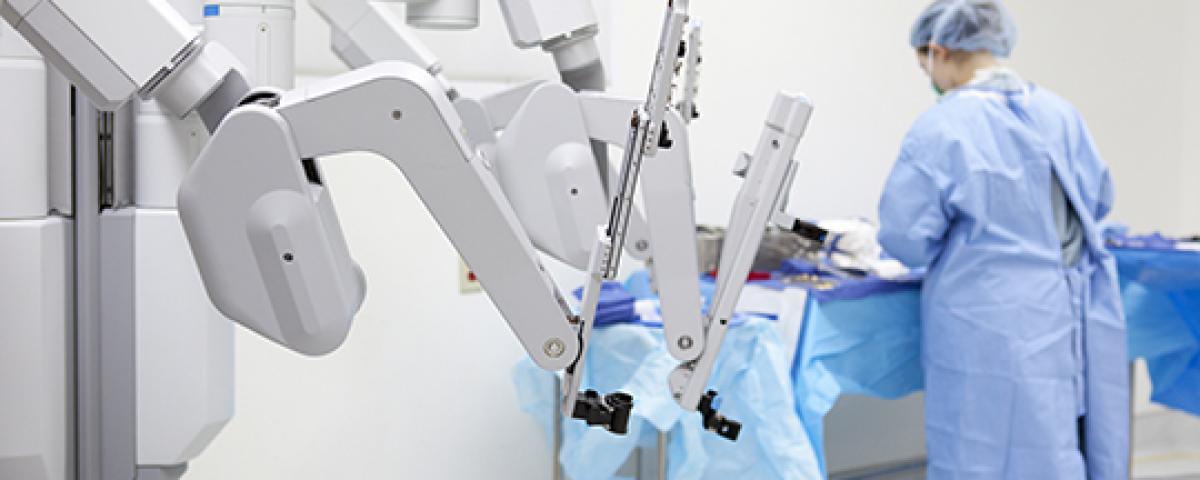 Robot-assisted surgery means shorter recovery, less pain
It used to be that abdominal surgery meant lots of pain, and potentially a long recovery. But at Littleton Adventist Hospital, that is changing for many patients, thanks to the da Vinci Xi minimally invasive robotic surgery system.
Patient Benefits
Douglas Benson, MD, a colon and rectal surgeon at Littleton Adventist Hospital, says the updated system offers many advantages. "I've had people who have surgery for rectal cancer or diverticulitis back to work a week after surgery," he says. Main benefits to patients include:
Less pain
Less blood loss
Lower infection risk
Shorter hospital stays
Shorter recovery times
Smaller incision
About 60 percent of his colon cancer surgery patients go home two days after surgery, but "I've even sent some home the next day," Benson says. That compares to the national average of five to six days.
Because the robotic system applies less torque to tissue, around the surgery area, bowel function returns sooner, letting patients go home sooner.
In addition, data shows that less movement of tissue means less pain, Benson says. And that reduces the need for narcotics after surgery, which in turn allows patients to be back on their feet – and back to activities – sooner.
Robotic Surgery Candidates
In his practice, Benson most commonly uses robotic technology to treat:
Colon cancer
Inflammatory bowel disease
Diverticulitis
Most patients are candidates for robotic surgery, he says. The exception may be those who have extensive scar tissue due to previous surgeries.
"Abdominal robotic surgery has taken off in the last five years," Benson says. "And I think we will see more of it in the future."
No R2-D2 in the OR
Despite its name, robotic surgery doesn't mean a human turns the surgery over to a robotic.
A more accurate term is robot-assisted surgery, says Benson.
During the procedure, the surgeon sits at a console and controls the movement of two highly precise instruments that Benson likens to joysticks. "The robot is a tool of a laparoscopic surgeon," he says. The robot technology provides greater precision. "It also reduces tremor. Everyone has a natural tremor. The robot has less, and allows you greater freedom of movement."
The da Vinci Xi includes a boom, which hovers over the patient, and can be rotated. "This gives you more mobility than earlier versions, which saves a huge amount of time," Benson says. "And less time in the operating room is good for the patient."