July 2, 2020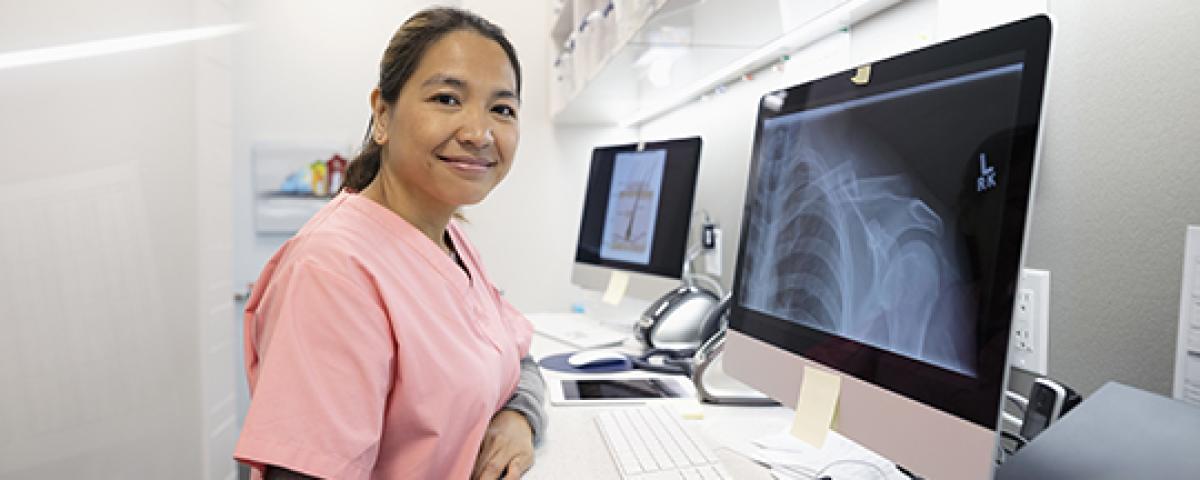 Special expertise helps patients with rare bone cancers live longer, and better
For patients with rare bone tumors in their arms or legs, there are few doctors in the entire country who can effectively remove the cancer while saving the limb. Littleton Adventist Hospital Orthopedic Oncology Medical Director Ronald Hugate, MD, is one of those rare physicians.
Just 30 years ago, patients with bone cancers were all but certain to lose that arm or leg, and probably with cancer. In fact, until the early 1980's, about 80 percent of patients with bone cancers died, and most underwent amputation.
But in the past three decades, the outlook for these patients has brightened considerably, thanks to the small, highly specialized, emerging field of orthopedics know as orthopedic oncology and "limb-preservation surgery" of which Hugate is a part.
"Now, chemotherapy and other treatments are so good that up to 90 percent of patients survive their bone cancers. And since the mid-1980's we have developed advanced surgical techniques to reconstruct bones and joints rather than amputate," says Hugate, who is one of fewer than 200 trained orthopedic oncologists in the United States.
Limb-Saving Surgery
During limb-salvage surgery, the cancerous part of the bone is removed, while nearby tendons, nerves, and blood vessels are preserved to the patient can maintain function in the affected limb. Then, instead of amputating, orthopedic oncologists construct bone using metal components or harvested bone, Hugate says.
Implanted metal parts can last a lifetime, but some plastic components may need to be replaced every decade or so as they wear out, Hugate says.
Cancers that originate in bone are rare. The National Cancer Institute estimates they make up about 1 percent of all cancers, or about 2,300 cases in the Unites States each year. Two of the most common types – osteosarcoma and Ewing's sarcoma – affect mainly children and young adults.
"In the case of pediatric patients, we reconstruct their bones with an expandable implant," Hugate says. But when the children are fully grown, that expandable implant often is replaced with a permanent one.
Life-Changing Results
That follow-up care gives Hugate the opportunity to stay in touch with pediatric cancer patients as they grow up and see firsthand how they benefit from life- and limb- preservation surgery. One of those patients, whom he operated on when she was 8 years old, recently invited Hugate to her high school graduation.
"It's just amazing to see that," he says. "Ten years ago, she was battling for her life and her limb, and now she walked into my office with both of her legs functioning well and a high school graduation invitation. And she wants to be a doctor. There is no better feeling for me and my team!"
In addition to orthopedic oncology, Dr. Hugate specializes in joint replacement surgery. He has authored a book on that subject: The Handbook of Hip & Knee Replacement Surgery: Through the Eyes of the Patient, Surgeon & Medical Team.
Littleton Surgeon Invents Improved Prosthetics
As a U.S. Army surgeon in Iraq and Afghanistan, then-Lt. Col. Ronald Hugate, MD, treated scores of service members who lost limbs. Watching those active young amputees struggle with clunky, uncomfortable artificial limbs inspired Hugate to pioneer a technology that connects prosthetic limbs directly to the bone and provides greater comfort and mobility. The technology is called osseous integration.
Traditionally, artificial limbs are attached with an outer socket that fits over the residual limb. But those aren't always comfortable, often don't fit right, and can cause skin irritation and sores. And heavy perspiration has even been known to cause limbs to come loose and detach during activities.
With osseous-integrated limbs, an implant that is sized to fit is pressed into the bone canal, and the tissues actually grow into and around the prosthetic, creating a seal much like a deer's antler has as it enters the skin, Hugate says. This helps prevent infection and make the implant more a part of the patient.
"The integrated prosthetic leg is more functional; there is less pain, and no pressure or irritation from perspiration," Hugate says. And the integrated leg provides better functioning and flexibility.
Osseous integration is an emerging technology and isn't yet an option for everyone. Hugate currently offers the option for patients for whom traditional socket technology has failed, and those who are:
Between the ages of 18 and 50 in good health
Nonsmokers
Nondiabetics
Above-knee amputees (although other amputee types may be considered)
Without history of active infection