July 7, 2020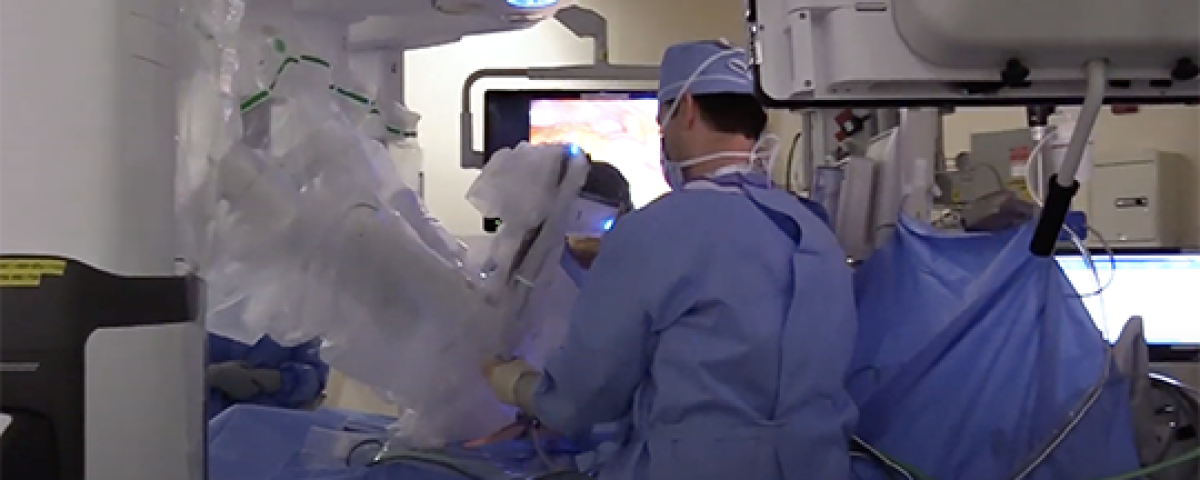 For a Parker Couple, robotic gastric bypass surgery not only trimmed pounds, it restored health as well  
Between them, Matthew and Amber Smith have lost nearly 300 pounds in just over a year. After years of struggling with their weight, the couple didn't discover a magic diet. Instead, they found a skilled surgeon, Tom Brown, MD, who set them on the path to weight loss success, and restored health, through robotic Roux-en-Y gastric bypass surgery at Parker Adventist Hospital.  
For Matthew, who says he has always been "a big guy," the surgery in February 2016 reversed a course that had him facing serious complications from diabetes. "When I tuned 32, my health took a drastic turn," he says. At 474 pounds, walking was painful, and he was starting to lose vision in his right eye.  
A year later, Amber, whose struggle with weight was complicated by removal of her thyroid, was frustrated. She had successfully trimmed 100 pounds from her peak weight of 200. But when the weight stopped coming off, her endocrinologist suggested a "jump start" through bariatric surgery.  
Amber says she hesitated a bit. "It's not the easy way out. It's actually difficult to say, 'I can't do this on my own.'" And from her husband's experience, she knew success would mean a lifelong commitment to changing eating habits. But when she decided to go ahead, she knew immediately who her surgeon would be: Tom Brown.  
Getting Results Robotically  
Brown has been performing bariatric surgery for more than 15 years. About two years ago, he began doing the procedure robotically, and after nearly 400 robotic procedures, he is a believer in that method. "Patients have less pain, and there are fewer complications," he says.  
In addition, there is less blood loss, probably "because the procedure provides a three-dimensional picture," which affords the surgeon a clearer view of the stomach, spleen, and blood vessels, Brown says.  
All that adds up to shorter hospital stays. People often go home just 24 hours after surgery, as Amber did, Brown says. That's compared with two days or more in the hospital with other methods.  
In Matthew's case, he was back working for an oil services company and walking in the field much of the day – after just a week. Within a month, e was back to normal activities.  
Beating Bad Genetics 
Now weighing in at 210 pounds, Matthew is glad he had the procedure. "The staff was fun, they kept it light, and did everything they could to encourage me," he says. "Nobody in the office ever made me feel like I was a strange person who had failed in life and ad to have this procedure." 
Everyone in his office knows what causes significant obesity, Brown says. "Most of the time with our patients, the body is working against them. Everybody in the office understands that this isn't a behavior problem; it isn't that people can't push themselves away from the table. This is a genetic problem."  
In Matthew's case, there is plenty of evidence of a genetic link. "My father was over 500 pounds. Everyone in my family suffers from diabetes – aunts, uncles, grandparents."  
Brown estimates that about 80 percent of patients with type 2 diabetes "go into remission, meaning they are off medications and have normal blood sugars" after gastric bypass surgery.  
Lighter-And Better-Than Ever 
Matthew had also seen his father lose weight and keep it off with bariatric surgery. So he knew the dramatic difference the procedure could make – and the dedication it takes to make it stick. Matthew and Amber both knew the major lifestyle changes would require. They can't physically tolerate sweets and soda, and are committed to focusing on proteins, veggies, and smaller portions. Amber even bought a set of smaller dinner plates. And they are pleased to be setting a healthy example for their four children, the Smiths say.  
At just two weeks post-surgery, "I feel great," Amber says. "My energy is through the roof."  
It's that sort of result that makes Brown a proponent of robotic bariatric surgery. "Most operations are trying to restore people back to where they were," he says. "This is actually taking someone from one place and putting them in a better place. It's very rewarding."
Gastric Bypass Basics  
The Roux-en-Y gastric bypass procedure creates a pouch out of a small portion of the stomach. The pouch, which is too small to hold large amounts of food, attached directly to the small intestine, bypassing a large part of the stomach.  
Half of patients who have gastric bypass maintain about 60 percent of their weight loss five years after surgery.  
Robotic surgery eases recovery 
At Parker Adventist Hospital, the precise, versatile movement made possible by robotic surgery using the da Vinci Xi HD, or Mazor Renaissance systems means less blood loss, less pain, fewer complications, and shorter recovery times.  
Parker Adventist Hospital also offers minimally invasive spine surgery using the Renaissance guided spine surgery system.  
With nearly 30 surgeons skilled in robotic surgery, Parker Adventist Hospital offers robotic surgery in the following areas:  
Bariatric surgery 
General surgery 
Gynecologic oncology 
Gynecology 
Spine surgery 
Urogynecology 
Urology  
Parker Adventist Hospital's advanced robotic surgery program is supported by Centura Centers for Clinical Innovation, extending advanced health technologies across Colorado and western Kansas.