More Caring Hearts

The 2017 inaugural "More Caring Hearts" event was held on Saturday, February 4 at the Abby Event Center. This 'thank you' event for our most committed volunteers and champions was attended by nearly 150 people, who joined the St. Thomas More Health Foundation in honoring Joe and Billie Faricy with the Abbot Leonard Schwinn Outstanding Community Partner award for their dedication to the mission of the Foundation and St. Thomas More Hospital.
Abbot Leonard Schwinn Outstanding Community Partner 2017 Award Honorees
The Rule of Benedict directs: "Let care be given the sick, that they may be served as Christ."
This was the call the Benedictine Sisters of Yankton, South Dakota heeded when they came Cañon City, Colorado more than 60 years ago. The Sisters responded to a plea from Abbot Leonard Schwinn of Holy Cross Abbey in 1938. Abbot Schwinn was searching for nuns to take over the Fremont County Doctors' Hospital founded in Cañon City in 1917 and located at 432 Greenwood.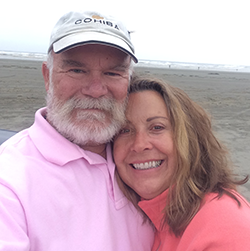 A total of six Sisters had arrived by November of 1938. Working all day, seven days a week, these women dedicated their lives to the health and well-being of the citizens of Fremont County.
Together they laid the groundwork for the future of nonprofit religious-based health care in Fremont County. This is the legacy of St. Thomas More Hospital, which would not have been possible without the direction of Abbott Schwinn and his desire to provide the best health care for this community.
Joe and Billie Faricy, the recipients of the inaugural Abbott Leonard Schwinn Outstanding Community Partner Award, embody this same dedication to community. We are proud and honored to call them friends of the St. Thomas More Health Foundation and St. Thomas More Hospital.
Contact Information 
Christi-Marie Butler    
Director of Philanthropy
Penrose-St. Francis Health Foundation and Centura South State Operating Group     
Christi-MarieButler@Centura.Org
Yankton Benedictine Sisters Fund
Congratulations to this year's recipients of the St. Thomas More Health Foundation's Yankton Benedictine Sisters Fund Grant
The St. Thomas More Health Foundation (STMHF) hosted a reception on February 27 at St. Thomas More Hospital to honor the 19 recipients of this year's Yankton Benedictine Sisters Fund Grant. The Foundation provided approximately $81,000 in community support of enhancing the health, safety and wellness of our community.
The legacy of St. Thomas More Hospital that started 79 years ago by the Benedictine Sisters of Yankton, S.D., continues today. When the Sisters were called back to South Dakota after their service in Canon City, they left a community outreach endowment with the St. Thomas More Health Foundation. It was their vision to continue serving our community long after they returned home to continue their service at the Sacred Heart Monastery.
Organizations throughout Fremont County were encouraged to apply for program or equipment funding. Applications were reviewed by STMHF review committee.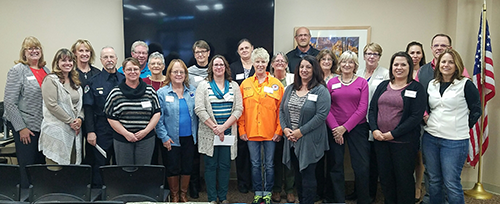 This year's recipients include:
11th Judicial District Attorney Victim/Witness Services
Personal items for the Pantry of Well-Being to meet the immediate needs of victims of domestic violence
Boys and Girls Club of Fremont County
Staffing and equipment for the SPARK (Sport Play and Active Recreation for Kids) Program
Cañon City Pregnancy Center
Earn While You Learn Program providing parents an opportunity to earn cribs, high chairs, etc. through education, parenting workshops and 'Just for Men' educational programs
Cañon Literacy Center
Operation expenses for free tutoring and refreshments for students
ECHO & Family Center Early Childhood Council
Child Health Passport folders and health books
Family Crisis Services, Inc.
Operation expenses for their 24-hour hotline
Fremont Community Foundation
Fremont's Exceptional Women (FEW) educational programming and professional clothing collection
Fremont County Sheriff's Office
Automated External Defibrillators and replacement KAT tourniquets for patrol deputies
Fremont RE-1 School District
Senior Fun Fest equipment
Fremont Search and Rescue
Re-certification of two automated external defibrillators, Wilderness Medical Institute Protocols materials and disposable items
Heart of Colorado CASA
Recruit and train 10 new advocates
Loaves and Fishes Ministries of Fremont County
Support for Chayah House, the emergency shelter, and Restoring Hope and New Creations Inn, two transitional housing programs
Meals on Wheels Cañon City
To offset the cost of meals for homebound individuals
Orchard of Hope Foundation
Program support to improve the quality of life for cancer survivors and their families
Penrose Park & Recreation District
Sport and general fitness equipment
Senior Services Solutions
Stipends to drivers who provide safe and reliable transportation for seniors to medical and dental appointments locally and out-of-town
Stich N' Give
Yarn for knitting projects distributed to various community organizations
Tallahassee Fire and Rescue
EMR and EMT training and medical equipment, ECG monitor, oxygen tanks, vital sign monitor for the volunteers in northwest Fremont County
UAAOG/Fremont County Head Start
Bus restraints
Grant Application
Thank you for your interest in submitting your organization's grant application to St. Thomas More Health Foundation's Yankton Benedictine Sisters Fund.
Grant applications for the 2017-18 funding cycle will be accepted beginning September 1, 2017. These applications must be postmarked or emailed no later than December 31, 2017 to receive a grant in the following year.  Please check back on September 1 for a link to the grant application.