High-Quality, Affordable Care
Colorado Health Neighborhoods contracts with accountable care organizations (ACOs) and insurance plans.
An ACO is a group of physicians, hospitals and other health care providers who work together to give coordinated, high-quality care to patients while working to decrease health care costs and enhance the overall member and provider experience.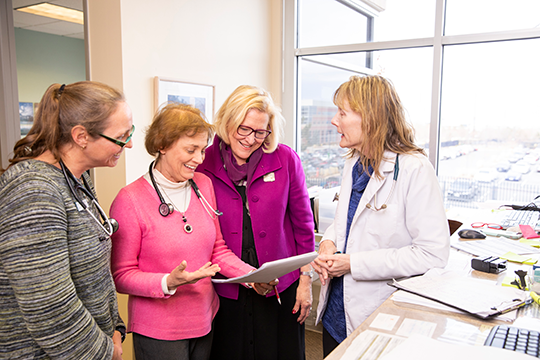 Largest Network in the Region
Colorado Health Neighborhoods offers the most choice in providers and access to the experts, specialists, facilities and technology so our members can tap into convenient, quality care where they live and work.
Our network includes over 660 practices and more than 5,300 physicians, comprised of approximately 1,500 primary care providers and 3,800 specialists.
Through this vast network, along with our emergency and urgent care facilities, hospitals and convenience care options--including the Centura Health Connections Nurseline, virtual care and in-home urgent care--our members can receive the right care, at the right time, in the right place.
More services to support members' health.
We partner with health care organizations that offer the right care at the right time in a way that members can access when they can't see their primary care provider.
DispatchHealth
DispatchHealth offers members on-demand urgent, mobile care in the comfort of their home or work.
Centura Health Virtual Care
Centura Health Virtual Care, powered by American Well®, offers members the convenience of seeing or talking with a primary care provider by secure video or phone to discuss non-urgent health concerns.
Centura Health Connections
The Centura Health Connections Nurseline helps members get answers to general health questions, connect them with an appropriate provider and support them in finding the right level of care.
Walgreens Healthcare Clinic
Colorado Health Neighborhoods partners with Walgreens Healthcare Clinics to provide services every day at numerous locations along the Front Range.