Specialized Care for Digestive Disorders
Millions of Americans suffer from a Gastrointestinal (GI) disorder. If you're one of them, we can help. GI disorders can range from mild to serious, episodic to chronic, but they all can impact your enjoyment of life and limit your activities.
At Centura Health, we understand how hard it can be living with a GI disorder. Our doctors offer caring and compassionate treatment for a wide range of GI diseases and conditions, from the common to the complicated, including acid reflux disease, Crohn's disease, ulcerative colitis and swallowing disorders.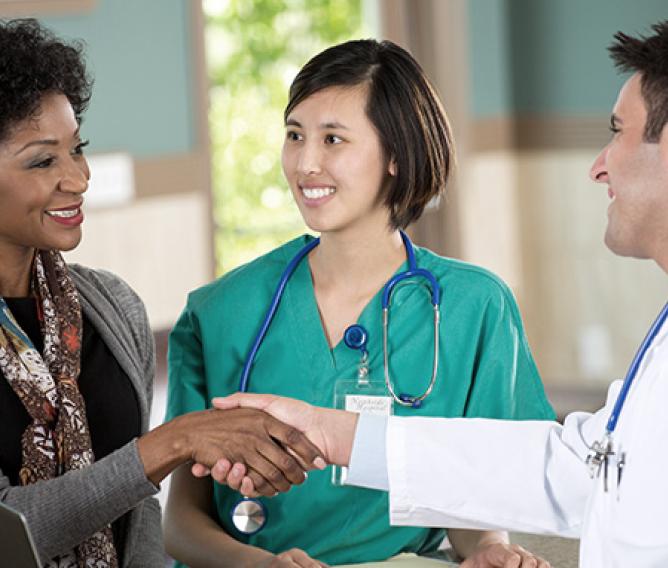 Find a gastroenterologist near you
Our board-certified gastroenterologists have expertise in nearly all types of digestive conditions.
Personalized treatments
Our services range from help with lifestyle changes to minimally invasive colonoscopy to the complex management of liver disease. We provide diagnostic services and treatment options for the full spectrum of GI diseases and conditions. And our GI doctors and surgeons work together to provide you with the highest quality care possible, so you can get back to an improved quality of life. 
We treat a range of disorders of the esophagus, stomach, small and large intestine, biliary tract, liver, gallbladder, pancreas, colon and rectum, including:
Autoimmune disease in gastroenterology/hepatology

Celiac disease, an autoimmune disorder caused by gluten

Clostridium difficile, a bacterial infection that can cause symptoms ranging from diarrhea to inflammation of the colon

Colon polyps

and colon cancer

Constipation

Crohn's disease, a form of inflammatory bowel disease (IBD) that causes inflammation of the digestive tract

Diarrhea

Diverticulosis and diverticulitis, an inflammation or infection in one or more small pouches in the digestive tract

Esophagitis and stricture, a narrowing of the esophagus that can cause swallowing difficulties

Gallbladder disease

Gastroesophageal reflux disease (GERD)

Gastrointestinal disorders in pregnancy

Heartburn (acid reflux)

Helicobacter pylori (stomach infection)

Hemorrhoids

Hepatitis A, B and C

Inflammatory bowel disease

Irritable bowel syndrome (IBS)

Lactose intolerance

Liver disorders (the full range)

Pancreas disease

Peptic ulcer disease (PUD)

Polyposis syndromes, hereditary colon polyps

Rectal bleeding

Swallowing disorders

Ulcerative colitis, a chronic inflammatory bowel disease

Unexplained abdominal pain
The first step in finding relief from any GI disorder is an accurate diagnosis. We use advanced methods and innovative technology to diagnose your GI disorder, and then work with you to develop a personalized treatment plan.
A sampling of some the services we offer include:
Colon cancer screening - including colonoscopy, a procedure that uses a flexible, narrow tube with a light and a tiny camera to look inside your rectum and colon

Endoscopy - a procedure in which a doctor uses an endoscope, a long flexible tube with a camera at the tip, to examine the esophagus, stomach or small intestine

Endoscopic retrograde cholangiopancreatography (ERCP) - a procedure that uses both endoscopy and X-rays to diagnose and treat problems of the bile and pancreatic ducts

Esophageal manometry - a procedure that uses a thin tube inserted in the nose to measure how well the esophagus is working

Flexible sigmoidoscopy/proctosigmoidoscopy - a procedure that uses a scope to examine inside your rectum and lower colon for irritated tissue, ulcers, polyps, or cancer

Hemorrhoid banding - an outpatient, nonsurgical procedure that uses a rubber band to cut off the blood supply to a hemorrhoid, causing it to shrink and fall off

Hemorrhoidectomy -

 

a procedure to remove hemorrhoids and anal tags

Liver biopsy - a procedure to remove a small piece of liver tissue to test for signs of damage or disease

Radiofrequency ablation - a minimally invasive procedure that uses heat to "burn" or block nerve cells that are causing pain for Barrett's esophagus