We also treat developmental disorders, epilepsy and many more neurological conditions, with a full range of neuro-diagnostic testing.
Find a Neurologist Near You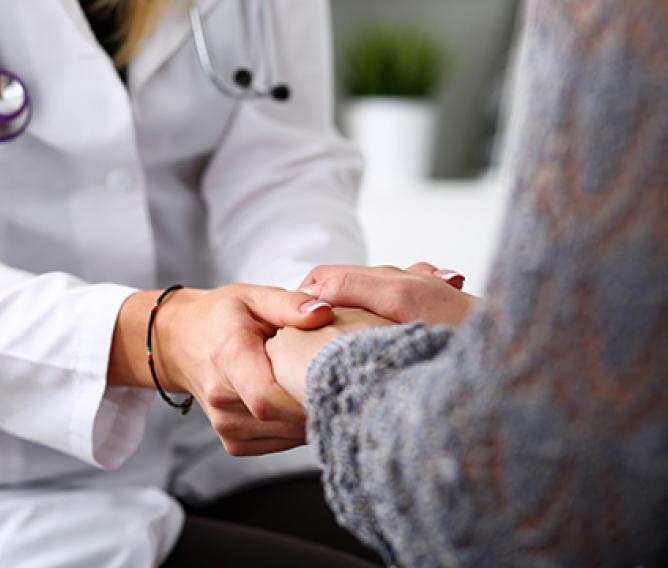 Our neurologists are dedicated to providing you with comprehensive care to help you regain function and freedom.
Neurologists focus on nonsurgical treatment of conditions affecting the spine, brain and nervous system:
ALS (Lou Gehrig's disease)
Alzheimer's disease
Carpal tunnel syndrome
Cervical radiculopathy stenosis (radiating pain or numbness due to spinal cord injury in the neck)
Dystonia (involuntary muscle contractions)
Epilepsy
Headaches
Lumbar radiculopathy stenosis (radiating pain or numbness due to spinal cord injury in the back)
Motor neuron diseases
Multiple sclerosis
Neurodegenerative disorders
Neuromuscular diseases
Neuropathy
Parkinson's disease and movement disorders
Pinched nerves
Restless legs syndrome
Seizures
Stroke and transient ischemic attack (TIA, or ministroke)
Transverse myelitis (inflammation of the spinal cord)
Trigeminal neuralgia (facial pain)
Tremors
Should your condition require surgery, our neurologists work hand-in-hand with Centura Health neurosurgeons to create an individualized treatment plan for your needs.
If you or a loved one is living with a neurological disorder, you're looking for expert care and innovative treatment options. And that's just what you'll find at Centura Health.
Highlights of our care include:
Advanced epilepsy monitoring. We offer prolonged inpatient video electroencephalogram (EEG) monitoring, which can provide your medical team the ability to safely provoke seizure activity by removing anti-epileptic drugs in a controlled environment. You'll be closely monitored by nursing staff and have immediate access to acute care when seizures do occur. This approach can help determine if you're a candidate for epilepsy surgery or if you're having recurrent spells that aren't epileptic seizures, enable us to identify the type, origin and quantity of seizures or spells and provide a safe place to evaluate your response to medication or medication changes.
Innovative migraine therapy. Centura Health neurologists are trained in the latest approaches to headache treatment, and will work with you to rule out other possible causes for your pain. Treatment may include medication to stop symptoms and prevent future migraines. For more severe cases, peripheral neurostimulation may help. During this procedure, a neurosurgeon places an electrode under the skin in the back of the neck. The electrode delivers mild electrical pulses to the nerves that affect migraine and cluster headaches. The mild shocks ͞break͟ the feedback loop of pain.
Parkinson's treatment, including medication and physical, occupational and speech therapy tailored to your specific needs. Our multidisciplinary team also offers deep brain stimulation (DBS), a minimally invasive procedure that has been proven effective for disorders such as Parkinson's disease, essential tremor, dystonia and obsessive-compulsive disorder. DBS uses a neurostimulator to interfere with and block the electrical signals that trigger motion disorders.