Women's Health Care Throughout Life
As a woman, your gynecologic health needs change as you move through life. At Academy Women's Healthcare Associates, we understand that, and we are committed to providing you with comprehensive women's health care — from the first adolescent GYN visit through pregnancy to menopause and beyond. Whether you need gynecologic surgery, a menopause specialist to manage your symptoms, or simply an annual gynecologic exam, our compassionate and dedicated team of OBGYN doctors will work with you to provide comprehensive, expert care that fits you, and your life at every phase.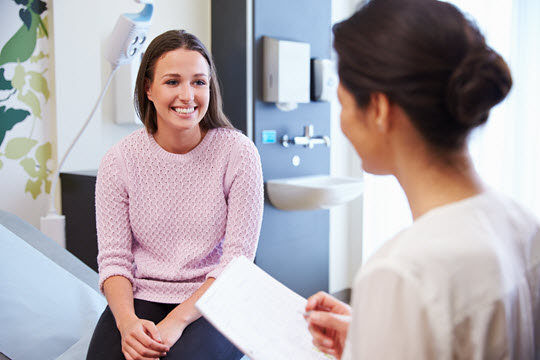 Comprehensive Gynecology Care
We provide a wide range of gynecology services, including treatment for:
Irregular or heavy bleeding
Pelvic pain
Breast health
Infertility
Fibroids
Endometriosis
Urinary incontinence
Ovarian cysts
Premenstrual syndrome
Pelvic organ prolapse
Pain with intercourse
Menopausal/hormonal concerns
In addition to diagnostic testing and treatment for those gynecologic disorders, we offer Pap testing, in-office ultrasound, STI screening, and free pregnancy testing.
Well-Woman Health Exams

Your annual gynecological exam is an opportunity to check your health before problems arise, schedule preventive tests, and discuss any changes you may be experiencing. At a well-woman check, our OB/GYN specialists will perform a thorough physical exam, including a breast and pelvic exam. Much like with a primary care doctor, we also will monitor your heart, breathing, blood pressure, and cholesterol levels. Our goal is to identify any potential health problems and remedy them before they become major issues.

At Academy Women's Healthcare our gynecologists recommend that women have an annual/well-woman exam, which may include a Pap smear depending on the patient's age and/or history, every year.

We may recommend Pap smears more often if you have a history of sexually transmitted infections, vaginal infections, cervical dysplasia, or a family history of cervical and other reproductive cancers. Other screening tests may be ordered depending on the patient's individual history or risk factors.
Personalized Gynecologic Care for Young Women

The teenage years in a young woman's life, can be marked by change and uncertainty. A young woman's first gynecology visit is important and parents can help by noting it as a step toward adulthood and independence. We encourage you to considering making an appointment for your daughter in her mid-teens.

We find that scheduling the first visit before a teen girl needs a gynecologic exam allows the opportunity for us to build a relationship of trust. We use this visit as an opportunity for the teen patient to ask questions and bring up any concerns she might have.

Unless there are specific concerns to be addressed, that first visit will not include a physical exam. Rather, we discuss with a young woman common concerns among teens, such as menstrual pain and cramping, sexually transmitted diseases, smoking, vaping, emotional health, and eating disorders.

We recommend a woman receive her first full well-woman gynecologic exam at 21.
Menopause Management

When hormones begin to change in midlife, it affects all aspects of a woman's life, including physical, mental, and emotional health. Our gynecologists work closely with a woman to help her recognize and talk over signs of perimenopause (the period before menopause) so that we can help ease this transition. During and after menopause, our menopause experts evaluate a woman's entire health, from physical changes such as weight gain, vaginal dryness, fatigue, and hot flashes to mental and emotional issues such as depression, mood swings, and mental fogginess. We also closely review a woman's personal health history, family health history, and health risks, and incorporate those into our treatment plan.

Our gynecologists will discuss the use of hormone replacement therapy, as well as bioidentical hormones, and other treatments to help ease menopause symptoms. The decision to use hormone replacement therapy is based on a personalized health assessment as well as a woman's thoughts on the issue. We provide every patient with the latest research-based information so that she can make an educated, informed decision about when, if, and for how long to use hormone replacement therapy.

In addition, we explore with each woman additional options to manage symptoms. Options may include estrogen patches or vaginal estrogen creams to address vaginal dryness. We also discuss alternatives to traditional HRT and individual care. For some women, antidepressants may help with mood swings and emotional challenges, while for others, journaling about their moods and feelings can be helpful.
Gynecologic Surgery

Academy Women's Healthcare Associates pioneered the use of minimally invasive techniques in Colorado Springs for a variety of gynecologic surgeries, and we are proud that physicians throughout the region look to us for guidance and training in these techniques.

Our leadership in these techniques reflects our commitment to offering our patients the most up-to-date and beneficial care. We know that our patients lead busy lives as working women, mothers, daughters, wives, and friends. And we understand that it's important to get back to life as soon as possible after surgery. Minimally invasive robotic-assisted gynecologic surgery enables our surgeons to perform surgery using tiny 1- to 2-centimeter incisions, allowing for greater precision and control. Minimally invasive surgery reduces blood loss, lowers the risk of incision-site infection, reduces pain, and lessens recovery time — in many cases our patients are able to go home the following day. If minimally invasive surgery an option in your case we are able to offer:

Hysterectomy
Myomectomy for fibroid removal, having menstrual bleeding or to improve fertility.
Excision of endometriosis
Sacrocolpopexy for uterine or vaginal prolapse
Ovarian Cystectomy/Oophorectomy for removal of ovarian cysts or ovaries
Urinary Incontinence Treatment

Many women, especially those who are older or who have given birth, experience urinary incontinence. For some, that means leaking urine when they sneeze, laugh, or during exertion — a condition called stress incontinence. For others, it takes the form of urge incontinence — a sudden and uncontrollable need to urinate.

Many women believe this is a part of aging. But in fact, there are many treatments our gynecologists can offer, including:

Physical therapy
Behavior/diet modification
Medication
Surgery

At Academy Women's Healthcare Associates, our gynecologists are experienced at diagnosing and treating urinary incontinence. We offer extensive in-office diagnostic testing to pinpoint the cause of the problem in order to provide the exact treatment that is right for you. Diagnostic tests include:

Detailed pelvic exam
Neurologic testing
Cough stress tests
Urodynamic tests
Uroflowmetry
At Academy Women's Healthcare, we believe in working with our patients as partners. To do this, we are committed to educating our patients about their health, any GYN issues, and treatment options. The following resources have been developed by our gynecologists for use by our patients.
Guides

Incontinence: A Normal Part of Aging?
Menopause
What You Need to Know About Pap Smears
Your Guide to Pelvic Pain
Irregular Bleeding and Hysterectomy Guide (now called My Period)
Cancer Screenings