Experienced Pregnancy Care in Colorado Springs
Academy Women's Healthcare Associates is one of Colorado Springs' leading pregnancy care centers. We have delivered more than 32,000 babies in the past 25 years. We consider it a privilege to be your partner during this miraculous time, and we are committed to providing you with the highest-quality, safest care in an environment that also tends to your emotional and spiritual health.
Over the past quarter of a century, we have helped set the high standards for pregnancy care in our community. We were instrumental in helping to develop a high-level neonatal intensive care unit at St. Francis Medical Center, where we deliver all of our moms. We also meet or exceed quality standards, including achieving a C-section rate of 11 percent, compared with 28 percent for pregnancy care centers statewide.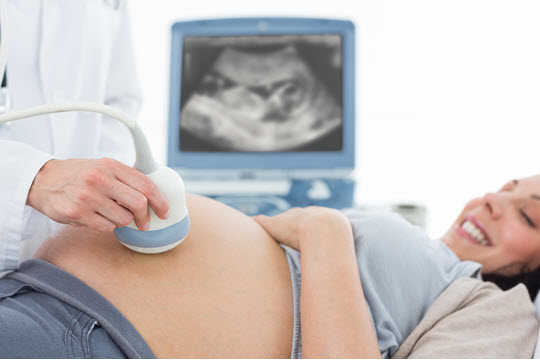 Once you become our patient, we are with you every step of the way, from planning for your pregnancy to delivery. We have developed an app that puts answers at your fingertips day or night. We offer in-office testing and ultrasound — and patients are provided with priority appointments and express check-in. We also are pleased to provide digital images and video clips of obstetric ultrasounds to you via text or email links.
Ultrasound Policy
Please be aware that during your ultrasound, you are allowed two guests (which include children age 5 and older). All children under the age of five must be accompanied by an adult other than the patient.  An ultrasound is a medical procedure and we do have your best interest in mind. If you do not have another adult with you to care for your child, we will have to reschedule your appointment. We are sorry for any inconvenience this may cause.
Comprehensive Pregnancy Care Center
Our OB/GYN doctors and nurses offer comprehensive physical and behavioral health services in our pregnancy care center, including:
Family planning
Fertility consultations
Prenatal care
Diagnostic testing
Lab tests
In-office ultrasounds
Nutrition counseling and education
Breastfeeding counseling/lactation consulting
Postpartum care
We also provide specialized care for women experiencing pregnancy complications, including:
Pregnancy with twins or triplets
Premature labor and delivery
Incompetent/short cervix
Autoimmune disorders such as hypothyroidism, lupus, rheumatoid arthritis, etc.
Hypertension
Diabetes
In addition, we work closely with the specialists at Southern Colorado Maternal Fetal Medicine, who are located in the same building, to care for women who have high-risk pregnancies.
What to Expect During Your Pregnancy
Ideally, your pregnancy care will begin at four to five weeks after conception, and we will see you at regular intervals throughout your pregnancy. Though every woman's pregnancy is different, a general outline of our prenatal care includes:
First Trimester

Your first prenatal visit will be one of the longest visits — but also one of the most exciting. The visit will include:

Education. We will answer questions and offer information about diet, nutrition, exercise, and optional testing.
A physical exam. Your physician will do a breast, abdominal and pelvic exam and, depending on your age, possibly a Pap smear.
Blood and lab work. We routinely check for anemia, Hepatitis B and C, HIV, and syphilis. In addition, we determine your blood type and perform a urine culture and vaginal cultures for gonorrhea and chlamydia.
Prescriptions. If necessary, we will provide prescriptions for prenatal vitamins or other medications.

While not routine, an ultrasound may be ordered to help establish a due date and confirm the viability of the pregnancy. We offer in-office ultrasound for your convenience. You can also register for MyCenturaHealth, an online patient portal where you can view test results and email your doctor.

At 11 or 12 weeks, a doppler ultrasound device will be used to listen to the baby's heartbeat.
Second Trimester

Beginning at 12 weeks, you will see your obstetrician every three to four weeks, through week 32. You more than likely will see your obstetrician for every visit; however, you may need to see one of the other physicians or our nurse practitioner if your obstetrician is unavailable or out of the office.

15 to 20 weeks: You will be offered optional screening for several anomalies, including Down Syndrome, Trisomy 13, and neural tube defects.

20 weeks: A routine fetal anatomy ultrasound will measure and evaluate your baby's organs and gender, and the length of your cervix and the volume of amniotic fluid.

24 to 28 weeks: You will be tested for gestational diabetes and anemia
Third Trimester

From your 32nd to your 36th week of pregnancy, your obstetrician will see you every two weeks. At 36 weeks, your visits will become weekly.

31-34 weeks: You'll want to preregister at the Birth Center at St. Francis Medical Center, take a tour, and complete a birth preference sheet. You also should be taking any birthing or breastfeeding classes now. We also can help you choose a pediatrician for your baby. The Tdap (tetanus, diphtheria, and pertussis) vaccine is now recommended by the pediatric community during every pregnancy to reduce the risk of the newborn being exposed to pertussis (whooping cough) once the baby goes home.

35-37 weeks: You will be tested for Group B streptococcus, a common type of bacteria. If it is present, you will receive antibiotics during labor to protect the baby.

36 weeks: You may be checked to see if your cervix has begun dilating.
When a baby comes into this world, it is one of God's most miraculous events. We honor this time, and we will work with you to help achieve the birth experience you desire. At the same time, however, our foremost duty is to keep you and your baby safe. In the vast majority of deliveries, these two goals align. To support you, we offer the following:
Delivery Options & Pain Relief

Unmedicated labor and delivery: We want this to be a special day for you, your partner, and your baby. Many women prefer the greater mobility and freedom of laboring without medication. We are happy to honor your wishes regarding pain relief and monitoring during labor and delivery — as long those choices remain safe for both you and your baby.
Epidurals: When safe, we offer pain relief during labor through epidurals for women who request them. 
Cesarean section: Planned and emergency. We know from medical research — and from our own experience — that vaginal births are more beneficial to a newborn and mom. In some cases, however, a vaginal birth may jeopardize the health of the baby or the mother and we need to perform a C-section. We perform C-sections with the utmost caution, and we are proud to maintain an 11 percent C-section rate for first-time deliveries, compared with 28 percent statewide.
Trial of Labor After Cesarean Section or Vaginal Delivery After Cesarean Section

Our obstetricians support a woman's choice to consider a trial of labor after a cesarean section, or TOLAC (also known as VBAC). However, TOLAC can have risks of its own. Your Academy Women's Healthcare Associates obstetrician will work with you to evaluate your individual risks and benefits of attempting a TOLAC delivery. Generally, vaginal birth carries lower risk of infection, excessive bleeding, and complications of surgery. An individual woman's chance of success can go up or down, depending on many factors that include:

The reason for the initial C-section
Interval time from her last C-section
Her age at delivery
If she is overweight or obese
The type of incision made for the initial C-section

If your goal is a vaginal birth, your Academy Women's Healthcare Associates obstetrician will sit down with you and carefully evaluate your personal risks and potential benefits, and help you make the decision that is best for your health and your baby's.