Providing the expertise you need to manage your health and wellness
Our leading-edge teams deliver remarkable care, high-quality outcomes and unparalleled patient satisfaction among a wide variety of medical specialties, services and programs to help you get well and stay well.
My CenturaHealth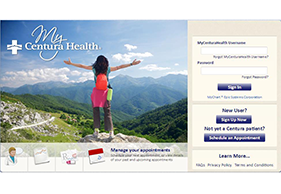 MyCenturaHealth is a secure, online portal that helps you conveniently manage your health. You can access your medical record from participating Centura Health hospitals and Centura Health Physician Group practices—all with one username and password.