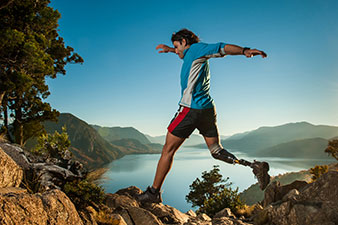 Our goal is to promote healing and function. At Centura Orthotics and Prosthetics, we work as a team with our physicians and allied health staff to create the most functional and cost effective solution for your orthotic, prosthetic or pedorthic needs. Our talented practitioners are focused on helping each patient achieve their physical goals using the latest technology, best practices, and proven options available. 
Custom Orthotic Devices

Approximately 50 percent of our business involves custom fabricated devices and when a custom device is called for, the patient's first visit will likely include a casting or impression for the appliance. The custom-made device is usually fabricated on-site and may take several days to construct. Qualified technicians at Centura Orthotics and Prosthetics work under the supervision of the practitioner in the actual fabrication. This will begin with a modification process of the model. The modification process is crucial to the success of the fit and is often labor intensive. The entire fabrication process demands a thorough knowledge of the patient's anatomy, goals and expectations in conjunction with the physician's expectations. When the custom fabricated device is completed, the practitioner will fit and deliver the device during a scheduled visit or series of visits. The fitting time will vary, depending on the type of appliance and the complexity of the problem being treated.

Orthotic Devices

Lower Limb Orthoses – functional, supportive and corrective
Upper Limb Orthoses - functional, supportive and corrective
Spinal and Cervical – all types
Fracture Orthoses – ultimate in protection and comfort
Nocturnal & Full Time Scoliosis Management – modern, proven
Sports and Functional Orthoses – feet, knees, ankles and shoulders
Inhibition-facilitation  – for patients with excessive tones
Soft Good - custom fitted for support and promote healing
Our Staff & Accreditation

Certified Professional and Caring Staff

All of our practitioners are ABC certified. An ABC or BOC certified Orthotist is a healthcare professional who is educated and trained to manage all aspects of prosthetic and/or orthotic care. This care includes assessing the patient's needs, formulating and implementing a plan to treat those needs and continuing care for the patient through follow-up. It is very important that you put your care in the hands of a certified practitioner. We strive for continuing education and keep up with our certification.  Every practitioner must take continuing education courses to keep up with the latest technology. We often have visits from leading companies in prosthetic and orthotic supplies in which we are shown and taught about the newest, cutting edge developments.

We also have experience on our side. Our practitioner has been working in the field for over 25 years. Education is very important but experience and education together ensure that you will receive the very best care. So we are certified, educated, skilled, knowledgeable and up to date on the latest technology… but the most important quality we have is our empathy for you. We care about what you are going through and will work with you until we find solutions to your problems. Solutions that work and that you are happy with. Our job is not finished until you are satisfied. As well as our professional clinical staff, we offer the support of an experienced office staff. Our office has its own insurance specialist and a welcoming front office. We are all here to assist you in every aspect of your prosthetic and/or orthotic care. Please let us know how we are doing! We strive to achieve 100% satisfaction for our patients and any advice is welcome.

Accreditation

Centura Orthotics and Prosthetics has received their facility accreditation from the American Board for Certification in Orthotics, Prosthetics and Pedorthic (ABC). As an ABC accredited facility, we have proven ourselves to meet the highest standards for patient care in the orthotic and prosthetic profession.  As a certified facility, we have the responsibility to provide honest and medically necessary care.