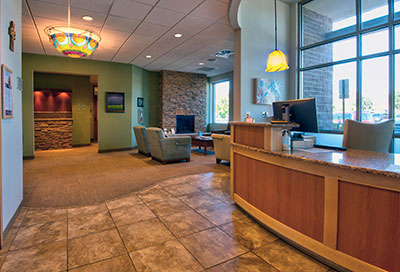 Offering 3D Mammography
The Mercy Breast Care Center is committed to providing expert, accurate and comfortable mammography screening services.
Phone: 970-764-2525
3-D Digital Mammography

Mercy Regional Breast Care Center offers digital tomosynthesis, also known as "3-D" mammography, using the state-of-the-art Hologics Selenia Dimensions Mammography System. 3-D mammography takes multiple images of the entire breast, allowing radiologists to view the breast in multiple image layers, or "slices." These layers can be reconstructed into a composite image, which allows for examination of areas of concern from all angles.

In contrast, conventional digital mammography produces only one image, taken from one angle that can make it difficult to detect cancers—especially through dense breast tissue—because a tumor may be obscured by tissue that lies between the x-ray and the tumor.

The advantages of 3-D mammography:

3-D mammography is capable of detecting 30 to 40 percent more invasive breast cancers compared to standard 2-D digital mammography.
The 3-D technology helps providers detect lesions with greater accuracy and see them with greater clarity, which can help detect cancer earlier and reduce false-positive recalls and unnecessary biopsies.

Comprehensive care

The goal of Mercy Regional Breast Care Center is to help protect both women and men from breast cancer through early detection. Every year, more than 6,000 mammograms are performed at Mercy. We strive to provide gentle, compassionate, and friendly care to the patients we serve. Mammography exams available at Mercy include screening and diagnostic mammograms, stereotactic biopsies, and needle localizations. All department staff members are registered in mammography by the American Registry of Radiologic Technologists. Mammography equipment is inspected annually and certified by the FDA.

Mammograms are available by appointment:

Monday - Friday: 8:30 am - 5:15 pm
Screening mammograms do not require a physician's order.
Services

Breast Magnetic Resonance Imaging (MRI)
Women considered to be at high risk for breast cancer, or whose regular screenings indicate the need for a closer look, may be referred for a breast MRI at Mercy. Magnetic resonance imaging is a painless procedure that uses radio waves to generate high resolution images of soft tissue.

Breast Biopsy
In the center's procedure room, physicians can gently remove a sample of suspicious tissue for further analysis. These procedures are performed with guidance from stereotactic X-ray, MRI, or ultrasound images that help physicians accurately pinpoint tissue to be biopsied.

Laboratory Tissue Staining System
A tissue analyzer located in the hospital's laboratory helps quickly identify specific types of breast cancer so that the appropriate course of action can be taken as soon as possible. The ability to perform this analysis on the hospital campus eliminates delays that would otherwise be caused by sending samples out of town for analysis.

On-Site Radiologists
Certain types of biopsies can be performed in the breast care center by Mercy radiologists. These radiologists also read mammograms and other diagnostic images from the center. This helps ensure that exams are interpreted in a timely manner and also facilitates consultation with other local providers.

Mercy Regional Medical Center's mammography services are accredited according to the federally mandated standards of the Mammography Quality Standards Act (MQSA), as determined by an FDA-credentialed surveyor. The hospital's MRI services are accredited by the American College of Radiology (ACR). The ACR awards accreditation to facilities for the achievement of high practice standards after peer-reviewing evaluation of a facility's personnel and equipment.