ABUS Screening Experience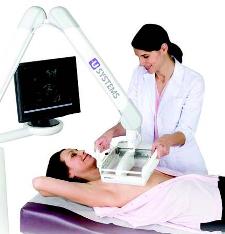 An ABUS screening experience is completely unlike a mammogram. After a thin layer of lotion is applied to the breast, the technologist places the transducer on one area of the breast and the ABUS scan begins. It takes about 60 seconds. Three scans are done on each breast, producing state-of-the-art 3D ultrasound images. These are then reviewed by our dedicated radiologist. You and your physician will be informed of the results of your scan.
If you are unsure about your breast density or your mammogram shows you have dense breasts, talk to your doctor about ABUS screening.
For questions about ABUS or for referral assistance contact us.
Phone: 720-321-0400