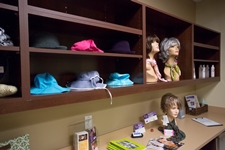 When patients undergo cancer treatments such as chemotherapy, the emotional impact of physical appearances, especially hair loss, can be overwhelming.
At the St. Anthony Cancer Center we provide the support patients and their families need to make this journey easier.  Our nurse navigator can provide practical assistance across several dimensions-medical, emotional, social, financial, spiritual-or connect the patient with someone who can.
One of these services is a new patient boutique, sponsored by the American Cancer Society.  The boutique offers wigs, soft caps and care planners all free of charge to our cancer treatment patients.  Patients have access to a private fitting room and are able to browse and select items without the need to order or worry about added expenses.