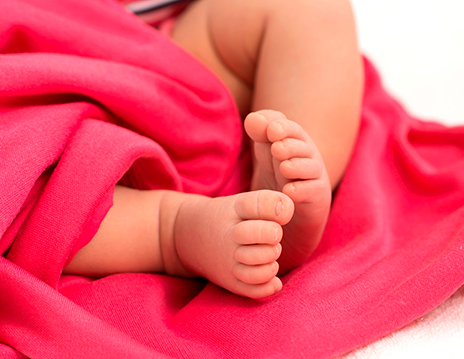 St. Thomas More Birth Center
When it comes to delivering your baby, there's no place like home.
At the St. Thomas More Birthing Center, families enjoy welcoming each little miracle into their lives. The obstetric nurses and physicians at the St. Thomas More Birthing Center and Physician Group are honored to be part of this special time in your life. They provide quality care for mom and baby in a beautiful environment, close to family and friends.
Our beautiful Birthing Center provides a warm, welcoming environment with soothing colors that promote relaxation and healing. It features large, private labor and delivery rooms each with state-of-the-art fetal monitoring equipment and a private restroom with walk-in showers to maximize moms' comfort; private postpartum rooms each with a private restroom; an enlarged newborn stabilization nursery; nurses' station; and physician dictation room.
Safety and security is a top priority. All visitors use a doorbell system for entrance, and babies are linked to the Hugs tag system, the leading provider of newborn security.
With an innovative, dedicated cesarean section operating room located within the Birth Center, all areas are tucked comfortably close to the nurses' station for round-the-clock, comforting care.
Connection to Advanced Care
With our connection to Centura Health, the region's leading health care network, we offer care for high-risk pregnancies. For babies requiring specialized care, we offer immediate transport to Neonatal Intensive Care Units in nearby Colorado Springs and Denver.
Pain Management

Our nurses partner with each patient to keep them as comfortable as possible, keeping their specific wishes and birth plan in mind. If requested by the patient, our highly qualified anesthesia providers offer epidural pain control measures for laboring women.
Childbirth Education

If you are an expectant mother, we highly encourage you to attend this class. It will teach you ways to prepare yourself, your partner and your baby for labor and delivery. You will learn about what to expect in your third trimester of pregnancy, breathing techniques for labor, pain relief options that are available during delivery, breastfeeding support that we offer, post-delivery care for you and baby, car seat safety and community resources that are available to you and your family. Spouses/partners and support persons are welcome to attend as well.

If you are interested, please call 719-285-2043.

Each class will take place over two days. The meeting time for both days is 5:30 pm - 8:30 pm. All classes are held in the Community Education Room at St. Thomas More Hospital. Enter main doors to the hospital, enter the first door on your left. The cost is $25.00 which is due on the first day of class. You can call the nursing unit at 719-285-2043 to register, or you may register online via credit card payment. The fee covers you and your partner/support person to attend both classes. Scholarships are available if you need financial assistance, call 719-285-2043 for more information.

Classes are taught by certified Birth Center nurses.

Check out our calendar for Childbirth Education class dates.
Centura Health Children's Network
Compassionate, Family-Centered Approach that Your Children Need
The BirthPlace is part of a large network of professionals and facilities dedicated to the care of children all the way from birth and into young adulthood.