On-demand health care, in the comfort of your home or work
Centura Health is committed to providing convenient high-quality health care at the right time, in the right place, for an affordable price. That's why we've joined together with DispatchHealth to offer on-demand health care services. Mobile medical teams arrive equipped with the latest technology and tools to treat minor to severe injuries and illnesses in the convenience of your home or workplace. DispatchHealth providers are part of Colorado Health Neighborhoods and serve as an extension of our health care teams. Together, we are pioneering health solutions designed for you based on accessibility and quality of care.
DispatchHealth works directly with all major health insurance companies in Colorado.
How to Request Care
Requesting care is easy; simply use our mobile app or website to begin the virtual process or call us directly (see contact information below for phone numbers).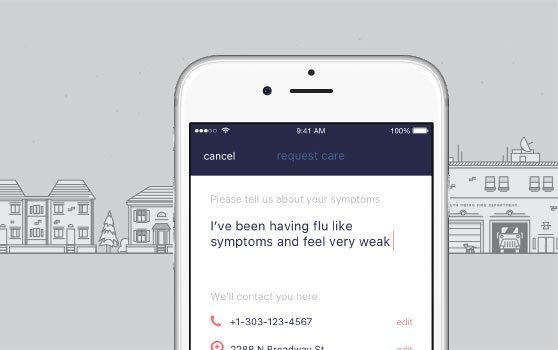 Our providers will gather information about your symptoms over the phone to understand what's wrong and get the right care en route.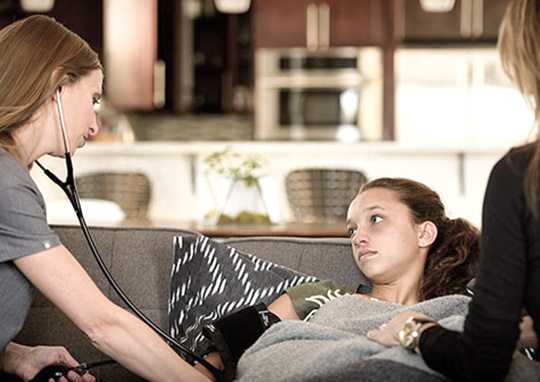 Receive Care In Your Home
Our mobile medical teams arrive on-scene within an hour on average. They're ER trained and equipped to treat anything an Urgent Care would, plus more.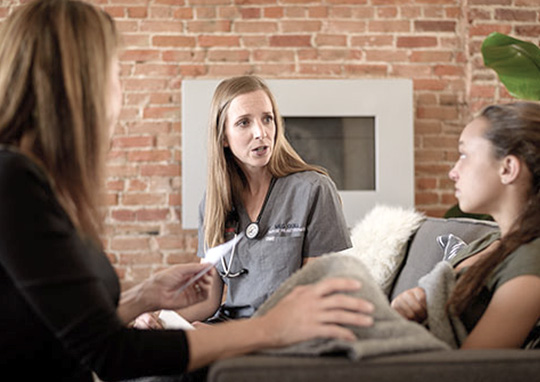 We'll call in your prescriptions, update your family doctor, handle billing with your health insurance company so you can focus on feeling better, faster.
Injuries & Illnesses We Treat
Common Ailments:
Fever - Flu - Nausea 
Headaches - Migraines 
Urinary tract infection 
+ More
Ear, Nose, & Throat:
Sore Throat 
Earn infection or pain 
Sinus infection 
Nosebleeds 
+ More 
Musculoskeletal:
Joint or back pain 
Strains or sprains 
Minor bone breaks 
+ More 
Eye:
Eye infection 
Pink Eye 
Object in the eye 
+ More 
Gastrointestinal:
Diarrhea 
Heartburn 
Constipation 
Nausea and vomiting 
+ More 
Skin:
Hives - Allergic reactions 
Skin abscess (boil) 
Cuts that need stitches 
Rashes 
+ More
Neurological:
Vertigo (dizziness) 
Weakness 
+ More 
Procedures We Perform:
Lancing of abscess (boil) 
Urinary catheter insertion 
Infectious disease testing (flu, strep, mono, RSV) 
On-site blood testing 
IV placement 
IV fluids 
Stitches 
Splinting 
+ More 
7 Day a week • 365 Days a year • Including holidays 
Denver and the Front Range
Hours:
Phone: 303-500-1518

Colorado Springs
Hours: 8:00 am - 8:00 pm
Phone: 719-270-0805
Access our services online
FAQs

Does my insurance cover DispatchHealth visits?
DispatchHealth is contracted with all major insurance providers including Medicare and Medicaid, and will bill your provider directly for services rendered in your home. Commercial insurance contracts include: Aetna, Anthem Blue Cross Blue Shield, Bright Health, Cigna, Humana and UnitedHealthcare. Patients should review individual plan benefits to determine specific financial obligations. Look for more insurance companies to be added as we grow.

How much does a DispatchHealth visit cost?
The total cost of care for a DispatchHealth visit is 8-10x cheaper than an average ER visit" The cost of care is determined by the complexity of care provided, any procedures performed and supplies required. The percentage of the total bill you're responsible for is determined by your insurance plan. Non-insured patients will receive a flat rate fee for all care received. Please call DispatchHealth directly to further discuss this fee or any other billing questions, contact us.

Phone: 303-500-1518

Is DispatchHealth meant to replace my doctor?
No. DispatchHealth is meant to serve as an extension of your primary care physician by providing convenient high-quality care at the right time, in the right place. Centura Health has joined together with DispatchHealth to ensure your continuity of care through our Colorado Health Neighborhoods. Your visit and any results will be sent directly to your primary care physician. If you are currently without a primary care provider, we can help you locate a physician near you.

Who are the DispatchHealth providers?
The providers are board-certified acute care emergency clinicians, including those who are part of Colorado Health Neighborhoods, with significant experience treating acute injuries and illnesses. These are the same providers you would find in your local emergency room. DispatchHealth arrives on scene with nurse practitioner or physician assistant and a medical technician via our vehicle with a board certified ER physician always on-call as well. 

What areas does DispatchHealth serve?
DispatchHealth operates in Denver and Colorado Springs. They currently serve 89 zip codes within the Denver metro and Front Range area. Service includes the following areas: Arvada, Aurora, Brighton, Boulder, Broomfield, Castle Pines, Centennial, Cherry Hills, Commerce City, Erie, Englewood, Green Valley Ranch, Greenwood Village, Highlands Ranch, Lakewood, Lafayette, Littleton, Lone Tree, Longmont, Louisville, Northglenn, Parker, Stapleton, Thornton, and Westminster. In Colorado Springs they serve 17 zip codes, covering Briargate, Cimarron Hills, Garden of the Gods, Old Colorado City, and Security-Widefield. Request care via phone, online or download the free mobile application to locate specific areas of service.

What is the average visit and wait time?
Skilled medical teams arrive within an average of 60 minutes, and visits last 45 - 60 minutes depending on the level of care required.