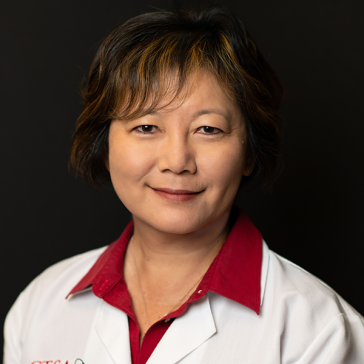 Primary Location
CHPG Cardiac & Thoracic Surgery Penrose
2222 N Nevada Ave
STE 5011
Colorado Springs
,
CO
,
80907-6819
Education & Background
Residency
San Antonio Uniformed Services Health Education
General Surgery
Internship
Walter Reed Army Medical Center
General Surgery
Fellowship
National Capital Consortium/Walter Reed Medical Center
Thoracic Surgery
Medical Education
Yale University School of Medicine
Certification
American Board of Thoracic Surgery (ABTS)
Gender
Female
Rating
About Betty Kim, MD
Dr. Kim received her undergraduate degree from Yale College with honors and graduated from Yale University School of Medicine. She completed her general surgery residency and cardiothoracic surgery fellowship in the US Army at Walter Reed Army Medical Center. She has had additional advanced cardiac surgery training at the Brigham and Women's Hospital in Boston and at the Cleveland Clinic, Cleveland, Ohio in innovative techniques to include percutaneous valves and robotics. She has been in practice at Vanderbilt Medical Center and in North Carolina performing the full scope of cardiac surgery. She is board certified by the American Board of Thoracic Surgery and is a Fellow of the American College of Surgeons.

Dr. Kim is a bilingual Korean-American who was a competition level classical concert pianist prior to her medical training. She served in the US Army achieving the rank of Lieutenant Colonel and was deployed as a cardiothoracic surgeon with the 21st Combat Support Hospital in Operation Iraqi Freedom.

She was instrumental in starting two local chapters of the Mended Hearts on the East Coast and spoke on behalf of the American Heart Association for Women's Heart.

She is a patron of the local arts and the zoo with hopes to contribute her surgical skills to the veterinarians at the zoo. She enjoys international travel, golf, scuba diving and also spending time with her physician husband and their dog camping in the Colorado mountains.
CHPG Cardiac & Thoracic Surgery Penrose
2222 N Nevada Ave
STE 5011
Colorado Springs
,
CO
,
80907-6819
Corwin Cardiology
1008 Minnequa Ave
PUEBLO
,
CO
,
81004-3733