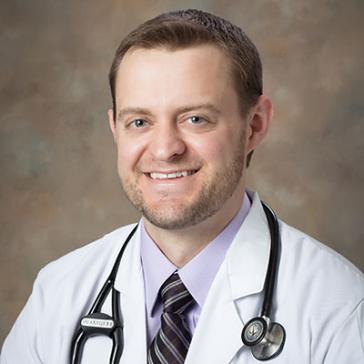 Bradley Stucky, DO

Family Medicine
Bradley Stucky, DO, known as "Dr. Brad" to his patients, treats acute problems and chronic conditions for patients of all ages, from newborn to geriatric patients. He has a special interest in preventive care and evidenced-based medicine. As an osteopathic physician, he believes health is more than just the absence of disease. He enjoys helping patients find their health and understand that the human body is a unit made up of mind, body and spirit. Dr. Stucky believes that the body is capable of self-regulation and that there is an interrelationship of anatomical structure and function.
Dr. Brad graduated from Bethel College in Newton, Kansas and the Kansas City University of Medicine & Biosciences in Missouri. He completed his residency in family medicine at Via Christi in Wichita, Kansas. He is board-certified by the American Osteopathic Board of Family Physicians (AOBFM) and the American Board of Family Medicine (ABFM).
When he's not in the clinic, his interests include his faith, wife, children and continual self-development. He also enjoys woodworking and learning new things. He is joined at CHPG Plaza Medical Clinic by his brother, Dr. Bryan Stucky.
Credentials & Awards
Kansas City University College of Osteopathic Medicine
Am Bd Family Medicine (Family Medicine)
Reviews (134)
Overall

My likelihood of recommending the provider:

Care provider showed concerns for my questions/worries:

Care provider includes me in decisions about my treatment:

My wait time in clinic: