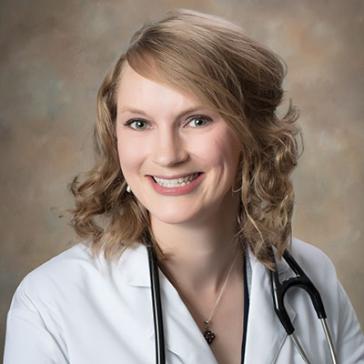 Rachael Svaty, MD

Family Medicine
Rachael Svaty, MD, is on a mission to see the world the way that Jesus does and live in a manner that manifests that. As a primary care physician, she treats anyone from newborns and pediatric patients to adults and enjoys getting to know her patients. She believes in providing whole person care, keeping in mind that physical, emotional, spiritual and social factors all play a role. Dr. Svaty values preventive health care management and loves taking care of obstetric patients and doing prenatal care. She offers acute care visits, management of chronic conditions such as diabetes, hypertension and much more.
Dr. Svaty graduated from the University of Kansas School of Medicine and has an undergraduate degree in biology from Sterling College. She completed her residency in family medicine at Via Christi in Wichita, Kansas, and is board-certified in family medicine by the American Board of Family Medicine (ABFM).
Dr. Svaty is a native Kansan and grew up on a farm near Kanopolis. She loves spending time with family, traveling, exploring new places, hiking in the mountains and getting outdoors to enjoy her vegetable and herb garden.
Credentials & Awards
American Board of Family Medicine (ABFM)
Reviews (148)
Overall

My likelihood of recommending the provider:

Care provider showed concerns for my questions/worries:

Care provider includes me in decisions about my treatment:

My wait time in clinic: